There are no great surprises in the announcement by Wotif founder and philanthropist Graeme Wood that he will no longer fund not-for-profit online journalism venture The Global Mail (TGM).
According to reports, Wood initially pledged A$15 million to the project and expected nothing immediately in return apart from quality journalism, saying in 2011:
I think eventually there'll be a financial business model for this sort of thing, but it ain't there yet.
While Wood got his quality journalism without a piece of advertising to destroy reading pleasure, he has still chosen to cease funding the site from February 20. The site is now urgently seeking another backer.
The product was good, featuring some of the best work by some of Australia's finest journalists. TGM won multiple awards, not just under the leadership of foundation editor Monica Attard, but also those who followed under Attard's replacement Lauren Martin. It also attracted readers – not the click-baiters who read a headline, click and run – but those who stay on site for between five and ten minutes.
TGM's 2013 readership peaked in May with over 315,000 visits and 258,000 unique browsers, while the monthly average for the year was 120,000 uniques. Its initial audience on launch in February 2012 was 97,000 unique browsers.
In December, Wood has suffered a personal financial kick (reported as high as $48 million) after Wotif's share price plunged almost 32% off a profit downgrade. Wood, whose stake in Wotif stands at 20% after selling just under two million shares in October, told TGM staff simply that "his circumstances had changed" and has offered to help someone else take over the business if another financial backer appears.
According to a statement, TGM is pursuing both philanthropic and commercial opportunities. But finding a commercial saviour seems unlikely without a track record in advertising. TGM had a good base, worthy of sale, but it hasn't pulled in the readers in the same way as its younger and sexier daily counterpart The Guardian Australia, which Wood is also funding.
TGM's demise was really foreshadowed the moment The Guardian's digital experts started targeting the Australian market. It's an increasingly crowded but potentially profitable market for Australia's influential iPad reading public. And The Guardian, under the editorship of Katharine Viner, proved to be the publication of choice, attracting close to 1.2 million browsers per month in October last year to place it inside Australia's top ten news websites.
Unlike TGM's previous incarnation, The Guardian is easy to navigate on all devices, and its digital bells and whistles don't detract from the stories. TGM attracted criticism upon launch for its unique side-scrolling layout, leading to a sweeping re-design in October 2012.
When Wood decided to back The Guardian he said there was room for both, and that he really supported "independent quality journalism" which he saw as "a foundation of a healthy and civil society". But with The Guardian he was up-front: he wanted the Australian edition to make money. That's something The Guardian, with its increasing readership, can potentially offer.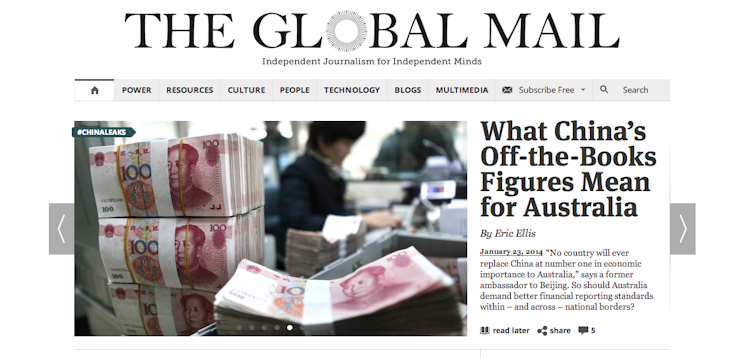 While the closure of TGM isn't the positive start to the year the Australian media industry had hoped for, it shouldn't be considered a knock-out punch.
Property developer and publisher Morry Schwartz will launch his new newspaper, entitled The Saturday Paper, in March. The Saturday Paper promises to publish longform journalism that:
…will be fiercely independent and offer the definitive news source for readers who want depth at the end of a cluttered weekly news cycle.
The New Daily, which launched in November 2013, is part-funded by a new player, the industry superfunds network. And the UK Daily Mail's Australian edition will launch this year, with plans to recruit around 50 journalists.
Much has been learned from the TGM experiment, and the 21 capable and award-winning staff should soon be re-employed. They're all old enough and wise enough to know that journalism's fortunes have long been tied to economic business models (of the private or public kind). As Viner argued last year:
There is more a need than ever for the journalist as a truth-teller, sense-maker, explainer.
---
This piece was amended on January 31 to correctly note The Global Mail's traffic levels in 2013.