After a Leicestershire Police investigation that interviewed more than 2,000 people and produced allegations which span two decades, the Crown Prosecution Service (CPS) has declined to prosecute Labour peer Greville Janner over 22 allegations of child abuse and sexual assault.
According to the director of public prosecutions, there is enough evidence for him to be charged, although the CPS made it clear in its statement that it was not determining whether Lord Janner was guilty of any criminal office – but Janner is suffering from Alzheimer's disease and is unfit to stand trial.
Coming on the heels of allegations that London Metropolitan Police officers were involved in covering up an historic VIP child sex abuse ring, with 17 separate allegations under investigation, this is just the latest development in an ever-widening multi-institutional scandal that has been amplifying for more than two years.
Driven by a series of investigative reports by Exaro news, the cycle of scandal-hunting, activation, amplification and justice has thrown the spotlight back onto the Metropolitan Police.
In March 2015, Scotland Yard's deputy assistant commissioner Steve Rodhouse called for victims and witnesses to contact the police in relation to 18 concurrent investigations into alleged historical child sexual abuse.
In the same month, the Independent Police Complaints Commission (IPCC) announced that Scotland Yard had voluntarily referred 14 allegations of corruption involving senior officers who it was claimed had suppressed evidence, hindered and/or terminated investigations and covered up VIP child sex offences.
Later that month, the IPCC announced that it would manage the investigation of three more claims of police corruption relating to alleged child sexual abuse, and that the investigation would cover a period dating back to the 1970s.
On the same day, the IPCC also revealed that it would be overseeing an investigation into an allegation that the Greater Manchester Police had inadequately investigated an incident involving Cyril Smith.
While this latest phase has been slow-burning in terms of media coverage, the seemingly endless series of interconnected scandalous revelations is locking British public institutions into an uncontrollable scandal amplification spiral that threatens to shred their credibility and rewrite British post-war social and cultural history.
Life cycle
As we have written on The Conversation before, most potential scandals never break; they are contained. Hearsay, rumour and gossip remain just that. For an institutional child sex abuse scandal to be publicly activated, certain key elements must align.
As events in Rotherham have shown, it is not enough for someone to be prepared to blow the whistle. Victims come forward, individuals complain, bystanders and witnesses know that abuse is taking place, and rumour and gossip are rife – and yet complainants can still be ignored, silenced, dismissed or discredited.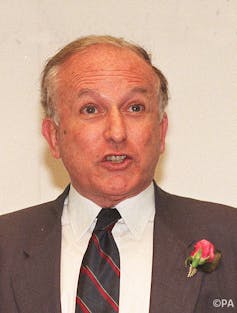 Witnesses at all levels of an institutional hierarchy can remain in denial. Senior managers can place the reputation of the institution above the rights of clients and employees and engage in concerted ignorance or cover-up. The overdue Smith Inquiry, now due to report in May 2015, was established to determine the extent, if any, of such behaviour in the BBC during Sir Jimmy Savile's employment.
To reach the tipping point where the scandal is activated, there must be a news agency that is sufficiently persuaded by the available evidence to risk legal action and publicise the allegations. There must also be an audience that is sufficiently interested and prepared to take seriously those allegations, and to demand an official response.
This means that scandal activation requires a specific interaction between multiple players and interests – victims and/or whistleblowers, news organisations, pressure groups, moral entrepreneurs and the public.
If the transgression is sufficiently serious, the story sufficiently newsworthy, the public interest sufficiently strong and the resulting media and public outcry sufficiently loud, then scandals will activate regardless of institutional attempts at suppression and cover-up.
On the hunt
After decades of still-unexplained silence, the media feeding frenzy that resulted from ITV's activation of the Savile scandal – and the public outcry and demands for official answers that resulted – kick-started a process that has engulfed multiple individuals and institutions and has now spiralled beyond the control of any one of them.
But in the case of Janner, Cyril Smith, and the accusations of organised abuse by the powerful over many decades, something else is at play. The interlocking phases of scandal activation, amplification and justice have precipitated a further phase in the scandal cycle: scandal hunting.
Scandal-hunting may be engaged in by media organisations, official authorities, child protection agencies and moral entrepreneurs, each of whom may be driven by different ideological and moral motivations, but all of whom share the common goal of amplifying existing scandals or activating new ones. Scandal-hunting results in the widening of the net and the thinning of the mesh, so that more and more individuals and institutions get caught up in the process of investigation and accusation. Even if the accused are not charged and tried in a court of law, they may find themselves having publicly to prove their innocence in the face of a trial by media.
This is what's happening today, as the IPCC investigations and Met operations gather momentum. As more individuals are named by these official inquiries, and more institutions are potentially implicated in the facilitation, denial or cover-up of historical institutional child sex abuse, the scandal amplification spiral is unpicking the reputations of people and institutions at the core of the British establishment.
The self-perpetuating cycle of institutional child abuse scandals is testing the limits of the formal criminal justice system, while simultaneously making a mockery of it.
Abuse survivors who have been disbelieved, dismissed and discredited for decades are finally starting to see justice as their abusers are convicted and sentenced in courts of law. And, after nearly falling apart before it began, the massive public inquiry now chaired by Justice Lowell Goddard will investigate the extent to which "public bodies and other non-state institutions have taken seriously their duty of care to protect children from sexual abuse in England and Wales".
Yet several CPS prosecutions, for instance in Rochdale, have already failed to convict. In the face of high-profile not-guilty verdicts or decisions to take no further action, complainants are recast as opportunists, liars and fantasists. The CPS and criminal justice system are ridiculed for launching witch hunts and bringing the cases to court in the first place. The alleged offenders may be innocent in law, but their professional and private lives and reputations may be irreparably damaged through trial by media.
In such cases, the only real winners are the media, since whatever the outcome of the "justice" phase, the story keeps rolling and the scandal-hunting continues.
There is much work underway – and plenty of questions to probe. No one has yet explained what exactly could have motivated Metropolitan Police officers to go to such lengths to cover up allegations of child sexual abuse by VIPs. Even if these allegations are true, we still do not know what types and levels of corruption we would be dealing with, whether police officers benefited personally in terms of bribery (or were blackmailed), or if the Metropolitan Police Service benefited politically.
Whatever the answers to these questions, the investigation of an alleged police cover-up of institutional child sex abuse on behalf of the British political establishment could make this scandal more explosive even than the Savile case. As this scandal continues to amplify, it will open up a decades-long period in the histories of the British establishment and the police – a period that many involved have done their very best to bury and forget.
---
Chris Greer will be giving a talk entitled Researching Historical Institutional Child Sex Abuse Scandals: The Savile Effect at the University of Melbourne on Thursday 30 April 2015. Click here for details.