The Health and Safety Executive (HSE), the regulatory agency with primary responsibility for enforcing health and safety law across British workplaces, has released its latest annual statistics. According to their break down of the key figures: "The statistics show that, in 2013-14, there were 133 fatal injuries – a fall from 150 the previous year."
On the face of it, a decline in the numbers of people who go to work never to return is good news. But, whether or not there actually is a year-on-year fall, the figure of 133 "deaths at work" is one category that obscures the tens of thousands of fatalities caused by working for a living.
Even in terms of deaths resulting from injuries at work, anyone who determinedly trawls the HSE site may chance upon a much fuller document: Statistics on fatal injuries in the workplace in Great Britain 2014. Here it is reported that: "There were 264 members of the public fatally injured in accidents connected to work in 2013-14. Of these deaths, 194 (73%) related to incidents occurring on railways."
Let us be clear about what is happening here. We have a press release that contains the headline figure of 133 deaths. Then, it is possible to find a further 264 fatal injuries recorded by HSE but which do not make it into its own press release.
As the HSE acknowledges, there are significant categories of deaths – at sea, or associated with the airline industry, for example – which are occupational but recorded by other agencies. But by far the biggest omission are the deaths of those who die while driving as a normal part of their work: another 800 to 1,000 deaths a year. This includes those who deliver "meals on wheels", district nurses, postal workers and lorry drivers, but because such deaths are recorded as "road traffic" rather than occupational fatalities, they don't make the figure recorded in the annual statistics.
Then there are the numerous deaths that result from working conditions and diseases contracted as a result of work. If we follow the link from HSE's press release to their Health and Safety Statistics 2013-14, it reveals: "Around 13,000 deaths each year from occupational lung disease and cancer are estimated to have been caused by past exposure, primarily to chemicals and dust at work."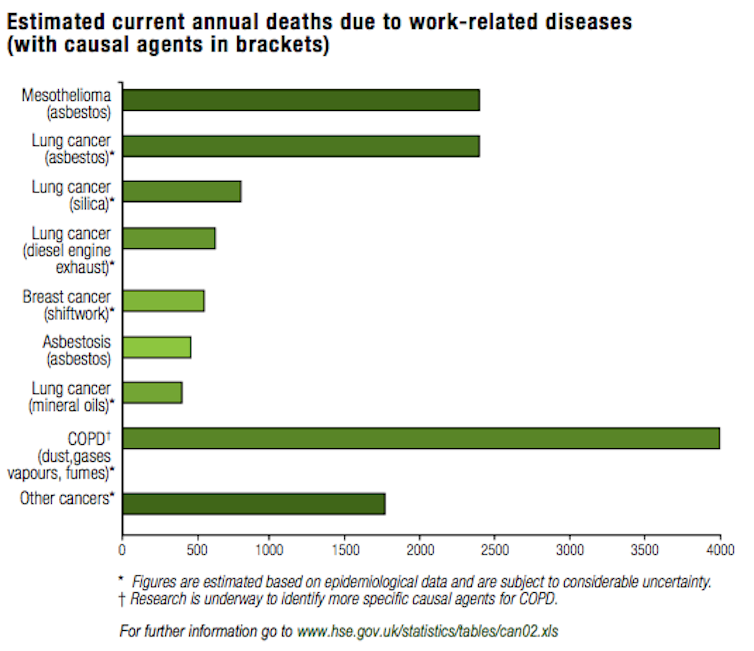 This immediately makes the press released figure look rather like an under-estimation of the scale of death as a result of working in contemporary Britain. The end result of this trawl through official, albeit buried, data takes us from 133 deaths to almost 13,400 deaths in 2013-14.
Underestimating fatal illness
Still, these additions do not capture the full scale of the problem of work-related deaths. Indeed, the HSE's data on fatal occupational illness is a gross underestimation when compared with data from other sources.
For example, researchers from the European Agency for Safety and Health at Work calculated, in 2009, 21,000 deaths per year in the UK from work-related fatal diseases, while accepting both that such data "might still be an under-estimation" and that deaths from work-related diseases are "increasing".
Another UK study estimated up to 40,000 annual deaths in Britain were caused by work-related cancers alone. And long-term research by the Hazards movement, drawing on a range of studies of occupational and environmental cancers, the number of heart-disease deaths with a work-related cause, as well as estimates of other diseases to which work can be a contributory cause, showed a lower-end estimate of 50,000 deaths from work-related illness in the UK each year.
This is around four times the HSE estimate and ranks highly in comparison with virtually all other recorded causes of premature death in the UK.
Workplace deaths are not, of course, reducible to numbers. Every death creates ever-widening ripples of emotional, psychological and financial harm through families, friends and communities. But the harms experienced by those so bereaved are surely compounded when an agency of the state understates the scale of the issue. If we are to see a real reduction in the thousands of work-related deaths there are in the UK every year, it's paramount that the HSE both presents these problems accurately and responds to them adequately.
---
Hard Evidence is a series of articles in which academics use research evidence to tackle the trickiest public policy questions.