Home advantage is writ large in sporting folklore – partisan crowds cheering the home favourite to victory. After all, Team GB won a record-breaking haul of medals at London 2012, Australia turned an away Ashes defeat into a demolition of England once back in front of an Aussie crowd, and Andy Murray rode a tide of support to win Wimbledon last year.
So the crowd helped Murray to victory? Not necessarily. Tim Henman suffered in the 1990s under the weight of expectations at Wimbledon. Until 2012, it seemed for all his obvious talents, Murray was destined to follow in the forlorn footsteps of every half-decent Brit since 1936. Did shouts of "come on, Tim!" provide helpful support, or just pile on the pressure?
Academic research suggests that, outside of subjectively-judged sports (such as gymnastics or diving, where outcomes are decided by judges' scores), there is no consistent evidence of home advantage in individual, non-team sports, despite appearing prevalent throughout Olympic history. My current research, with Liam Lenten of La Trobe University in Australia, investigates home advantage in tennis. We use a dataset including almost every men's singles match since the major tournaments became "open" to professionals in 1968 – about a quarter of a million contests in total.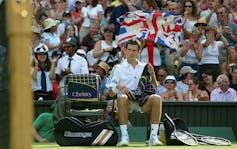 Put simply, if two sports contestants of equal strength face each other 1,000 times, each contestant should win 500 times. Home advantage says the player playing at home wins more than 50% of the time. There are at least two forces at work when sports contestants perform at home: the "hope" effect, helping local heroes, and the "expectations" effect, hindering them. These two effects counteract each other, providing a "bliss point" for contestants – where home advantage is maximised, as the hope effect most outweighs the expectations effect.
Why do economists care about this? Increasingly, economists view tournaments as a potential alternative model to explain pay structures in firms. Rather than reflecting their abilities to affect the revenue of their companies, some argue, the pay of CEOs reflects their victory in the "tournament" to become CEO, with their prize a fat corporate salary.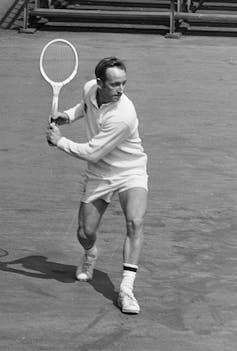 Much has changed in men's tennis since 1968. Back then, less than a thousand matches were played each year in just 13 tournaments for a combined prize pot of just US$88,000. In 2007, more than 8,000 matches were played in 65 tournaments, with US$67m at stake. Tie-breaks have been added, racquets are now radically different, and the top players, now multi-millionaires, make more money from sponsorship deals than from playing tennis. Despite all these changes, we can still make some remarkably strong statements about home advantage in the sport.
Very superficially, there is no home advantage at all. In fact, players playing at home are 2-4% less likely to win. This, though, may be as a result of wild cards – where tournament organisers give "free entry" to players, often from the home country, who would not qualify purely on merit. These players will therefore be more likely to lose. It is also before other important factors are taken into account: age, experience, rank, right or left handedness, height, weight, seeding and so on. Once these are considered, we in effect create a match between two almost evenly matched tennis players. Even with this, home advantage remains very weak, albeit giving a tiny statistical advantage.
Perhaps more interesting, is that despite increases in prize money, media attention, sponsorship deals and so on, there has been virtually no change in almost half a century. Despite costs and delays caused by travel being vastly reduced in the intervening 46 years, it seems hitting the road is just as unlikely to affect the game of today's tennis pros as it did those of the late 1960s.
We also sought to find out which players benefit most from the "hope effect" of playing at home, without suffering from the "expectations effect" of an army of fans demanding results. This shows that a player's world ranking plays an important role: the higher his rank, the more a home crowd's detrimental expectations outweigh the benefits of their hope.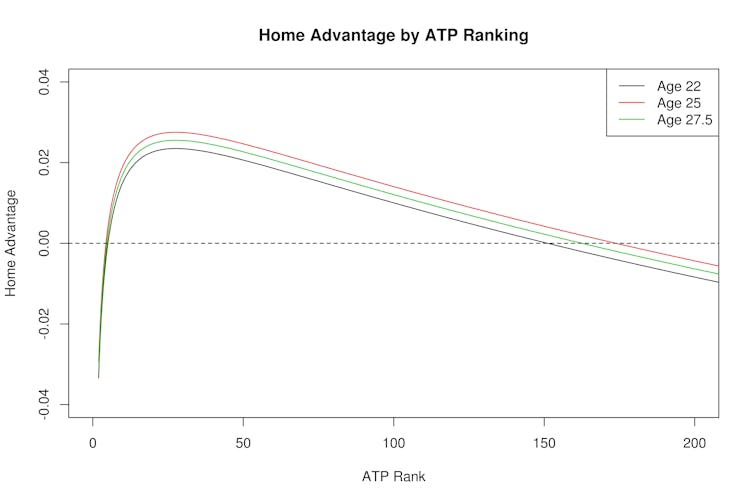 It seems that the players outside the top ten benefit the most, unfortunately for Murray – with a sharp drop off once inside the top ten, as shown above. While those outside the top ten are much less likely to win tournaments, home advantage can manifest itself in outperforming expectations at all levels. Who can forget Murray's early years at Wimbledon for example, beating third seed Andy Roddick in 2006 (when ranked 44).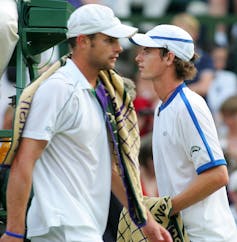 While this might suggest that Jamie Ward and Dan Evans might be expected to out-perform themselves on home soil, their rankings place them at the right-hand end of our graphic, where again home advantage has evaporated, perhaps explaining their abrupt exists to higher-ranked Russian opposition on the tournament's opening day.
However, our model shows one curious effect: the sum total of both positive and negative "home effect" is weakest for matches played in the UK than for any other major tennis playing nation. Perhaps traditional British reserve persists in our efforts to back our players – which, for top players like Murray, would mean the weight of expectation is reduced. It may just be that Murray can benefit where the leading French, Australian and American players have suffered as he defends his Wimbledon title this fortnight.