Prominent banker Harrison Young has been appointed chairman of The Conversation. Young is a director of the Commonwealth Bank and was previously chairman of the nbn co limited, Morgan Stanley Australia and Better Place Australia.
Young, 72, was born in Pittsburg. He graduated from Harvard University and worked at the Washington Post before he was conscripted into the US army. He went on to serve in Vietnam before embarking on a career in banking.
He joins The Conversation's board following the resignation earlier this month of co-founder and executive director Andrew Jaspan. Jaspan led The Conversation for seven years and successfully transformed an idea he developed at Melbourne University into a global media network with teams in Africa, the UK, US and France, as well as a global unit.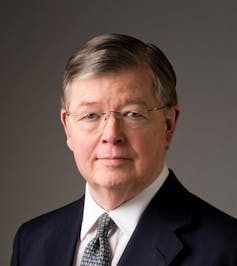 Young takes up the chairman role following a review of the media group's strategy, structure and management. He will oversee implementation of the review committee's recommendations to streamline governance and ensure a more collaborative approach to decision making within the expanding global network.
The appointment comes at a time of rapid audience growth for The Conversation, which now attracts more than 30 million reads a month via republication and has a growing community of more than 48,000 academics. Further global expansion is planned in 2017 with launches in Canada, Indonesia and Spain.
Deputy Chairman Joe Skrzynski said Young had lived and worked in several countries and was well versed in governance of international operations as well as having experience as a journalist and author.
He congratulated Jaspan on his vision and leadership and said The Conversation was a "bold new media outlet that informs public debate with knowledge-based journalism that is responsible, ethical and evidence based, by unlocking the knowledge of researchers and academics to provide the public with clarity and insight into society's greatest problems."
Young said Andrew Jaspan had invented a new form of journalism and he was honoured to be involved with The Conversation. "Journalism was my first love. I was a reporter fifty-one years ago for The Washington Post. It makes me smile to be sitting in a news room again and working with such an outstanding team. I look forward to visiting my colleagues around the world."
The senior academics and directors who led the strategic review said The Conversation was in a strong position as one of the most important information and media projects of the last decade and one of the world's leading providers of evidence-based and trusted information.