This article is part of the Democracy Futures series, a joint global initiative with the Sydney Democracy Network. The project aims to stimulate fresh thinking about the many challenges facing democracies in the 21st century.
---
Philippine President Rodrigo Duterte has taken his "bad manners" – having gained global notoriety with his election campaign insults earlier this year – to a new level.
At a press conference at Davao International Airport on Monday, on his way to meet US President Barack Obama and other leaders attending the ASEAN summit, Duterte muttered a few short words in tagalog at the end of a lengthy and irritated reply to a local journalist. With those words, he again made international headlines.
If that were all there was to it, we could rightly roll our eyes and move on. After all, Duterte's language is vulgar; his slander of people and groups is liable to incite violence; and his determination to kill drug pushers (to fight "crime with crime") an abuse of power. He should not be defended for any of this.
But as someone who has spent a long time studying US-Philippine relations, I think there's something more for us to see here. And if we want to judge the Philippine president (and, by default, the nation for electing him) from high moral ground, I think we have a responsibility to pay attention to it.
Restoring an invisible history
Who is he to question me about human rights and extrajudicial killings?
So asked Duterte on Monday. It's actually a very good question, and one long overdue from a Philippine president. The extent to which the violence of US relations with the Philippines has been made invisible by a history written predominantly by Americans themselves cannot be overstated.
It began with a three-year war (1899-1902) that most Americans have never heard of. The war overthrew a newly independent Philippine republic and cost between 250,000 and a million Filipino lives – only to be called "a great misunderstanding" by American colonial writers.
After all, the US had chosen the Philippines to be its great Asian "showcase of democracy". The invasion was a benevolent act. Hence the complete erasure of acts of American violence from the Philippine national story.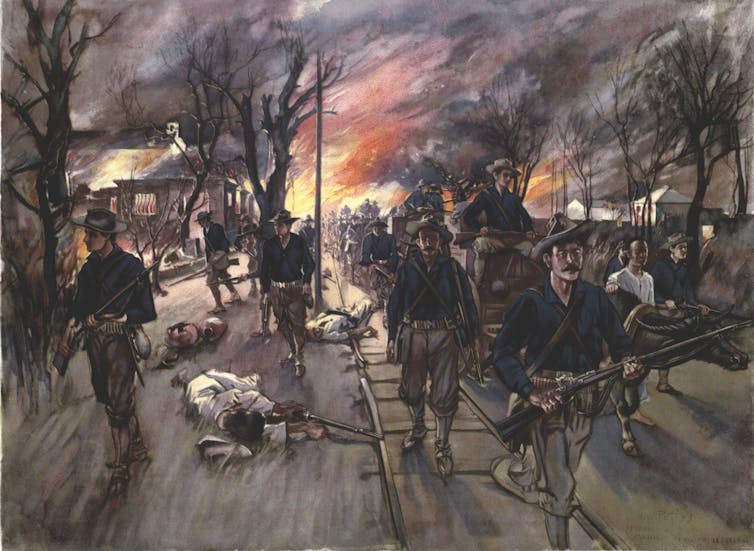 You don't need to be a conspiracy theorist to smell something rotten. Since the 1950s Philippine writers, academics, journalists and so on have been trying to reframe the historical narrative to point out this fact: to be invaded by a military power, told you don't possess the character or capability for self-government, and then controlled by another nation for four decades, to the occupier's lucrative commercial benefit, was not to be the recipient of a benevolent act.
Even at the time the war was taking place, one of America's best-loved authors was writing just as much. Mark Twain was prolific in writing about the paradox of the "democratising mission" to the Philippines.
Penned in 1901, but still stunningly poignant, is this extract from his essay, To the Person Sitting in Darkness:
The Person Sitting in Darkness is almost sure to say: 'There is something curious about this – curious and unaccountable. There must be two Americas: one that sets the captive free, and one that takes a once-captive's new freedom away from him, and picks a quarrel with him with nothing to found it on; then kills him to get his land.'
In America, these remain Twain's least-known works.
Before his (now regretted) distasteful remark, Duterte had much to say in response to the question about being confronted over human rights in an upcoming meeting with Obama. He was responding to murmurs from critics that, if he wouldn't listen to anyone else about the extrajudicial killings in the Philippines, just wait until he meets the US president.
No-one seems to have listened to or cared much about the other six minutes of Duterte's reply. So let me tell you something about it. It was a reclaiming of the historical narrative of Philippine-US relations, a holding up to the US of the hidden "looking glass" Mark Twain had written about 100 years earlier.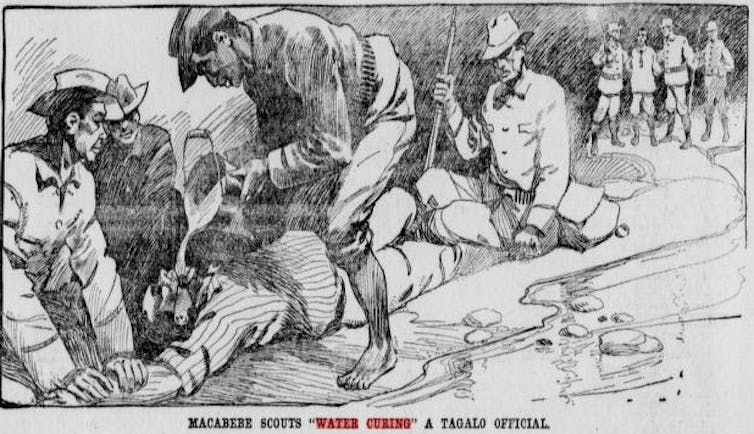 An assertion of independence
Calling out the hidden insinuations, as Duterte did, that the US continues to have authority over the politics of the Philippines, is bold and brazen, but reasonable. Consider his statement:
I am a president of a sovereign state. And we have long ceased to be a colony. I do not have any master but the Filipino people.
These words are less evidence of his demagoguery or an intention to personally disparage Obama than a reference to history, and are more accurately read as such.
After the second world war, colonies of any sort, even the so-called "democratic" US one in the Philippines, were on the nose. But this didn't stop Washington officialdom from continuing to claim the right of access to the Philippines' political and economic realms.
When the US finally granted the Philippines its (second) independence in 1946, it required the new republic to amend its constitution so a bill could be passed that, as well as legislating preferential trade conditions for the US, would grant American citizens equal rights with Filipinos to Philippine natural resources. It was the beginning of a new phase: neocolonialism.
It was not just a matter of political interference and the power to make or break Philippine presidents with endorsement and strategic financial support. In a visceral sense, the nation was always being watched and judged by its democratic "teacher".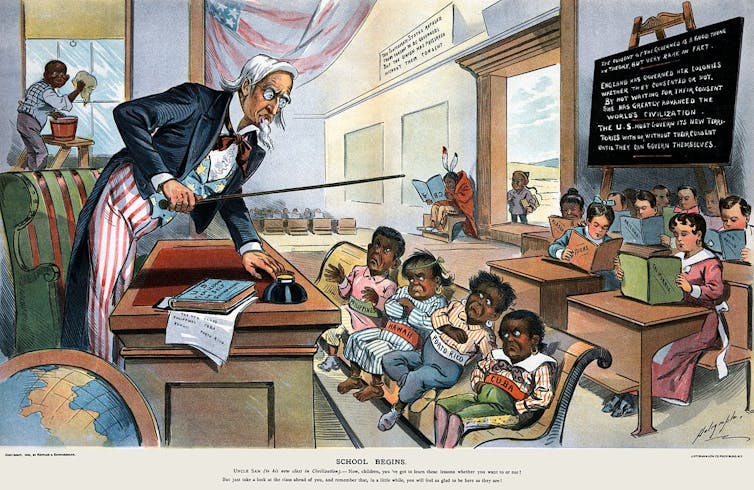 Asked about being confronted with human rights concerns by Obama, Duterte said:
You must be kidding. Who is he to confront me? America has one too many to answer for the misdeeds in this country … As a matter of fact, we inherited this problem from the United States. Why? Because they invaded this country and made us their subjugated people … Can I explain the extrajudicial killing? Can they explain the 600,000 Moro massacred in this island [Mindanao]? Do you want to see the pictures? Maybe you ask him. And make it public.
I'm reminded of a comment by Alicia Garza, a founder of the Black Lives Matter movement ignited by police killings of black Americans. Speaking in Sydney last weekend at the Festival of Dangerous Ideas, she related how, when civil rights protests get uncomfortably heated, she is often asked: "Why are they so angry?" She paused. Then softly giggled, giving the audience time for the ludicrousness of the question to sink in.
Why is the Philippines president so angry about the prospect of the US president confronting him about human rights abuses? History. As Duterte said himself on Monday, violent acts of the past don't stay in the past. They get passed on from generation to generation, especially when the injustice goes unacknowledged and unaddressed.
It is difficult to stomach Duterte's style. It certainly is difficult to look past the serious issues raised by his administration's "war on drugs". We should condemn his misuse of power.
But if we condemn the president for his recent remarks because we claim to be concerned about the rights of Filipinos while showing no interest in acknowledging the past crimes and injustices against the Philippines, we fall into our own sort of hypocrisy.
Let's be honest, if Duterte didn't curse and swear and offend our sensibilities, would we be paying so much attention to the Philippines? For once, I heard a Philippine president holding the US to account for all its doublespeak and hypocrisy in US-Philippine relations. And I couldn't help but appreciate that.