Innovation is the highest in regional centres that have research and development institutions and there are only 26 of these in regional Australia. But more than 150 regional areas have potential to match this innovation, a new index finds.
In conjunction with the Regional Australia Institute we've developed an Innovation Index that maps the national spread of two complementary aspects of innovation – research and development and "business dynamo". The measure of research and development is focused on technical expertise and the number of applications for patents and the business dynamo measure incorporates startup rates, trademarks and the number of business to business services.
Judging by these two measures, it's true that big cities are the nation's key innovation assets. One cause of this is the number of registered research and development institutions (174 out of around 200 nationwide) which are located in our big cities. This is where much of the research and development investment flows to.
But there are 49 local government areas like Hobart (Tas), Palerang and Yass Valley (NSW/ACT), Queenscliff (Vic), Toodyay (WA) and Darwin (NT) that score highly in both measures of the index. These areas combine a local business network with a high rate of trademark applications. This suggests that existing businesses in these places are innovating successfully.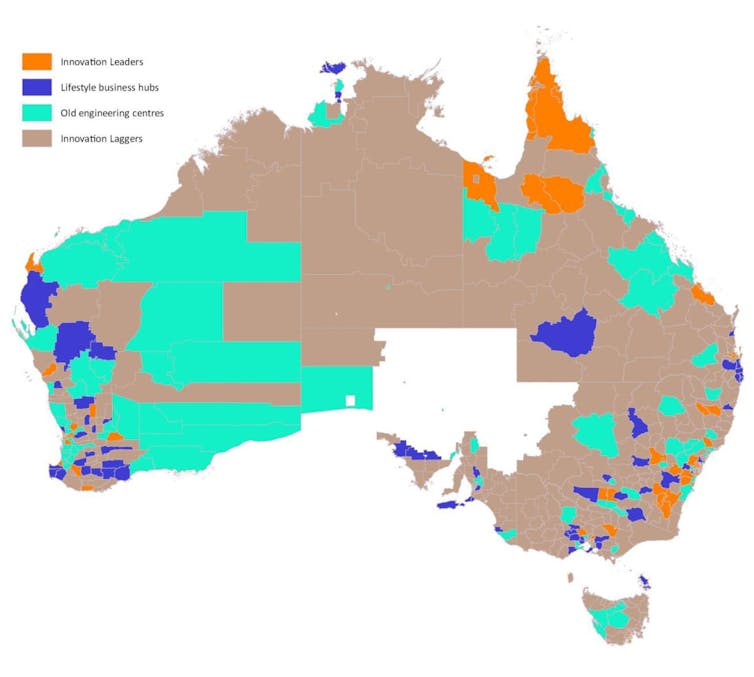 The concerning contrast to this is Australia's old industrial centres, such as Burnie and Glenorchy (Tas), Port Pirie (SA), Broken Hill (NSW) and Benalla (Vic). There are 195 areas like this across Australia, which have lost many businesses and jobs over the last 20 years. They are also among the worst performers in terms of innovation in regional Australia.
This 195 included a large number of areas with low populations, agricultural industries and areas that are remote.
There were 77 local government areas which scored strongly in engineering, science and research and development but weaker in the business dynamo measure. These areas are largely a mix of longstanding mining and minerals processing, like Whyalla (SA), Mt Isa (Qld), Muswellbrook and Singleton (NSW Hunter Valley), and new mining hotspots like Karratha (WA), Pilbara (WA), Weipa (QLD) and Roxby Downs (SA).
We found 110 areas were strong in business dynamo but with limited research and development capacity. These areas usually have strong lifestyle appeal like Hepburn (Vic), the Gold and Sunshine Coasts (Qld), Claire Valley and Victor Harbour (SA) and Busselton (WA). This also includes regional entrepreneurial centres like Griffith (NSW) and Ballarat (Vic).
How regional areas are innovating
Innovation in regional Australia is big business. A Commonwealth Bank report found regional businesses perform better than their metropolitan counterparts on measures like asking employees for new ideas and looking to benefit from technology changes.
The report estimated that regional businesses are seeing a financial return from their investment in innovation to be an average of A$279,000, contributing A$19 billion to the economy each year. If all regional businesses reached this benchmark, the report believes the regional economy could grow by A$44 billion every year.
We found there are many regional businesses using innovative approaches and technologies to solve problems for not only their own communities, but others as well.
One is example is Therapy Connect, a business founded in Deniliquin, NSW, that operates solely online. It has become recognised as a leader in the field of providing online speech and occupational therapy supports to children and families in Australia. Their business has provided services to over 25 new regional areas across States and Territories in Australia and reaches as far as Asia, all from their own regional bases in New South Wales & Victoria.
Another example is business Pointer Remote Role, a platform that matches professional candidate profiles with roles that can be conducted remotely and that are specific to their skill set and experience. Think hookup app Tinder, but for remote employment. The business is based in The Rock, NSW, and was started to create a more level playing field for professionals living regionally.
States too are active. Queensland has a Regional Innovation Hubs program which is starting to fund spaces and activities to foster innovation in regional places. NSW too has an augmented NSW incubators and accelerators program, and South Australia has both early stage and venture capital funds.
Mapping out these regional innovation ecosystems gives us a better idea of how these interventions can be even more targeted to addressing known weaknesses. Longreach's Entrepreneur in Residence is a great example of how dedicated people and a little financial support can address a key gap.
Longreach in Central West Queensland hosted an Entrepreneur in Residence, Daniel Johnsen, from California. Johnsen is a US-based Startup Weekend facilitator and mentor. These Startup Weekends are a 54-hour events, where different people gather to pitch ideas for new startups, form teams around those ideas, and work to develop a working prototype, demo, or presentation by the Sunday evening. Johnsen set up the first Startup Weekend Outback Edition in August. He said:
The pitches and ideas were on par with those that I have seen all over the world. I look forward to facilitating another one in the region before my time as Entrepreneur in Residence finishes next June.
This is the kind of targeted approach, involving partnerships and collaboration with regional innovators and resource organisations, that's needed to lift other regions performing badly in the index, to innovate better.