All businesses hit choppy waters at times, and inevitably several end up drowning. High Street tailor Austin Reed followed hard on the heels of department store BHS this week, both paying the price for management failures and longstanding trading issues to become the latest retailers to go into administration.
What sounds like a dull accountancy term in fact signals a fraught and sometimes frenetic period marked by anxiety. What jobs will be saved? How long have employees got? Who will turn out the lights?
With almost 11,000 employees and 164 stores, comparisons between BHS and the fall of another once-loved British retailer, Woolworths, in 2009 are inevitable. The closure of BHS would be the UK's biggest retail collapse since 815 Woolworths stores closed. As administrators seek a buyer, BHS employees will face uncertainty about their daily working lives, as I remember from my first-hand experience as an employee in the dying days of Woolies and can share now as an HR academic.
I was HR manager for a head office site of nearly 400 employees. I learned the full details of my employer's financial difficulties on the BBC 6 o'clock news after leaving work on November 26, 2008. Like every other employee, I did not know what to expect.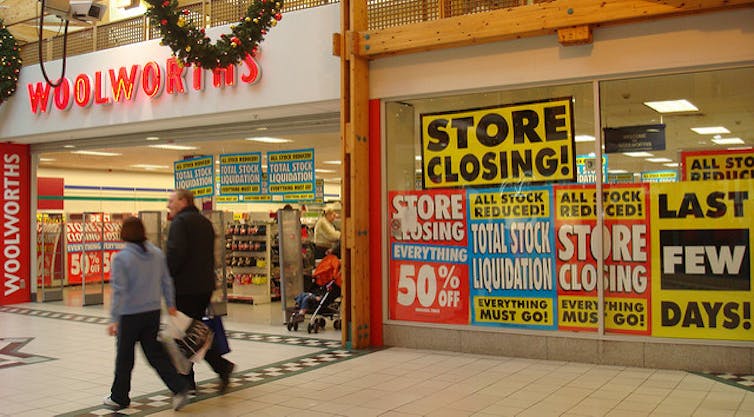 Grim times
The next day delivered angst and doubt along with the arrival of the administrators onto site. They arrived suited and booted and took up positions behind closed door management offices with formal introductions only to senior management. More administrators moved onto site gradually, from a handful the first day to around 20 unfamiliar, emotionless faces, silently working on their laptops in hushed groups in meeting rooms.
Long emails lacked clarity about what this really meant for the 26,000 employees as a buyer was sought and not found. There was obvious worry about impending job losses, the presence of the administrators on site created further apprehension. There was a lack of transparency. Meetings between the now new management team (the administrators) left employees nervously speculating on their next move.
Meetings with senior directors to gain necessary information about the day-to-day running and management of the company resulted in group emails containing employee lists which "invited" the first dispensable employees to their pre-departure group briefing. Further lists of names and job roles set out who was needed at each stage of closure. In a well-oiled administration machine, it can be a brutal time.
Not waving
As site management at Woolworths, we found the first cull devastating to witness. HR specialists had no control over the process. The brevity of the administrator's announcements, the lack of opportunities for employees to ask questions or take time to say their goodbyes was shocking. But the clinical nature of the process could not mask the very real display of human emotions of anger, fear and sadness.
Over the next eight weeks, employees left in "waves" based on their perceived value as decided by the administrators. First, it was customer service agents – once initial customer queries subsided – then operational teams clearing stock and then facilities and estates teams which managed building closures and document archiving.
A core HR team, as one of the last to leave, became the administrative function it had tried so hard not to be during happier times – cross-checking statutory entitlements to be paid by the government on 26,000 redundancy payment forms. Stores were put to rest in phases and, by January 6 2009, the last stores closed. Only a select few employees remained at head office and distribution locations.
There remains a chance that BHS and Austin Reed will find buyers, but that won't end the uncertainty. And while they face a similar fate to Woolworths, the media are vying to discuss broken promises made by management of BHS to shareholders. But what about managers' broken promises to staff? Employees in the UK's steel industry are experiencing the same emotions: trauma at the breach of trust, job insecurity and fear about what the future will hold for them and their families.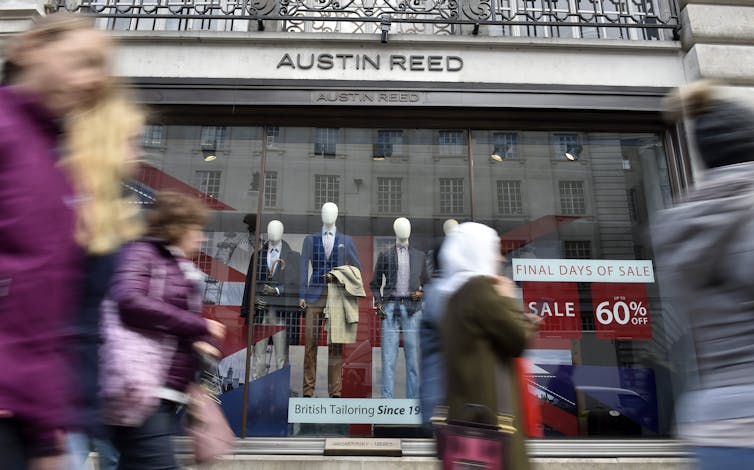 Following the script
Back in 2008, Woolworths employees were faced with a tumult of questions. Should they turn up for work? Would they get paid? What about their pension? Should they continue working on projects? Would they get a reference?
Line managers tried to answer questions but they could only give uncertain answers. Many managers also tried to sidestep the emotional side of redundancy through rationality. Scripts are read, FAQ documents distributed, rational language deployed: "It's not about you, it's the role that's being made redundant".
ACAS research refers to redundancy handlers as "downsizing envoys", not like George Clooney's character in the film Up in the Air, but ordinary management folk, implementing decisions of leaders who are keen to dodge toxic employee emotions. The "emotional labour" of those required to display a neutral rather than authentic human emotion only dissipates as employees and managers eventually face the same fate.
So, for BHS, what lessons can be learned seven years on from the demise of Woolworths? Failure to collectively consult, in what is known in employment law circles as "The Woolworths case", enabled employees to bring employment tribunal claims for protective awards. This after-the-event compensation does not account for the anguish experienced at the time.
Rather than "managing emotions" it is better to "work with emotions". Managers should encourage communication between teams, allowing emotions to bubble to the surface by listening and letting frustrations be aired. I hope BHS will keep employees well informed ahead of media leaks and provide answers to employees' questions. Even Clooney's "corporate downsizer" eventually recognised that people need respect. Let's hope the administrators at BHS consider the human side of the story.