Max Dupain and Frank Hinder are among the many significant artists who contributed decisively to Australia's modernist tradition. Less well known, however, is that they both worked for Australia's military during the Second World War.
Seconded to the Department of Home Security, they used the techniques of abstraction, cubism and surrealism to help the military camouflage and conceal soldiers, aeroplanes and military equipment.
Dupain and Hinder were part of an international movement of artists deployed to work in camouflage. Their overseas counterparts included such illustrious modernist names as Roland Penrose in the UK, and László Moholy-Nagy and Arshile Gorky in the US.
These artists researched how to conceal and disguise objects and bodies for military advantage, instructing their respective military forces in the "art" of camouflage.
In World War Two, it was even more important to conceal bodies and objects from the camera's eye than from the human eye. Mechanical eyes – particularly the aerial machine-aided eye that used infrared film – were sharper and more capable of seeing through disguise.
For this reason, photographers were in great demand. The Royal Australian Air Force (RAAF) trained Dupain in surveillance and counter-surveillance. He learnt how to decode aerial information and detect any signs of camouflage activity below. He also built camouflage installations on the ground and made photo tests of them from the air.
The techniques Dupain used in his photographs of human subjects before the war had a practical application in wartime. In his 1936 image Jean with Wire Mesh, the patterns and shadows cast by netting on the model's skin create confusion. Later, when he was stationed at Bankstown aerodrome with the RAAF, Dupain used camouflage nets to conceal aeroplanes on the ground from the aerial observer using similar shadows.
Dupain's pre-war photography experimented with other optical disintegration effects. His use of double-exposures, where two separate images disintegrate as they blend into each other, produced an effect where the form is immersed in background. This was a technique he later taught soldiers in Papua New Guinea: how the proper use of pattern, colour and shadow, painting the skin and clothes with light and dark, helps bodies to become abstract and dissolve from view.
There are many synergies between modernism and military camouflage. Camouflage is paradoxical and cryptic. It requires the mind to think in doubles. Abstraction's dissolution of form, surrealism's subversion of the authority of vision, collage's disorientation of perspective and cubism's fragmentations were all modernist trends that were fundamental to the techniques Dupain, Hinder and their colleagues used to create camouflage. Towards the end of his life Dupain reflected that in the 1940s he was "pattern prone".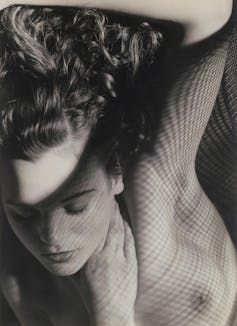 Dupain and Hinder worked alongside Professor William Dakin, a marine zoologist from the University of Sydney. They published a book, The Art of Camouflage, a practical manual for the military with visual examples, including the technique of "obliterative shading", removing any distinction between figure and ground, between the real and the imaginary.
Dupain and Hinder taught soldiers that in times of war the strong-willed are not afraid to camouflage themselves (in contrast to earlier notions of warfare that viewed hiding as antithetical to masculinity). Yet in civilian life, deception was not a virtue. And self-obliteration was unthinkable. This dichotomy no doubt played a part in the difficulties many returning soldiers had to adjusting to life back home once the war ended.
The dichotomies of visible and invisible, real and abstract, distinct and undefined, present and obliterated, were embodied in the shifting social values that occurred in wartime and peacetime in the period of modernity.
But they also played out in the art world. At the time, opponents of modernism, as practiced by Dupain and Hinder, railed against abstraction and other aesthetics of obliteration. What the traditionalists wanted was realism and an aesthetics of standing out. The views of the old guard were articulated by the critic Lionel Lindsay, a man who referred to modernism in art as "a freak".
It is a great irony of art history that the role of modernist artists such as Dupain and Hinder in Australia's wartime effort has been largely ignored or forgotten. Perhaps it has not a little to do with the way it sits so ambiguously – and uncomfortably – between the history of violence and the history of aesthetics.
Ann Elias will be giving a lecture entitled "Obliteration: the camouflaged body and photography in modern war" at the AGNSW this weekend.