It's been years since I attended high school and university in the late 1970s and early '80s, but I can clearly recall heading down to the Hire-a-Student office in Calgary after finishing exams, checking the job postings and finding work without too much effort.
As a student returning home to Alberta, owning steel-toed boots was about the only requirement I needed to get a summer job. But my studies were in music and I had aspirations to be a composer. While I always spent time each summer trying to compose on the side, the long hours on the job site (often six days a week) usually meant that getting notes on paper was challenging.
As a university music professor, when I see my students look for summer work these days, it definitely seems that jobs are harder to find. Many students need to start looking for summer employment with the first sign of spring or earlier. Working multiple summer jobs is common.
All of these reflections came to me last June when I was asked by the Kingston Chamber Choir (KCC) to mentor a student composer. The organization had hired a student to write an original composition for a premiere performance at their November 2017 concert. Funding provided through Canada Summer Jobs enabled them to make the hire.
I was immediately intrigued by the originality of using a federal program to help a young composer. The student composer would be able to develop their craft and have the practical and public goal of writing a new piece for a premiere performance. To me, providing this kind of real world experience to a young composer is visionary and I immediately agreed to lend assistance.
Support for young voices
A KCC board member got the ball rolling for this innovative initiative. The member said the process was actually fairly simple and the Canada Summer Jobs application was easy to complete. While the hourly rate was fixed at $11.50, everything else could be tailored to the choir's needs.
The choir wanted the student to compose a four- to five-minute unaccompanied composition for a soprano, alto, tenor, bass (SATB) choir, perhaps setting a poem written by a Canadian poet or capturing some other aspect of Canada.
The board, led by the choir's artistic director, Gordon Sinclair, decided the job would require 30 hours of work per week and run for seven weeks for a total salary of just over $2,400.
It is worth comparing this total fee to the Canadian League of Composers' suggested minimum commissioning rate for professional composers. For an unaccompanied choral work of this duration, the rate is $475 per minute. This makes the student salary align with the minimum fee that a professional composer would be paid. Of course, it can be assumed that an experienced composer would not take over 200 hours to write a similar piece. Still, this kind of payment is a significant boost for any emerging composer.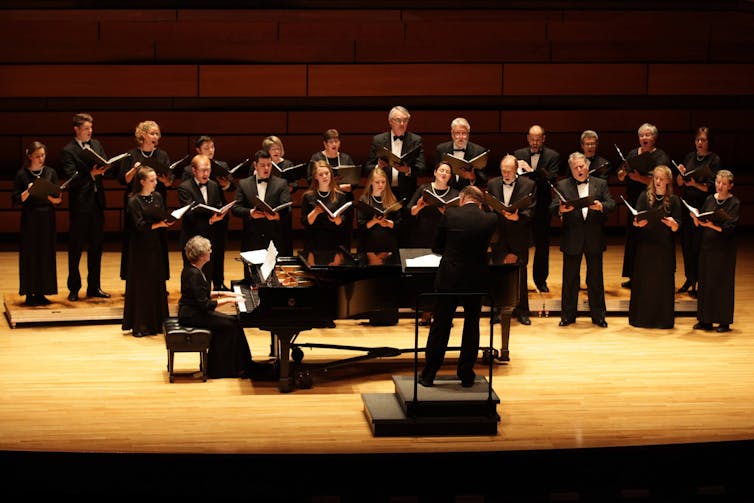 The KCC choir circulated their call for applications to Ontario university music programs and service organizations such as Choirs Ontario. After conducting online interviews, the board selected Crescenzo Dicecco. Dicecco is a University of Toronto undergraduate composition student.
Dicecco's application was no doubt helped by a YouTube video of an imaginative choral work he wrote entitled Honour Song. In our age of instant communication and promotion, having an online presence is a great investment of time and energy for any young artist.
A sensitive work
Once chosen, Dicecco selected a poem by Esme Isles-Brown entitled Longing to set to music. Our first meeting was in person in Kingston, and later we communicated online. Dicecco has completed a sensitive work that will be featured at a concert on Nov. 12, Majesty-Canada at 150, a tribute to the 150th anniversary of Canada's Confederation.
Hiring a young composer for the summer to write a new work for this concert is an effective way to support new talent and emphasizes the need to nurture emerging creative voices for the future of concert music in Canada.
Sinclair, the outgoing KCC director, emphatically believes the choir should pursue this kind of activity again. He said: "It's a wonderful opportunity for young student composers, and an opportunity for an organization like KCC, which has received some local and provincial acclaim, to give back to the music community."
The situation described here seems easily transferable to other areas in the arts. As a professor and mentor to young creative talent, I hope other arts organizations consider using the Canada Summer Jobs program to employ students in similar creative capacities.
Even staying within the area of composition, most symphony orchestras have concerts devoted to student or family audiences. It would seem an ideal proposition to program a work written by a student composer at this kind of concert. I also invite others to share their related stories of support for young creative talent. Perhaps together, we can work to provide viable jobs in our creative industries.