A horse is a horse is a horse, right? Not so at the Olympics, where the equestrian events are unique among sports. Equestrian is the only discipline in which the human athlete relies on another living but non-human creature in order to compete for that elusive gold medal.
So what makes that perfect horse – one that can carry its ambitious human rider to a medal position in one of the three Olympic disciplines (dressage, eventing and jumping)?
The first requirement of a good Olympic horse is its soundness - that is, it needs to be physically fit and free from injury. As we saw with the withdrawal of Australian eventing team member Shane Rose, followed just days later by that of the first reserve Megan Jones due to lameness in their horses, the fitness of two athletes needs to be considered for every equestrian partnership.
There is an old saying, "no foot, no horse" and it holds true in equestrian just as for any other horse sport. The training required to reach Olympic level means the horse will have to stay sound for many years of demanding physical performance.
Length of career is one significant difference between an Olympic horse and a racehorse. Racehorses usually only compete for a couple of years (if that), whereas performance horses compete for a minimum of five years. Andrew Hoy, one of Australia's top event riders and winner of three consecutive gold medals in the sport, competed at London on a nine-year old horse – a horse considered young and inexperienced. In contrast, it is rare to find a nine-year-old racehorse competing at the top level.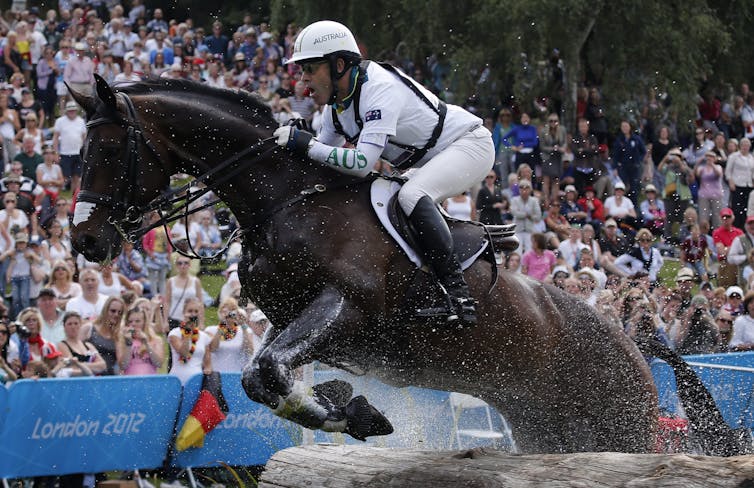 Any performance horse that reaches a high level must be "trainable". This will naturally be influenced by the skill of the horse's trainer. To achieve the best results, the trainer needs to be adept at knowing what to ask the horse, how to ask, when to ask for it and importantly, how to reward the horse for the desired response.
The trainer must also be able to detect subtle changes in the horse's behaviour and responses as these could indicate the early signs of injury. A human athlete can let their coach know when they don't feel right, but animals do not have the benefit of language as humans do, thus the trainer needs to be very well attuned to the horse.
In a study of all 830 registered equestrian coaches in the National Coaches Accreditation Scheme, respondents were asked to rank the characteristics of performance horses.
"Willing", "responsive" and "calm" were regarded as most important for a successful dressage horse while "responsive", "willing" and "brave" were ranked as most important for a showjumper.
The same characteristics but in reverse order were considered important for a eventer. An event horse must participate in dressage and showjumping phases, albeit at a lower level than horses competing solely in these disciplines, as well as jump solid obstacles over a 6km cross-country course.
Contrary to popular belief, the movements dressage horses perform in the arena are all natural movements. If you spend enough time watching horses play, you will be able to see them perform every movement that is in the dressage test of the Olympics.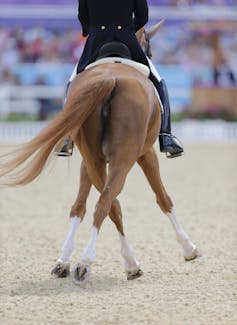 However, producing these movements in test conditions is no easy matter. Firstly, the challenge is to train the horse to perform the movements reliably when the rider gives the appropriate signal.
Secondly, dressage horses must perform the movements with the same natural elegance that horses at liberty show. The latter seems to be the greatest challenge of modern training. It takes many years of physical and mental development for a dressage horse to be able to demonstrate the highest levels of physical performance.
Generally the physical characteristics of the Olympic dressage horse will result in it having a more solid body type with more extravagant leg action than the eventer, who is likely to be of a leaner build, adapted for speed over cross-country and agility when jumping.
The second and third phases of eventing involve horses jumping many obstacles that could easily be avoided – this is not natural for a horse. It highlights the need for an event horse to be responsive to the rider's stimuli regardless of circumstance - it must jump any obstacle that it is directed to by the rider.
Event horses still need to perform a moderately difficult dressage test on the first day of competition. The challenge for the rider when performing the dressage phase is to contain the energy of a super-fit horse that is keen to tear around the cross-country course but must instead perform calmly in a small arena.
The challenges for performance horses are not only restricted to the sport. Like racehorses, high-level performance horses need to be able to cope with a variety of environments such as different competition venues and unusual circumstances such as air travel.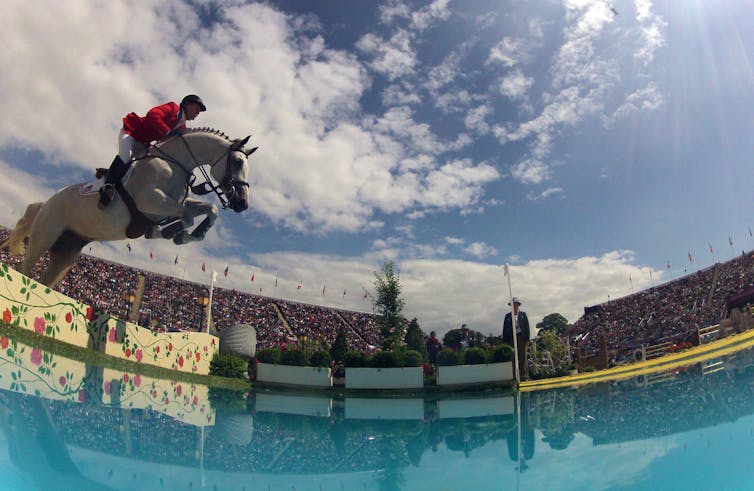 They also need to be able to cope with living conditions that are not compatible with how horses have evolved. In the natural environment horses live freely in herds whereas racehorses and performance horses spend most of their lives living in isolation, often in stables or yards rather than open paddocks.
They may have social company across the stable wall or fence but rarely get to spend time living in group situations. While these modifications are aimed at reducing the risk of injury, it is at odds with their natural environment and is yet another adaptation to which they must become accustomed.
So what really makes a good Olympic horse? One that is physically able to perform at well above average levels for years, is responsive and trainable and is able to adapt to a life of unusual conditions and experiences.
Of course, all this can come to nothing if a horse slips and falls, as two of the Australian mounts did in the cross-country phase of the eventing last week. In this discipline, the horse is an integral part of an athlete's ability to succeed.