The aim of the United Nations Sustainable Development Goals is to transform lives around the world over the next 13 years. The 2030 agenda includes commitments to 17 goals and 169 targets in tackling sustainable development challenges. These challenges are mainly in the developing world, particularly in Africa.
The agenda sends a strong signal that efforts are underway to help tackle the biggest challenges in the world. These include climate change, poverty, diseases, energy crisis, food insecurity and water scarcity.
The SDGs were agreed once the time-frame for the Millennium Development Goals had come to an end.
African countries failed to meet a number of the Millennium Development Goals. For example, it was the only continent that failed to halve extreme poverty by 2015. The continent is home to the largest number of poor people on earth. But the poverty rate in Eastern Asian countries declined from 61% in 1990 to 4% in 2015.
This leaves a fundamental question: Why were some of the MDGs, such as the targets around poverty, not achieved and what does it mean for the implementation of the SDGs?
Failures and successes
Several factors contributed to the inability of many African countries to achieve MDGs. These included low income earnings, weak institutions, lack of infrastructure and poor governance.
Another key problem was that the MDGs were shaped by western models. African countries were expected to adopt western values as well as technologies and financial structures. Many had to lean on their development assistance to achieve growth.
Scholars have argued that meeting the targets was impossible without key areas being strengthened. These include democracy, infrastructure, industry, science, technology and the transformation of agriculture.
That's not to say that the MDGs were wholly unsuccessful. The vast majority of African leaders welcomed the impact that they had. For example, Rwanda has emphasised the significance of the MDGs in lifting one million people out of poverty in the country.
But some were unconvinced about the processes that led to the targets being set up. One of the key criticisms is that the most African countries were bound to fail due to a lack of proper support for the implementation of the MDGs.
For example, African countries that received financial support from donors were those with relatively good institutions and democratic structures. Many, however, could not fulfil conditions required to attract finance.
If the SDGs continue to be built on the same platform, it's safe to say that they won't be successful. Change is needed, particularly to the prevalent top-down approach which is seen as biased and unfair.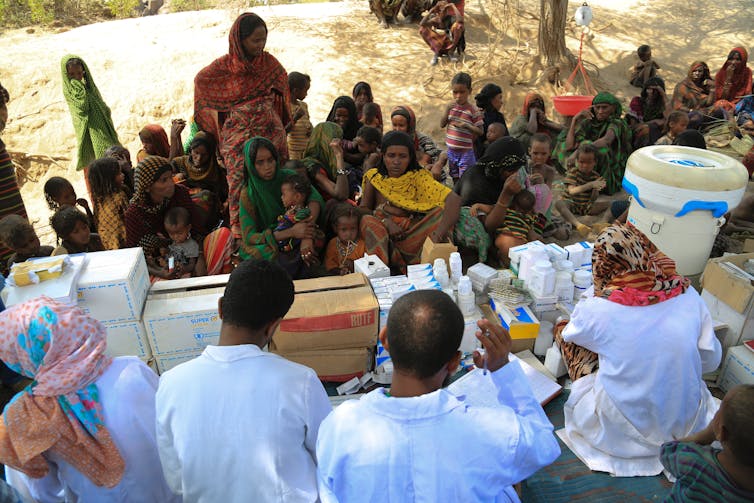 Lessons from the previous round
The first significant change that needs to happen is recognition that there are substantial differences – in relation to capacity, infrastructure and finance – between countries.
A good place to start would be to identify success stories and to work out how these can be replicated and what could be done differently.
For example, weak health system and poor delivery of health services continue to aid the spread of major diseases like malaria, tuberculosis and HIV/AIDS. This made it difficult to achieve MDG goals to reduce child mortality, improve maternal death and combat HIV, malaria and other diseases.
But some countries did make significant progress. These included Ethiopia, Rwanda, Malawi, South Africa, Mauritius and Ghana. Ethiopia achieved the target of reducing HIV/AIDs prevalence between 15 and 49-year olds.
For its part South Africa also achieved goals on universal primary education, antenatal care coverage and complete control of malaria.
Ethiopia and South Africa could provide lessons for other African countries on how they can achieve the new round of goals, particularly relating to health.
North Africa was the only region in Africa that met the target on access to clean water. Other African countries could take cues from this region on how to increase access to improved drinking water and sanitation.
But there is a deeper problem that African countries need to address – the lack of reliable data to assess whether goals have been attained. In fact, 61% of African countries do not have adequate data to monitor the progress on poverty reduction and other related MDG targets. This makes it difficult to monitor progress.
There is also a need to put more effort into understanding that most of the SDGs are interlinked. So encouraging new innovation in sectors like agriculture and energy can play a significant role in tackling the impact of climate change and improving quality of life. Harnessing agribusiness innovation can also tackle poverty and hunger and create job opportunities.
How the UN can help?
The UN should facilitate coordination between countries as they set about planning for the SDGs. Good policies need to be designed with the involvement of regional, state and local government as well as the private sector.
To secure better success this time round the following four points must be taken on board:
Top down approach must be abandoned

Countries must not be painted with the same brush

Lessons must be learnt from successes under the MDGs, and

National statistical data collection must be improved.
The success of SDGs in Africa will be a key measure of the success of the global effort to achieve sustainability. But appropriate measures and structures need to be put in place to facilitate and implement the goals. The new Secretary General, Mr António Guterres and his African counterpart, Mrs Amina Mohammed, have a huge task ahead of them and must join hands with African leaders, NGOs, and regional organisations to make this effort a reality.