"PLEASE GET ME OUT OF HERE I DON'T BELONG HERE!! HELP ME! HELP ME! PLEASE!!!!!! … I don't see how they can continue to keep me locked up like a criminal. I have no charges. I had already paid my time for my crime."
These are the last words of Teresa Gratton.
Gratton, 50, died in prison on Oct. 30, 2017, after sending this letter to her husband. She was being held for immigration-related reasons and the details surrounding her death remain murky.
The Canadian immigration detention regime is rife with violence, distress and despair. Detainees are separated from their families, denied access to legal counsel, faced with the removal of their kids and imprisoned in far-flung locations with little access to psycho-social supports and medical care.
At least 17 people have died in Canadian detention since 2000. All this without having committed a crime.
The detention of migrant and asylum seekers has garnered public attention in recent years and Canada has committed to broad reforms. But the gender and racial lenses are not adequately applied, and the unique experiences of women are discounted.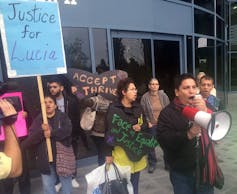 Visceral stories stand out, like Gratton's death and that of Lucia Vega Jimenez, who hanged herself in desperation about her imminent deportation, fearing she would be forced to return home to a life of domestic abuse.
But the broader impacts of detention on women remain hidden.
We are honoured to have been invited to an April 2018 consultation with the United Nations Special Rapporteur on Violence Against Women, Dubravka Šimonović. Through our new project, we highlight what an application of gender analysis reveals about the ripple effects of immigration detention on women and children.
Detention affects thousands, if not tens of thousands, of women in Canada. Detained women face trauma first-hand. Women are also negatively affected by the detention of family and community members.
Detained men may be separated from their children for prolonged periods, resulting in loss of income, support and housing for the family. The women awaiting their release face harsh visiting conditions and confront the stigma of incarceration.
Detention often spurs violence against women before, during and after detention. In Canada, there are insufficient alternatives and also reporting practices that can be further traumatizing, compelling survivors to stay with abusers and traffickers under threats of further detention and deportation.
Children suffer
Groups such as the International Human Rights Program at the University of Toronto Faculty of Law have also shown how children are harmed across intersecting axes of dependency, insecurity, poverty, racialization, discrimination, stigma and physical and emotional violence. Even short periods of detention have long-lasting psycho-social impacts.
Our new project with FCJ Refugee Centre and other community partners challenges the false narratives about the benign impacts of Canadian detention on women, and delivers much-needed services to vulnerable women who are being unfairly left out of discussions on the negative health impacts of detention in Canada.
We propose to look at detention as what's known as a social determinant of health that disproportionately affects racialized newcomer women.
Literature on social determinants of health explains that income, social status, education, gender and racialization, among other markers, directly and indirectly impact health and well-being.
In our case, the marker on health is immigration detention, and the social determinants or outcomes include domestic violence, psychosocial degradation, parent and child separation, loss of housing, health benefits, and livelihoods, and physiological ramification of prolonged stress.
Pervasive fear of detention and deportation increases women's vulnerability to violence from traffickers, partners, employers or other perpetrators. The existence of an anonymous tip line to "out" undocumented people and the routine requirement of weekly reporting at hard-to-reach locations re-traumatize vulnerable women.
Women slowly destroyed
We also draw inspiration from the work of renowned American anthropologist Christen A. Smith and others who have looked at the impact of police violence on Black communities in Brazil and the United States. The evidence shows that women are killed slowly through prolonged exposure to state-induced trauma, pain and loss.
---
Read more: Slow death: Is the trauma of police violence killing black women?
---
We see detention as a similar form of state violence. We argue that both actual and vicarious exposure to detention traumatize women. Even women's rights activists are not immune, such as the recent rough incursion by officials with the Canadian Border Services Agency into the home of community organizer and single mother Lucy Francineth Granados, whose detention sparked ongoing protests in Montreal.
---
Read more: American-style deportation is happening in Canada
---
Our work incorporates law, social sciences and testimonials to create a big-picture understanding of state-created violence and its disparate impacts on minority communities.
Expanding our scope to include the well-being and health impacts of the detainees' wider communities of care is an important next step in understanding this big picture.
The lived experiences of women interacting with the Canadian detention system reveal violence against women before, during and after incarceration, thereby expanding our scope of what "detention" means from a strict focus on the time in prison to a broader, more prolonged impact.
The depth of the psychological and social trauma on women due to the Canadian immigration detention system is vastly underestimated. It implicates the Canadian state at the very least as a facilitator, if not perpetrator, of violence against women that has profound impacts on the well-being of newcomer communities for generations.
It also challenges the notion of Canada as a welcoming, multicultural and feminist community.