It was a Friday night in Bucharest, and an album by metal band Goodbye to Gravity was being launched at a party in the Colectiv nightclub. Fireworks marked the end of the show. Less than two minutes later, the club was ablaze. Almost 150 people were wounded, many critically – and more than 30 died.
Romania fell into a state of shock. Then, as details emerged of what happened on October 30, a collective sense of empathy gave way to popular rage against the system that allowed this to happen.
It should take more than a nightclub fire to topple a government. Yet links were quickly made between the fire and the political culture seen to have been nurtured by Romania's prime minister, Victor Ponta. Thousands of people began to gather to protest – and within days, Ponta had resigned. Why?
Two sides to the crisis
There are two types of error that contribute to a crisis: latent ones and active ones. Active errors are human errors which are directly linked to the outcome of an event, while latent errors arise out of circumstances and systems that make them possible.
This distinction is at the root of the events after this disaster. Some in Romania have suggested that the Colectiv fire was a result of active errors, pointing to the decision to set off fireworks inside what might be considered an inappropriate venue. The owners have been arrested and charged with manslaughter, accused of allowing too many people in and using non-fire retardant soundproofing material.
But Romanian people instinctively felt that the political system itself incubates latent errors, and that this needs to change if such events are to be avoided in the future.
A few days after the fire, Andrei Sosa, the owner of one of the busiest nightclubs in Bucharest, published an open letter on his Facebook page revealing how easy it can be to acquire a nightclub licence and how shallow formal venue inspections are (indeed Colectiv had a health and safety inspection on the very day of the fire). Sosa's letter went viral and seemed to prompt an awakening of collective feeling that, while people may choose to err and be punished for it, fixing the system is the key to real and lasting change.
The following day, Romanians hit the streets of Bucharest and every other major Romanian city, demanding an end to endemic corruption at all levels of government. This, they argued, was to blame for the poor enforcement of safety regulations that appeared to have caused this tragedy.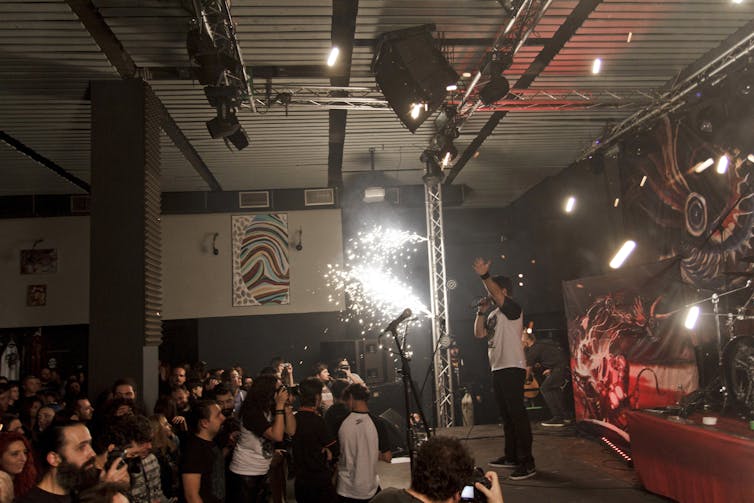 They also protested against the culture of tolerance to corruption that has led to financially motivated and contagious sloppiness. Ponta, after all, has remained in power despite facing charges for fraud, tax evasion and money laundering. His home office minister also faces questions about the misuse of public resources.
The latent conditions leading up to this crisis are far reaching. Beyond these high-profile examples, there is the sense that corruption is rife at the highest and lowest levels. There are also wider concerns about the loss of skilled health workers, an ageing population and the effects of economic recovery efforts which have included budget cuts affecting health-care and emergency services.
Beyond the tragedy
The fire at Colectiv was a first for Romania, but not for the world. Poorly enforced or missing regulations and/or corruption generally seem to be the main culprits for such accidents, but none has previously led to the resignation of a politician – least of all a national leader. Here, Romania is different.
This is not the first time a Romanian government has been overturned by a popular uprising. Some of the people who took to the streets after this incident may still remember the revolution marking the end of communism in 1989. More recently, in 2012, protests over austerity measures brought down yet another government – giving way to the administration of Victor Ponta.
The nightclub fire on October 30 may have been the final straw for Ponta, but it follows years of growing anger about the state of the country. For some time, younger people in Romania have been demanding stronger democratic processes and the end of corruption.
Put simply, the Colectiv tragedy would not have triggered a government crisis had it not been for a profound and lingering discontent with the Romanian political system. The civic solidarity Romanians mustered in the aftermath of October 30 has proven stunningly effective, but the euphoria must be tempered with caution. Just as it did in 1989 and 2012, the aftermath of these remarkable events, upbeat though it may feel, might well incubate new crises in the future.