Tony Abbott is spending this week in North East Arnhem Land, part of his long-held hope "to be not just the Prime Minister but the Prime Minister for Aboriginal Affairs". We asked our experts: what stories does the PM need to hear while he's in the Top End?
Earlier this year, Minister for Indigenous Affairs Nigel Scullion attracted national media coverage on his visits to remote Top End Aboriginal communities, where he urged new local truancy officers clad in bright yellow T-shirts and bearing loudhailers to "get the kids to school". But after an initial spike in attendance at bush schools – often from an alarmingly low base – our more recent analysis suggests that little lasting improvement has been achieved.
Our research shows a huge gap in Indigenous and non-Indigenous school attendance in the Northern Territory remains. However, we have also uncovered some of the reasons for that poor attendance, which could make a real difference to seeing more Indigenous kids in school and getting the education they need for a better future.
Why turning up at school matters
An attendance rate of 80% is generally considered to be the absolute minimum for a student to be able to keep up in their school learning.
A recent Menzies School of Health Research study analysed the school attendance records of about 6,500 children born in the Northern Territory between 1994 and 2004. It found that two-thirds (66%) of the Indigenous students in the sample attended school less than 80% of the school days over their school career. In contrast, just 5% of non-Indigenous students fell below the touchstone 80% attendance level.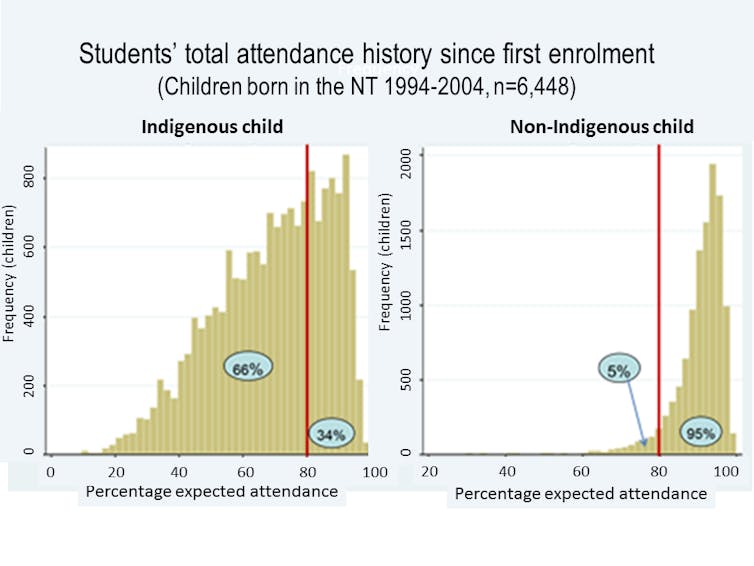 Getting a good education, and doing well at school in a broader social sense, is widely acknowledged as providing the foundation for a healthy and prosperous future. Employers cannot realistically offer work to applicants who lack basic levels of literacy and numeracy.
The disturbing findings from our analysis underline the fact that closing the gap in literacy and numeracy will require much more effective measures to improve school attendance.
Sadly, the school experience of too many Aboriginal children in the NT seems unlikely to offer a path to a better future. The 2013 NAPLAN results show that 18% of year 3 Indigenous children in Australia had reading scores below the national minimum standard. In the NT this figure is dramatically higher – almost half (49%) of Indigenous students are falling below this standard.
These children have little chance of making good progress in their school education. They are very likely to leave school early, without the functional literacy they need to secure and hold a job. Governments, Indigenous communities and society generally simply cannot afford a continuing failure of education of this magnitude.
So Senator Scullion is right to focus public attention on these devastating figures, given the gravity of the consequences of such low school attendance.
But are truancy officers the right solution?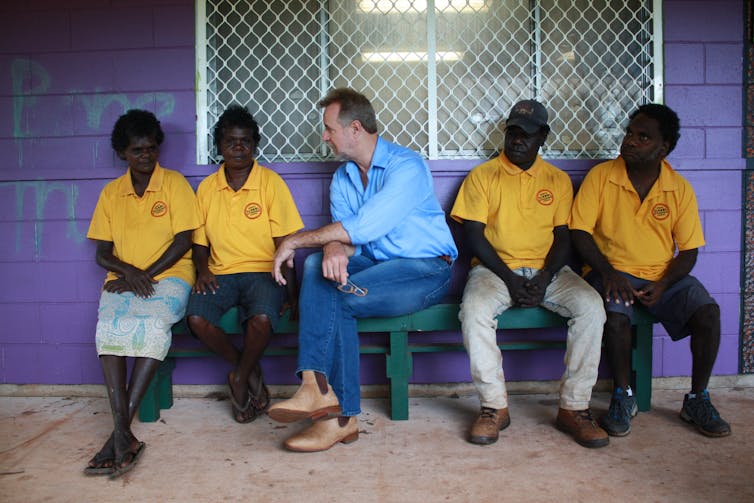 Tackling the causes of truancy
On the face of it, the federal government's allocation of A$46.5 million to the Remote School Attendance Strategy – and its imposition of an income management regime on families who fail to send their children to school – makes sense.
However, many complex contributing factors to do with life in remote Australia create the preconditions for low school attendance. While families must take responsibility for ensuring their children attend school, it should also be acknowledged that underlying community issues such as inadequate housing and health care, and inter-generational unemployment, are affecting their capacity to exercise this responsibility.
School attendance is a particularly thorny issue. Efforts to address one aspect of the problem all too easily reveal previously hidden concerns or create new obstacles.
If we want to find a scapegoat for the disappointing progress in improving Indigenous education outcomes, then it's easy to focus on the performance of bush schools. But the problems of remote Australia are complex and the solutions need to be nuanced.
The truth is, schools can't be expected do it all on their own. In fact, having looked at this problem closely, our Centre for Child Development and Education has concluded that one of the crucial solutions to this problem lies not at school, but at home.
The connections between housing and school
Our research indicates a strong correlation between overcrowding in housing and school attendance.
We combined publicly available Australian Bureau of Statistics community data with schools data from the MySchool website on school attendance in remote Northern Territory, Western Australian and Queensland locations. Eight community factors – including average adult weekly income, education level, language spoken at home and remoteness – were identified as being separately correlated with attendance.
Remarkably, when we examined how these factors operated in combination, almost half of the explained variation in attendance was accounted for by a single measure: housing over-crowding, which is the average number of people per available bedroom in the community.
The average number of people per bedroom in these communities ranged from one to almost four. For each extra person per bedroom, there was a 20% reduction in the rate of school attendance.
There are compelling reasons for tackling housing overcrowding as an immediate health issue. However, the strength of this link between housing and school attendance suggests that reducing the shortage of adequate housing may be another important way to enable families to better support their children's school attendance and learning.
Correction: A figure in this article – A$46.5 million to the Remote School Attendance Strategy – has been updated, along with an online reference. Thanks very much to reader Greg Dickson.
---
Further reading in this Abbott in Arnhem Land series:
Birthing on Country could deliver healthier babies and communities
Welcome to my Country: seeing the true beauty of life in Bawaka
'PM for Aboriginal Affairs' Abbott faces his biggest hearing test
Australia's 7 Up: the revealing study tracking babies to adults
Well-connected Indigenous kids keen to tap new ways to save lives
Indigenous Australia's rapid rise is shifting money and votes
Would you risk losing your home for a few weeks of work?
Listen to your elders: inviting Aboriginal parents back to school
Indigenous Australians need a licence to drive, but also to work
Keeping Indigenous teens in school by reinventing the lessons
Explainer: Can a DNA test reveal if you're an Indigenous Australian?
Explainer: what Indigenous constitutional recognition means