Tony Abbott is spending this week in North East Arnhem Land, part of his long-held hope "to be not just the Prime Minister but the Prime Minister for Aboriginal Affairs". We asked our experts: what stories does the PM need to hear while he's in the Top End?
When ngapaki, non-Indigenous people, come to Bawaka they see the beauty of the blue sea and the white sand, but they don't see what really makes our land beautiful. They don't see the stories, the connections, the patterns, the rhythms, the songlines. – Laklak Burarrwanga
We are Yolŋu people, from Bawaka in North East Arnhem Land, which is more than 600 kilometres east of Darwin and is down the coast from where the Prime Minister is camping this week.
Bawaka is our homeland, our Country. Country means the land, but it means so much more too.
Zoom out on the map to see where Bawaka is in northern Australia.
For the past eight years, our research group of five Yolŋu (sometimes written as Yolngu) women and three non-Indigenous academics have been working together sharing the Yolŋu women's knowledge, especially through the women's tourism business and the book we wrote together, Welcome to My Country.
We want visitors to learn from us, so that Indigenous and non-Indigenous people can grow together. We are for unity and for peace.
We are for learning both ways. We are for a future where we all learn from each other.
So we invite you now to come with us to Bawaka, to learn a little about what lies beneath the beauty of Bawaka. We invite you, and the Prime Minister, to take off your shoes and walk with us, to feel your feet in the sand and begin to learn.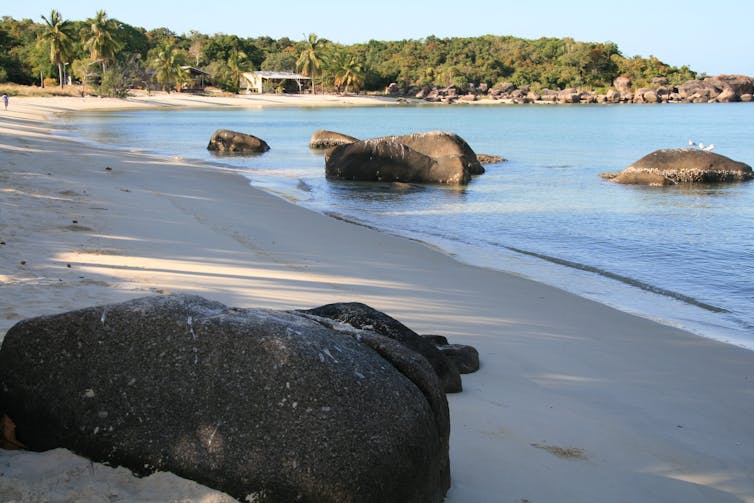 When ngapaki come to Bawaka, we ask Bawaka Country to welcome you. Bawaka is alive, it talks to us and cares for us.
We welcome you so that the land and the sea, the tides, the currents, the plants, the animals, the winds, the rocks, the songs and the dreams recognise you.
And we are Bawaka Country too, Yolŋu people, our ancestors and our unborn children, with our Yolŋu languages (dhäruk), our Yolŋu knowledge and our Yolŋu Law (Rom). People are Country too.
Country will welcome you as long as you respect it, as long as you behave well and care for the land and the nature, care for each other as family, as kin.
Country is everything in balance, everything connected as kin. Country nourishes us, and we nourish Country. We can't be separated from it.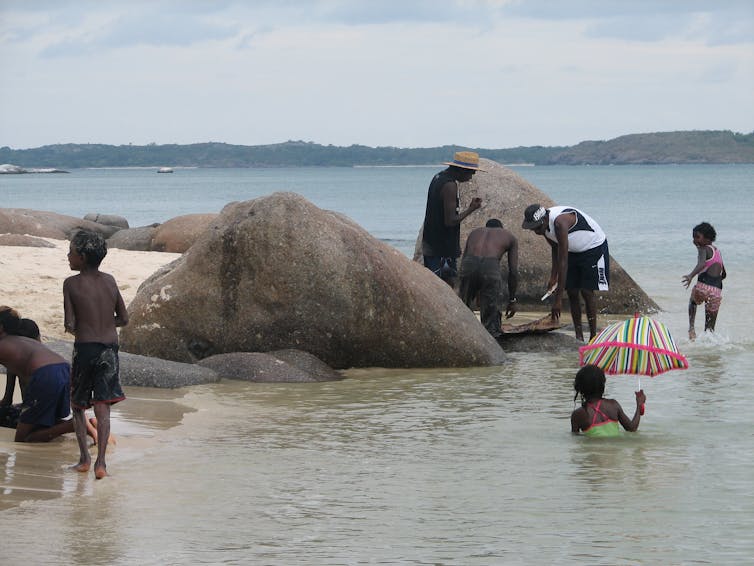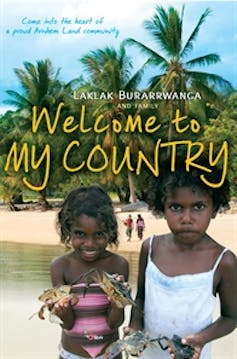 Everything at Bawaka has and tells a story. Everything communicates, through its own language and its own Law.
At Bawaka, it is now the season of Rarranhdharr.
It is a hot, dry season, the time of year when your feet burn when you walk on the sand. The fruits are ripening and the warrkarr, the white lily, is in flower. The warrkarr tells us that it is the right time to hunt stingray. It is a bountiful season. Everything is ripening and getting fat.
If we listen to the warrkarr, we know it is time to hunt. Country is communicating with us. We are connected, the fruits, the stingray, our hot feet and the warrkarr.
All these things have their knowledge and their Law. They must be respected.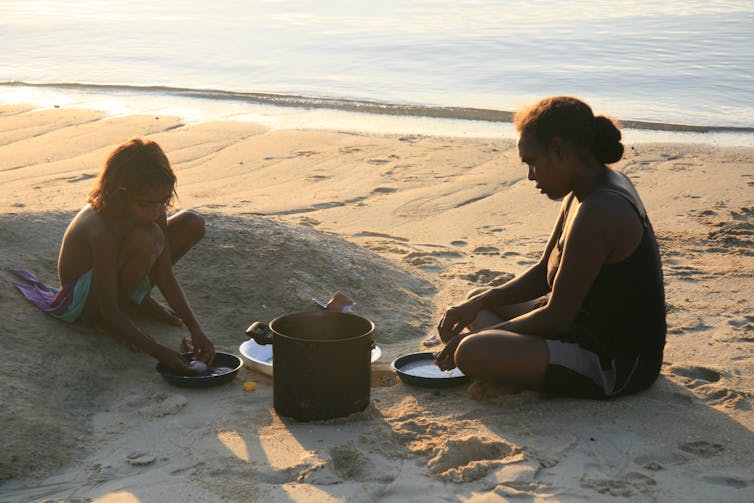 Everything at Bawaka tells a story, and everything communicates, but we must know how to listen.
Remember, Country can't be pulled apart and people can't be separated from Country.
We live on Country, we won't be treated as if we have no strength, no knowledge, no Law, no language.
Country makes us strong. Country cares, Country nourishes, Country is who we are. We are Yolŋu.
In the Yolŋu world, we have a library in the land. You can't destroy it. If you burn it, it grows again. This land is full of more knowledge than you can imagine. – Laklak Burarrwanga
---
Further reading in this Abbott in Arnhem Land series:
Birthing on Country could deliver healthier babies and communities
'PM for Aboriginal Affairs' Abbott faces his biggest hearing test
Australia's 7 Up: the revealing study tracking babies to adults
Well-connected Indigenous kids keen to tap new ways to save lives
Indigenous Australia's rapid rise is shifting money and votes
How crowded homes can lead to empty schools in the bush
Would you risk losing your home for a few weeks of work?
Listen to your elders: inviting Aboriginal parents back to school
Indigenous Australians need a licence to drive, but also to work
Keeping Indigenous teens in school by reinventing the lessons
Explainer: Can a DNA test reveal if you're an Indigenous Australian?
Explainer: what Indigenous constitutional recognition means