Is this the age of clean cycling? New testing methods, better attitudes among professional teams and a proactive stance from governing bodies all seem to suggest that the sport has cleaned up its act. Everyone who loves the sport will hope that this is true, but the shadow of the dark years still looms large. Look no further than this year's Tour de France, where three of its four main contenders have all been touched by the scandal in recent years – though it must be stressed that none has ever been caught taking controlled substances with the intention of improving their performance.
Britain's Chris Froome, who holds the first-placed yellow jersey at the time of writing, admitted to having missed a test only last month. This was due to lack of communication between himself and the staff of an Italian hotel at which he was staying. Though not in itself a violation of the World Anti-Doping Code, the very fact he needed to publicly defend this scenario shows how deeply rooted suspicions are in the sport.
Neither was this the first time that Froome has come under the microscope. Two years ago, his first Tour victory was marred by implied and unfounded accusations – to which he expressed anger at the time. The following year, meanwhile, former Olympic cycling champion Nicole Cooke publicly criticised the world cycling association, Union Cycliste International (UCI), for allowing Froome to use corticosteroids for medical reasons during a race that he went on to win. This was after doubts were cast over the processes through which Froome legitimately obtained the controlled therapeutic use exemption to compete. Cooke called on the UCI to apologise to the rest of the competitors for letting them down, though made clear that the cyclist did not deserve to have the title removed.
Then there is Alberto Contador, who has served a doping ban, albeit in controversial and somewhat murky circumstances. The Spaniard won the 2010 Tour de France before testing positive for small levels of clenbuterol, another banned steroid. He claimed it may have entered his body through contaminated meat. While the Court of Arbitration for Sport did not conclude that he had taken the steroid intentionally, it decided it was his responsibility and that he should face the standard two-year ban. He was stripped of the 2010 title and also his 2011 Giro D'Italia win, even though the latter was after the positive test, which recently led Contador to insist he should still be recognised as the winner.
Contador's 2010 victory then attracted further controversy after the Cycling Independent Reform Commission (CIRC) report into the state of the sport post-Lance-Armstrong found that the Spaniard had received favourable treatment from the UCI in the run-up to being sanctioned. According to the report, the association only decided to support taking steps against Contador after the German media and the World Anti-Doping Agency both pursued the case.
Italy's Vincenzo Nibali is the third of this year's top Tour de France contenders. He has never been found to have taken controlled substances before a race. He rides for Astana, three of whose members of the Astana were caught doping last year. Other accusations include that a team member was associated with the doping doctor Michele Ferrari, that the manager Alexandre Vinokourov was banned for blood doping while still competing in 2007, and a senior member of the team previously worked with known doper, the late Marco Pantani.
Nibali recently hit back that Astana was a "symbol of clean and honest sport", but most recently there was fresh controversy as Astana rider Lars Boom was caught with low levels of cortisol in his blood ahead of the Tour de France. He was still allowed to race, since this doesn't necessarily mean he was doping, but it was a revelation that Astana could have done without.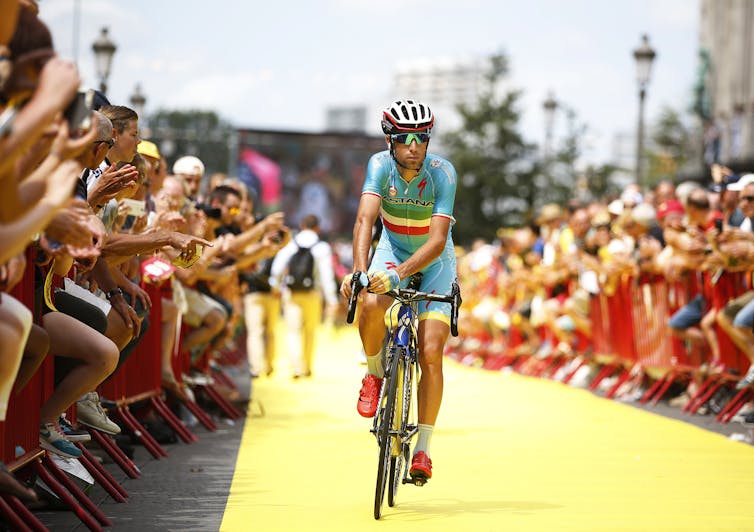 What to believe?
It remains possible that we are now in an era of tougher regulations which are respected by team managers and riders. Top riders like Froome, Nibali and Bradley Wiggins all say that the sport is much cleaner now, as does Columbia's Nairo Quintana, the final top-four contender in this year's tour.
Two important reports have attempted to draw a line between past misdemeanours and current practice: the CIRC report I mentioned earlier and another into Danish cycling by Anti-Doping Denmark. Both point to ongoing controversy, however. The Danish analysis finds cases of doping up to and including this year. The CIRC report claimed that 90% of the peloton is still doping. This claim has been hotly disputed by David Millar, the British rider caught doping while a member of the Cofidis team. He claims that "the majority of riders winning the biggest races are clean".
Whatever the reality, the grilling that Chris Froome faced in 2013 is unlikely to be repeated any time soon. Many reporters, stakeholders and fans have put their faith in new UCI president Brian Cookson and in the World Anti-Doping Agency to clean the sport up, with added scrutiny from pressure groups seeking a collective anti-doping approach such as Movement for Credible Cycling and The Outer Line.
Arguably these shifts in attitudes and behaviours have occurred because people have come to believe that others have changed – in this case that winning Grand Tour races without doping is possible. This is a huge change from 15 years ago when the best cyclists thought they needed to dope to win, despite the blanket denials at the time.
To some extent the story has moved on to other sports, most recently athletics. Yet in cycling the intensity of the current anti-doping efforts, including among investigative journalists, means that even trivial incidents such as Froome's recent hotel debacle are made to seem indicative of doping risks. Missing tests has now become an act of public contrition, where really there should be privacy. Guilt by association is commonly implied, even if proof of wrongdoing is lacking.
The reputational implications of past doping sanctions are still hard for any individual to shake off, not to say the sport as a whole. The highest echelons of cycling might be cleaner, but the spectre of accusations and the merest hint of any scandal will continue to haunt the world's greatest cycling race. The sport has not yet escaped from its past – it may be many years before it does.