This is the third article in our series Making Cities Work. It considers the problems of providing critical infrastructure and how we might produce the innovations and reforms needed to meet 21st-century needs and challenges.
---
Opposition to proposed road projects has become a feature of state and federal elections.
In Western Australia, protests against the Roe Highway Stage 8 escalated just before Christmas 2016. On the eve of the state election, Main Roads WA contractors (acting at the behest of the then Liberal-National government) pushed forward with the destruction of the environmentally significant Beeliar wetlands.
This happened despite considerable community opposition. The Labor opposition, now the newly elected government, declared it would halt the construction if elected.
Politics as usual puts planning under a cloud
In our recently published paper, we compared road projects in Melbourne (East West Link), Sydney (WestConnex) and Perth (Perth Freight Link). Based on observational, policy and media analysis, we found growing antagonism between the state governments and their residents.
Roe 8 is just the latest freeway battle in Australia, following those in Sydney and Melbourne, where the Labor government cancelled the East West Link.
To the casual observer, these protests, and promises by parties in opposition to scrap contracts if elected, could be seen simply as "politics as usual".
However, normalising politics in transport can veil the deficiencies and shortcuts that undermine planners' ability to act in the public interest. For this reason, it is critical that we examine what dynamics are at play, and how planning serves and/or exacerbates these.
Professional planning bypassed
In the case of Roe 8, good planning was circumvented.
Not only is this undermining efforts to reduce car dependency and invest in public transport – goals adopted in these three cities' metropolitan strategic plans since at least the 1990s – it is undermining professional planning practice.
The evasion of due process in planning has recently come into sharp focus. Reports by the Australian Auditor-General on the WestConnex project in Sydney and by the Victorian Auditor-General on the East West Link in Melbourne are severely critical of processes taken. The report on the East West Link concluded that the Victorian government lacked "a sound basis for the government's decision to commit to the investment".
In the case of Roe 8, Main Roads WA documents provided to the Department of Infrastructure and Regional Development were recently released under FOI after a two-year court battle to keep them secret. These show a rushed and partial assessment of the transport case for the road was put to Infrastructure Australia.
The latter, in its own assessment, alerts us to concerns about inadequate analysis:
A rapid BCR (benefit cost ratio) was completed for the preferred option only … [and] a rapid BCR was not completed for additional options to determine if the preferred option provided the greatest net benefits.
Traffic planning is only one part of the process. A Freight Network Review commenced in 2001 and concluded in 2003 found that Roe 8 was not needed. There is no publicly available report stating why this sound planning was set aside.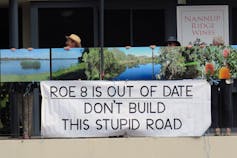 In addition, proper planning process has been bypassed. The previous WA government argued that the Roe Highway had been reserved in the Metropolitan Region Scheme (MRS) since the 1960s and that this was good long-term planning. However, the detailed road alignment falls outside this reserve at three locations.
This triggered the use by the WA Planning Commission of a "Planning Control Area" (PCA), the purpose of which is to protect land until "proper planning" can take place. After this, an MRS amendment must be initiated and advertised for public comment.
Construction began before any public consultation on the MRS amendment. Was this to avoid public scrutiny?
Public consultation is an important part of any good planning process. It was undertaken for other 1960s major road reserves. These were reviewed against current knowledge and policy, and in some cases deleted (the Stirling Highway, for example).
Public input into the planning process provides an opportunity for governments to bring the community with them through both owning the planning problem and arriving at a solution that the public can support.
Risks of politicisation are high
Large transport projects are likely to attract opposition from affected communities. Construction is disruptive and the visual, noise and amenity changes are significant.
These projects are also transformational. They lead to profound city-wide, and even region-wide, changes to the environment and the working of a city.
For these reasons, planning for transport projects must be a process of careful consideration. It requires sound professional planning based on reasoned justification drawing on the best available evidence. This process must be transparent to all.
When politicians choose a different course to planning advice, this must be on their own account and again transparent. We need a strong discussion on professional ethics and the need for clear separation of planners' independent advice from elected politicians' decisions.
In the case of Roe 8, are we to assume that the analysis and conduct of the planning process we see revealed reflects what planners at Main Roads WA and the Western Australian Planning Commission believe is sound professional practice? Or are they simply building a case for politicians?
Without clear and transparent documentation, planners leave themselves open to criticism and bring the profession into disrepute.
Room for improvement
Based on our research, we assert the need to recognise that the gap between strategic planning and project planning needs to be filled by a more community-oriented decision-making process.
We must challenge "urgency" – when governments aim to sign contracts before we have had sound planning analysis and community input.
Long-term planning does not mean that a project like Roe 8, which was first mooted more than 50 years ago, must be built today. We need to take into account new knowledge and current views on our future. We must place equality and environmental and economic sustainability in balance, as weighed by community values.
The political process is one place where those values must be considered holistically. This is immensely important, but it should not undermine transparent and sound planning.
---
This article draws on a research paper by the authors in a new special issue of the international journal, Urban Policy and Research, on critical urban infrastructure. You can read other published articles in our series here.