The favourites New Zealand chalked up their second successive Rugby World Cup victory in a competition dominated by the southern hemisphere teams. But who were the winners among the global corporations seeking to stand out in the marketing scrum? The tournament sought to keep its doors closed to the kind of unofficial marketing that leaves official sponsors furious, but an American rapper may have rattled their cages.
The RWC is now firmly established as a top ten world sporting event that can boast a hike in sponsorship revenue of more than 50%). Huge leaps have been made to give the sport global scale.
You could see the practical impact of this as deep-pocketed sponsor Emirates airline's brand appeared on match officials' shirts, a first for the tournament, and a move which illustrates a willingness to create new marketing assets.
Swing lower
However, despite the largely sold out stadia, the biggest crowds, and the narrowest winning margins (although still some 30 points), TV sponsors were still facing 25% advertising value losses due to England's early exit.
It wasn't for want of trying. Official sponsor Land Rover, surely the ideal rugby vehicle, ran extensive grass roots game vignettes emphasising its rugged, real and authentic dimensions. As part of the pre-tournament hype, it even floated a bespoke Defender in an oval balloon down the river Thames.
Heineken's £20m sponsorship propelled it to the top of the competition's digital engagement rankings, closely followed in second place by non-sponsor and close competitor Guinness with its "made of more" campaign, with Land Rover taking fifth spot. Also in the top ten were non-official sponsors O2, using an evocative approach dubbed "wear the rose - make them giants" that claimed 5m acts of shirt wearing support.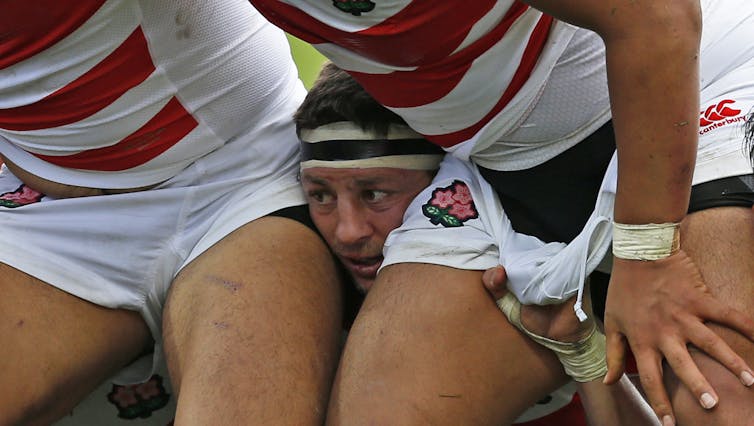 The biggest surprise to most would have been a Dr Dre brand coup as it rode on the coat-tails of a genuine tournament hero with a campaign titled "the game starts here" and starring All Blacks captain Ritchie McCaw. The Beats headphone, speaker and music streaming business which Dr Dre founded is now owned by Apple, but the company has form in ambush marketing. It is an alluringly effective strategy for a youth-culture-focused brand no doubt. Using the highly recognisable Kiwi skipper allowed Beats to achieve a stand-out top ten ranking without signing up for an official sponsorship package.
Giants felled
England's long-term telecoms sponsor, O2, got into that top 10 despite having to give up its Twickenham stadium sponsorship for the 44-day-long tournament. It did though give away 50,000 O2-branded shirts, adding to the 150,000 that are sold each year. You might even have some pity for them as that "wear the rose" campaign featuring oversized cartoons of celebrity players to tap into powerful emotional nationalism, came to a rather sudden halt as England crashed out embarassingly.
O2 might have foreswarn ambush marketing, but it wasn't left entirely to chance. Bespoke anti-ambushing legislation wasn't introduced but the RWC organising body England 2015 did pre-purchase the outdoor outlets around their venues, effectively establishing a 500m advertising exclusion zone.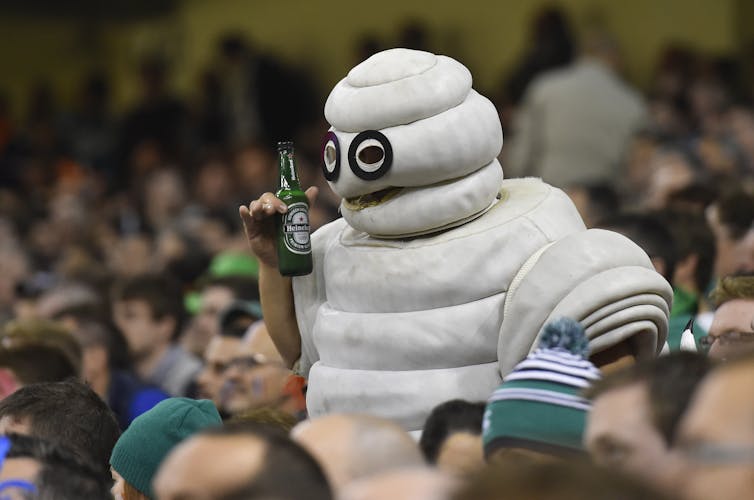 The RWC also relied on trade mark protection, rather than what some have criticised as the draconian legislative measures used by the Olympic movement at London and for next year in Rio, and in so doing avoiding negative coverage and legal costs. Some hold the view that tighter sponsor rights protection actually makes it more likely that mega sports events will be ambushed; think of the notorious antics of Paddy Power, Bavaria Beer and Pepsi. Seven out of the ten most shared World Cup adverts were unofficial at FIFA's 2014 premier football event.
Bounced out
And so the main sponsors kept the ambushes at bay, but maybe didn't eradicate them completely. I noticed hostess teams outside Twickenham handing out megaphones featuring branding from power company SSE, which were confiscated by the stadium security. SSE was a sponsor of UK commercial broadcaster ITV's coverage of the World Cup, but it was not an official sponsor per se.
Guinness, sponsor of all four home nation teams and yet ousted from the stadium experience by Henieken, sought to harness its credentials with rugby supporters directly at pubs and bars. It tried to get 500,000 people to try Guinness with an omni-channel roadblock media buying strategy aimed at hitting every screen and giving away 10,000 point of sales kits to landlords and owners.
Another non-sponsor, Samsung, grabbed attention with its school of rugby campaign featuring comedian Jack Whitehall and former England captains Martin Johnson and Laurence Dallaglio. Their humorous content strategy heavily pared back on the Korean tech brand's visibility. Blink and you might have missed it.
Sponsorship form
Perhaps, after all, the biggest surprise was on the field as Japan beat South Africa. Very modest evidence of England 2015 ambush ads probably signals a win for RWC management's effort to protect exclusive sponsorship rights. Consumers don't differentiate of course, and in that halo of confusion there was some success in related, but not infringing, marketing from Guinness, Samsung, and O2.
The thing is, they all have serious, long standing pedigrees as official sports sponsors. And in truth the RWC probably won't be too bothered that some potential sponsors for the game stole a little of their thunder this time around. Bearing that in mind, it was perhaps only Beats by Dr Dre that ruffled the tournament's carefully orchestrated protectionist feathers. So who will step up to take on the lawyers and stadium bouncers at next year's Brazilian Olympics?