English football's top flight, the Premier League, dominates the sporting world's league tables for revenue. Star players, managers and executives command lucrative wages. Thanks to the biggest TV deal in world football, the 20 Premier League clubs share £10.4 billion between them.
But this wealth bonanza is not being distributed fairly within clubs. Wages are dramatically lower for staff at the opposite end of the Premier League labour market to players and executives. Many encounter in-work poverty.
Indeed, Everton and Chelsea are the only two Premiership clubs fully accredited with the Living Wage Foundation to pay all lower-paid directly employed staff, as well as external contractors and agency staff, a real living wage. This is a (voluntary) wage that is higher than the legally required national living wage. It is calculated based on what employees and their families need to live, reflecting real rises in living costs. In London it's £9.75 an hour, elsewhere it's £8.45.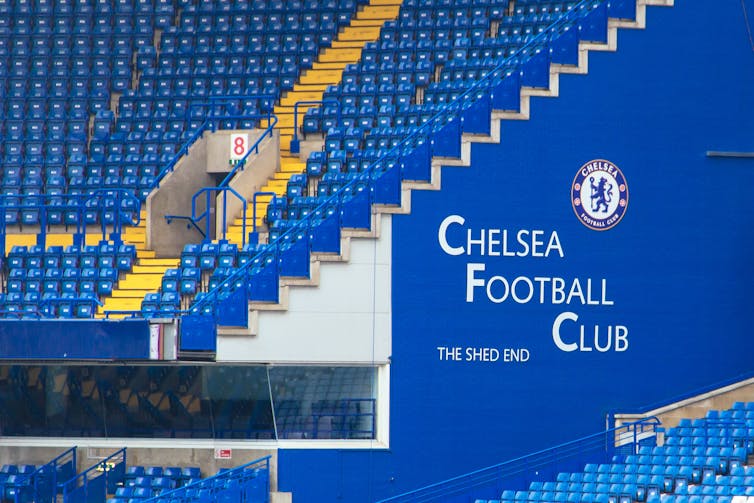 Of 92 clubs in England and Scotland's football leagues, only three others – Luton Town, Derby County and Hearts – are also accredited with the Living Wage Foundation. And many club staff – cleaners, caterers, stewards and other match-day roles – are employed indirectly by agencies or contractors and not paid the real living wage.
In 2015, The Independent newspaper asked 20 Premier League clubs simple questions: Does your club pay the living wage to full-time staff? Does it pay, or is it committed to paying the living wage to part-time and contracted staff? Seven clubs failed to reply or said "no comment".
Good business, good society?
Many football clubs are embedded in urban communities, some classified as among the most impoverished places in Western Europe. What does it say about ethics and employment practices, especially of wealthier Premier League clubs, when many match-day staff don't receive a proper living wage?
Aside from moral factors relating to fairer distribution of wealth as the glue underpinning more equal societies, there is also a good business case for companies to pay a real living wage. According to the Living Wage Foundation, organisations among the 2,900 accredited as paying the voluntary living wage report significant improvements in quality of work, lower staff absence and turnover – and an improved corporate reputation as a result.
Everton FC, located in an area of Liverpool with high social deprivation, has announced that becoming an accredited Living Wage Foundation employer will significantly increase wages for contractors and casual, match-day staff. Denise Barrett-Baxendale, the club's deputy chief executive, has said: "Supporting the accredited living wage is quite simply the right thing to do; it improves our employees' quality of life but also benefits our business and society as a whole." Everton's neighbours Liverpool FC has yet to make a similar commitment.
Independent academic research suggests that while workers benefit from the real living wage, it's not an automatic fix. Higher hourly pay does not necessarily translate into a better standard of living if working hours are too low. The problem is that there are large concentrations of part-time living wage jobs with few hours and so small income increases are offset by rising costs of living.
Ending foul pay
There has recently been growing mobilisation among the public, civil society, supporters groups and some politicians to pressure football clubs to pay the real living wage. The GMB, a big general workers union, launched the GMB End Foul Pay campaign. London's mayor, Sadiq Khan, recently urged every London Premier League club to pay all staff the London living wage.
In Manchester, living wage campaigners have targeted the city's two big clubs Manchester City and Manchester United. While progress has been reported at Manchester City, Manchester United has yet to commit to extending the living wage to its directly employed part-time match-day staff. By contrast, FC United of Manchester, the breakaway non-league club formed by Manchester United fans disenchanted with the Glazers' ownership, pays the real living wage to all staff, setting an example to the much richer football giant. Manchester United presently ranks as the "richest club in the world", having achieved record-breaking revenues of £515.3m in 2015-16.
But despite these grassroots campaigns and political exhortations, few football clubs are taking concrete measures to improve the wages and working conditions of lower-paid staff. It appears that leaving pay determination to the prerogative of club owners and executives is not working. Stronger regulation and political intervention may have to be contemplated – such as raising the legal national living wage and giving better legal rights and protections to indirectly employed staff on precarious contracts.
Such issues clearly go beyond football clubs in an economy that still hasn't recovered from the 2008 financial crisis. The state of the UK labour market is currently being considered by the government's review of modern employment practices, but we can expect little to change when the economic model remains fundamentally the same.
The misguided political ideology of self-regulating market forces has created stark inequalities as wealth continues to trickle up disproportionately to the top 1% and countervailing institutions, particularly trade unions, have been emasculated. Low pay in football clubs and elsewhere reflects this broader systemic context of contemporary capitalism.