For some time, there have been many stories told of the "crisis" in modern languages in secondary schools and universities. There is hard evidence to support this. Even though there have been upsurges in modern languages provision – following the introduction of the English Baccalaureate for example – pupil numbers continue to fall.
In Wales, where modern languages are still an optional choice at GCSE, research shows that the number of pupils studying a foreign language declined by 44% between 2002 and 2015. The number of pupils taking French in 2015 was less than half those who took it in 2002.
But why are pupils put off taking a language at GCSE level, and how can we improve attitudes to the subjects? As a bilingual country, it seems counter-intuitive that Welsh pupils cannot see the benefits of studying languages. However, research from an engagement project we have recently been running suggests a range of things are influencing pupils' decisions not to study a language.
Choosing languages (or not)
The mentoring project saw undergraduate modern language students from four Welsh universities trained to work with year eight and nine pupils (aged 13 and 14) in 28 schools. The students helped the pupils to practice their language, build confidence and knowledge, and teach them how modern languages can aid personal and professional development.
Our work was part of a push by the Welsh government, to arrest and reverse the decline in modern languages study by 2020.
In its first year, with 32 students mentoring 254 pupils, the project had a clear impact not only on the schoolchildren who were mentored, but on whole cohorts within the project schools. Over half of the schools reported increased numbers for GCSE language classes, including one school where a modern language GCSE class is now running for the first time in three years.
When surveyed, the main "push" factors for the 13 and 14-year-old pupils to choose language study were: their preference for other subjects, given the curriculum squeeze and the small number of option choices available to them; their belief that they would not need a language for the jobs that they wanted to do in the future; lack of confidence in their linguistic ability; and negative attitudes about the long-term usefulness of languages, sometimes reinforced by parents and family.
What was most striking was that for many pupils who were dropping languages when choosing GCSE subjects, their view of languages were focused on the transactional benefits of learning a language. For them, the focus was on languages as communication tools rather than the benefits of learning a language to access and understand other cultures. What we might call the intercultural benefits of language learning were far less evident to these pupils.
Mentoring and uptake
Though the first year of the project has only just been completed, we can already pinpoint specific ways in which mentoring has made a difference. First, by interacting with university undergraduate linguists, pupils have been able to understand the personal enjoyment and sense of achievement that interacting with other cultures brings. Languages as a way to access other cultures and their world views is made "live" to them by inspiring role models.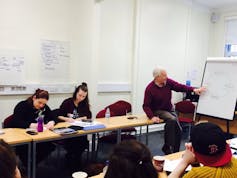 Being in small mentoring groups, outside the formal classroom structure, also helps improve confidence. By talking about the ups and downs of language learning with university students who have experienced similar education, pupils can appreciate the journey of language learning and build resilience and self belief. Working with mentors also helps school pupils understand more about the varied career opportunities that languages can support.
More generally, student mentoring has had a positive impact on pupils' aspirations and ambitions. A number of teachers in project schools have reported that pupils from poorer backgrounds have been inspired to think about "realising their dreams" and going to university after being mentored by a young modern linguist.
In the wake of the UK vote to leave the European Union, the importance of promoting the value of modern languages is particularly urgent. Our student mentoring project has highlighted that pupils have often absorbed a narrow view of the benefits of language learning. As the country faces an uncertain future in the global economy, now more than ever, young people need to develop intercultural skills that will develop them professionally and personally. Speaking other languages is one of the first steps towards this wider world.