Since the start of Syria's uprising in March 2011, Russia has vetoed 12 UN Security Council resolutions concerning the conflict. Among other things, these resolutions covered human rights violations, indiscriminate aerial bombing, the use of force against civilians, toxic chemical weapons, and calls for a meaningful ceasefire.
Russia's behaviour at the Security Council is not motivated by humanitarian concerns. Its vetoes have provided political cover for the Assad regime, protected Moscow's strategic interests and arms deals with the Syrian state, and obstructed UN peacekeeping. They've helped shift the locus of peace talks from a UN-backed process in Geneva to a Russian-led one in Astana. And they've had real and dire consequences for the people of Syria.
The Syrian conflict has claimed more than 500,000 lives, turned millions of people into refugees, and all but destroyed the country. While all sides have contributed to this catastrophe, the Assad regime in particular has made repression, brutality, and destruction its signature tactics – and Russia has chosen to protect it.
Some seem resigned to dismiss this behaviour as everyday international politicking. Emily Thornberry, the shadow foreign secretary of the UK's opposition Labour Party, recently offered an excuse: "People will always block resolutions. If you look at the number of resolutions America has blocked, I mean that's the way of politics."
This is nothing more than idle whataboutism. Yes, it's right to note what the US has done in defiance of the UN over the years, not least over Iraq and with its 44 Israel-related vetoes in the Security Council. But Russia has taken vetoes to another level on Syria, covering for and enabling atrocities while working to make sure the UN cannot do what it needs to do to stop the carnage.
Regime maintenance
Moscow first intervened militarily to prop up Assad's deadly authoritarian rule in September 2015; had it not entered the fray, Assad's reign would have almost certainly given way to a successor. But Russian backing for Assad began well before 2015.
For a start, his government has long been a major Russian arms client. While public data is incomplete because many transactions are highly opaque, the Stockholm International Peace Research Institute has tracked the build up of Syrian weapons purchases in the years leading up to the 2011 uprising. Russian military resources to Syria increased from 9m in 2000 to 272m in 2011.
Consider the Russian (and Chinese) veto of February 4 2012, which blocked a draft resolution calling on Assad to relinquish power. At the time, there was uncertainty about whether Russia would abstain or vote no. Facing defeat amid mass protests and now armed resistance, the Assad regime accelerated its brutality through bombing. On the eve of the scheduled Security Council meeting, Assad's forces bombarded the city of Homs, murdering scores of civilians.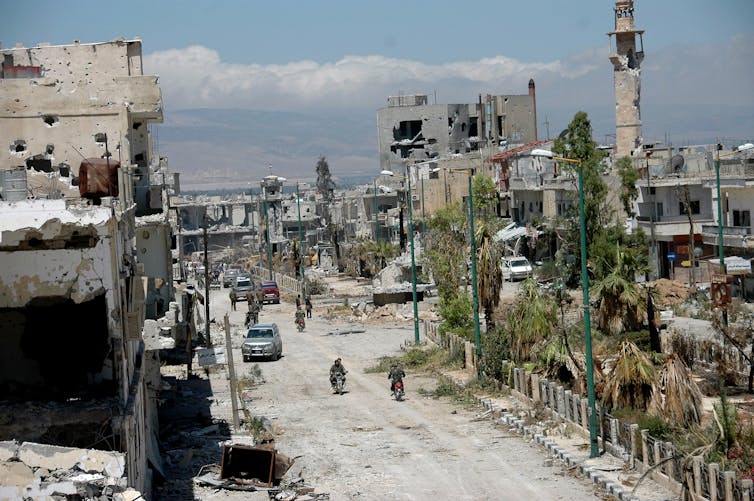 Was this massacre designed to signal to Russia that Assad was prepared to go all out, burn the country, and win at any cost, meaning Moscow might as well back him? Or was Assad informed in advance that Russia would cast the veto, so he could slaughter with impunity? Does a veto clear the way for more brutality, or do acts of brutality force Russia to veto UN reprisals?
The most likely answer is both. The pattern is now firmly established: Assad kills civilians and political opponents, the Security Council considers a resolution, Russia vetoes it and puts outs propaganda to provide cover for Assad's abuses, and the cycle of mass killings goes on. As Russian vetoes have become routine, they have emboldened Assad. As an Oxfam report said, even UN resolutions which were not blocked "have been ignored or undermined by the parties to the conflict, other UN member states, and even by members of the UNSC itself".
The vetoes flaunt Moscow's power to the world and reassure Russians at home. They are also helping Russia maintain a permanent military and political presence in the Middle East and eastern Mediterranean. In exchange for intervention, the Kremlin has gained access to Syria's energy infrastructure and secured the future of its major Syrian bases on the Mediterranean.
---
Read more: Armed by the Kremlin, Gazprom could be the new force in Syria when the troops leave
---
The wrong path
But Russia still has a choice: it can be a force for peace, liberty, and inclusion, or it can continue to shelter and defend tyrants. Given the Kremlin's general hostility towards equality, liberalism, and democracy, it has chosen another path: to thwart the Security Council, violate its own ceasefire agreements, and overlook the consequences for civilians. This implicates it in the deaths of thousands of Syrians – more than the so-called Islamic State and the rebel group Jabhat al-Nusra combined.
To be sure, not all Security Council resolutions are worthy of support, and Russia cannot be held responsible for all of Assad's crimes and human rights abuses. Western nations are certainly not unbiased; their decisions and interventions have had long-lasting pernicious effects on civilian populations in the Middle East, and they too have failed civilians in Syria and elsewhere.
The US intervened in Iraq to oust a dictator, Russia intervened in Syria to preserve one in power. Both moves have turned out to be disasters. But to document that Russia has killed civilians via its military and political interventions is not Russophobic. The death of each Syrian matters, regardless of who fired the shot, dropped the bomb, or maintained the siege.
Providing political cover for one tyrant will embolden others everywhere, as they learn how far they can push the boundaries of oppression. And all along, steps could have been taken to prevent or at least limit the carnage. Russia's failure to do so in Syria and elsewhere will be to its eternal shame.