Advertised as the "Showcase of the Immortals," WrestleMania isn't just the Super Bowl for World Wrestling Entertainment (WWE), it's an economic boon to the city lucky enough to host.
Last year's WrestleMania 33 made a US$181.5 million economic impact on the Orlando region. But even with its 1.5 million-subscriber streaming network and immense social media following, WWE wasn't the only game in town.
Smaller groups such as Ring of Honor, EVOLVE and Progress also put on shows in Orlando for its fans. Under the corporate shadow of the WWE, a vibrant independent wrestling scene flexed it muscles.
I spoke with those plying their trade outside of WWE, and they told me that they're finding it easier to make a full-time living from wrestling.
They've done it by embracing the opportunities of the digital age and its promise for the bold, creative and self-motivated. By foregoing traditional media channels to connect with fans, sell their wares and promote their skills on a global scale, they've helped fuel an indie wrestling boom.
Chipping away at the WWE's dominance
When WWE Chairman and CEO Vincent K. McMahon began raiding the talents of regional promotions in the 1980s to expand his wrestling empire, he applied a headlock on the American wrestling scene that's still firmly applied.
In 2001, McMahon purchased the Time Warner-owned World Championship Wrestling (WCW), eliminating its last viable competitor and significantly reducing opportunities for gainful employment in wrestling. Although Total Nonstop Action Wrestling (now Impact) spent many years on the Viacom-owned Spike TV, WWE has spent the 2000s without much in the way of serious competition.
That's started to change in today's climate of tech disruption and globalization. Wrestling's acrobatic moves and daredevil stunts are tailor-made for the age of YouTube and GIFs, while streaming services such as New Japan World, Fite and Twitch have made it easier than ever to binge on wrestling.
Investors have noticed: The Mark Cuban-led AXS TV has made a deal to air New Japan Pro Wrestling (NJPW) on cable for U.S. audiences.
Other outfits now have substantial corporate backers. The Sinclair Broadcast Group owns Ring of Honor, the Japanese entertainment company Bushiroad runs New Japan Pro Wrestling, while the Canadian broadcaster Anthem Sports & Entertainment is behind Impact Wrestling.
With these new ways to watch, "The fans [get to] see incredible performers all the time," said Dave Meltzer, publisher of the Wrestling Observer Newsletter. "There are more great matches than ever before."
Since 1982, Meltzer's newsletter has been a resource for fans intrigued by the inner workings of wrestling. Since 2008, he's offered both digital and print versions of the newsletter. Increased coverage of wrestling from the likes of Sports Illustrated, ESPN and Rolling Stone has also raised the profile of non-WWE offerings.
With the extra attention comes added pressure for wrestlers to create a distinct character who can deliver innovative moves, trademark catchphrases and eye-catching merchandise. As Meltzer put it: "You got to figure out a way to stand out."
'You don't need the machine'
When it comes to getting attention – and sometimes riling purists – few can compete with the Bullet Club, a faction of young, gifted and charismatic wrestlers. They're hugely popular or, in industry lingo, they're "over."
Fixtures in the Ring of Honor and NJPW promotions, Bullet Club members such as brother tag team The Young Bucks and Kenny Omega have set a new standard for creatively moving merchandise and delivering incredibly entertaining performances, often with heavy doses of humor.
Lauded as one of wrestling's most exciting attractions, Omega dazzled 35,000 fans in Tokyo in early January in a match against a longtime WWE star, Chris Jericho. The group's ranks also include Cody Rhodes, a second-generation wrestler who experienced a career resurgence after leaving WWE in 2016.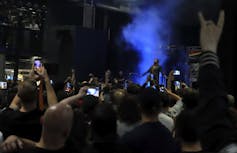 Last year, Bullet Club T-shirts became available at Hot Topic's more than 600 stores. Members have signed contracts with Funko, a maker of popular vinyl figures. Their YouTube series "Being The Elite" has over 165,000 subscribers.
"The Hot Topic deal has been huge for us and Hot Topic," said Stephen Woltz, who wrestles as Bullet Club's Adam "Hangman" Page. "I think it sends a great message to those in wrestling who want to carve their own way. You don't need the machine."
The Wrestling Observer reported that Bullet Club had Hot Topic's best-selling shirts during the week of Thanksgiving, while the printer Pro Wrestling Tees claimed sales of 417,430 over four months at the retailer.
The Chicago-based Pro Wrestling Tees has upended the model for selling merchandise on the indie scene, creating revenue streams for 800 wrestlers. According to Sports Illustrated, the company has paid more than $3.5 million in royalties from sales since 2013.
The pioneer
If there's one independent wrestler who embodies this entrepreneurial spirit, it's Scott Colton. Better known as Colt Cabana, he's tackled various side hustles after a brief, disappointing run in WWE.
In 2010, he launched "The Art of Wrestling" podcast, which he calls "an entryway into the minds, the souls, the hearts and lives" of wrestlers. He's now nearing 400 episodes. (Currently, 16 of the top 200 Sports & Recreation podcasts on iTunes are wrestling-focused or have a wrestler as a host.)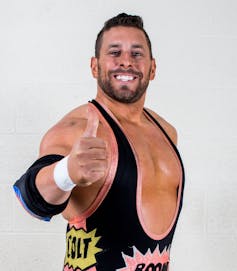 "I loved the idea that I could give you this for free," Colton said, "and you can give me your money if you're invested in me, and you like me and you know the idea that it's forwarding me."
Additionally, he's the co-founder of the aforementioned Pro Wrestling Tees, a stand-up comedian, a sometimes actor ("Maron," "Chicago P.D.") and even a children's book author.
Despite the new opportunities, indie wrestlers, like other entrepreneurs, are grappling with making a living without employer-provided health care and retirement benefits. Plus, there's that business of learning a craft that's dangerous and competitive.
For many, wrestling is a lifelong passion and figuring out how to make it work financially has helped turn childhood fantasies of ring glory into a reality. "The first part of it all isn't to be an independent businessman," Colton said. "It's to be a really good wrestler … Once you get over and understand who you are as a wrestler and understand who you are as a performer, that's when people start supporting you."