Social media has revolutionised how we communicate. In this series, we look at how it has changed the media, politics, health, education and the law.
---
A stray social media post that cracked open a child abuse scandal brewing in England and Australia for half a century. A Facebook group in the middle of a deadly flood, helping families and the media identify lost loved ones. Asylum seekers washed up on an Indonesian beach, staying in touch with an Australian reporter online.
I've spent the past three years researching how Australian investigative journalists use digital technologies in their work – and those are just a few real examples of how social media helped with breaking news stories in The Australian, The Times of London, the Sydney Morning Herald, the ABC's 7.30 program and more.
At a time of newspaper closures and newsroom cuts around the world, one of the hopeful findings of my research is that digital technologies can help journalists cover stories that would otherwise be too expensive or time-consuming to cover, or else impossible to find.
Untangling webs of friends and followers
It was the biggest Australian sports story of the year.
It all kicked off with a press conference in which ministers got up and they told the country that beloved football codes had been infiltrated by organised crime and that it was rife with the use of performance-enhancing substances, which was all pretty shocking … The chase was on across radio, television, you name it: who were the doctors? Who were the biochemists? Who were the players that had been allegedly taking this stuff? – Caro Meldrum-Hanna
The race was on for interviews with key insiders – especially biochemist Stephen Dank, who had worked with several AFL and NRL clubs including Essendon and Cronulla.
So how did ABC TV current affairs reporter Caro Meldrum-Hanna convince Dank to talk, beating so many better-connected sports journalists?
Her skills in digging into social media proved to be the difference, helping her draw connections between key players in the supplements saga.
In order to find those people, 'cause they were just names on paper, it was absolutely social media. Trawling Facebook, I was trawling YouTube, trawling Twitter, an old Myspace account I think it was, or a Bebo, desperately trying to find pictures of these people, because I didn't know who they were and I didn't know what their history was. That was absolutely vital, social media in that regard. And once that had been established and I could say who they were and show them, then after that I got the interview with Steve Dank and the rest sort of snowballed from there.
Meldrum-Hanna is among the 16 leading Australian investigative journalists I've interviewed at length for my research. Together, they identified 14 different investigative tasks in which social media helps them do their jobs better, including finding names and verifying identities, speeding up investigations, verifying associations between people, and crowd sourcing information.
From families caught in a deadly flood, to an international child abuse scandal
I began to realise the huge possibilities of social media in 2011, while reporting on the deadly flash flooding in Toowoomba and the Lockyer Valley for The Australian.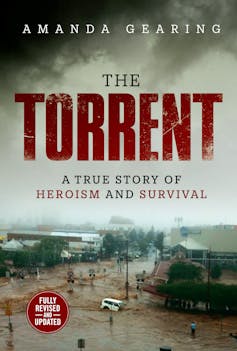 Several families of the missing people posted photographs to Facebook asking for public help to find them. I contacted one family who gave permission for the photograph of the father, Bruce Warhurst, to be used in the newspaper. His daughter told me the terrifying story of their ordeal trying to escape what many people described as an "inland tsunami".
Social media also helped in finding people who were believed to have drowned, but who had actually survived. (Those and other stories are shared in a new edition of my book The Torrent, due out in January 2017, which follows the survivors' recovery in the years since.)
More than a year after the flood, I found social media made all the difference in a complex international investigation.
In late 2012, I received an email out of the blue from a man in England who claimed to be a victim of sexual abuse by a very senior cleric, Robert Waddington, whose eulogies after his death in 2007 praised his "special gift for teaching boys".
If the account was true, there would be more abuse victims – but I had no names to try to find them. It was a seemingly impossible task.
However, within a couple of hours, I tracked down a post made to a social media site, Old Friends, naming Waddington as a paedophile and providing the name of another victim, this time in Australia.
We used a secret Facebook group, email and Skype calls to interview the victims. Over the following six months, evidence obtained from police in Manchester, a long-running civil action in Australia, and documents from a failed Australian police investigation verified that decades of abuse by Waddington had been covered up by the Church of England and the Diocese of North Queensland.
Simultaneous front page stories in The Times of London and The Australian broke the story and led to more abuse victims speaking out.
In Australia, the Anglican Church referred the case to the Royal Commission into Institutional Responses to Child Sexual Abuse.
The Church of England launched an inquiry. There, the case led to a review of the seal of the confessional and a review of clergy records dating back 60 years. The UK inquiry vindicated the victims and led to the resignation of the former Archbishop of York, Lord David Hope of Thornes. North Yorkshire police are currently investigating the former archbishop over his handling of complaints against Waddington.
As The Australian's Michael McKenna, who collaborated with me on that investigation, has said:
There is no doubt that social media and the internet has completely changed the way that we do business for the greater community of journalists.
The investigation is an example of global investigative journalism, which reaches beyond the "fourth estate" in Australia, and demonstrates that a global fourth estate is emerging.
Social media is another tool – not a panacea
Keeping in contact with vulnerable news sources is now much easier, no matter where they are. Fairfax foreign correspondent Michael Bachelard interviewed asylum seekers on the beaches of Indonesia where their boats were washed ashore. Social media then enabled him to keep in touch with those people, who were continually having to move in search of a safe place to live.
Social media platforms are not a panacea for investigative journalism in financially stressed times. Some of the journalists I interviewed for my study were still not yet ready to embrace social media platforms for investigation, citing risks such as losing exclusivity on a story, factual error, risk to physical safety and legal risks.
But as I and others have found, social media connections do allow some stories to be reported that would not otherwise be published.
One public post on social media can sometimes make it possible to investigate stories that have gone untold for too long. And powerful institutions that were once able to tightly control information – never imagining the advent of technologies that would allow isolated victims of crime to find one another across the world – can at last be called to account.