Objections to public artworks and "environmental" art – projects such as Maggi Hambling's hapless Scallop on Aldeburgh beach, the Fourth Plinth's changing displays in London, Anthony Gormley's once-ridiculed, now largely accepted, Angel of the North, and so on – can be as diverse as the genre itself. But some themes recur.
Most obviously, there are objections of taste, often based on the prejudice that contemporary art per se is a load of ludicrous charlatanry. These taste-based beefs often lurk behind "economic" objections ("the money would be better spent on hospitals/schools/housing/roads" etcetera – normally pitched irrespective of public art's comparatively tiny costs). There are ecological issues: will installations lead to increased foot and road traffic, trampled habitats, disturbed livestock, dumped litter, other kinds of damage?
Scrupulous local consultation is key to defusing these and other objections around public art projects. Norway's Artscape Nordland collection – 36 permanent public sculptures installed in 35 of Nordland's 46 municipalities – offers an exemplary early model of good negotiating practice. Conceived in the late 1980s by Norwegian artist A K Dolven for Norway's vast (nearly 40,000 square kilometer) Nordland county and concluded in 2015, Artscape Nordland's development involved detailed community consultation. All of the above objections surfaced at various times and were responded to. Celebrating its 25th anniversary this year, the project remains exceptional in its scale, conception and the sensitivity of its development.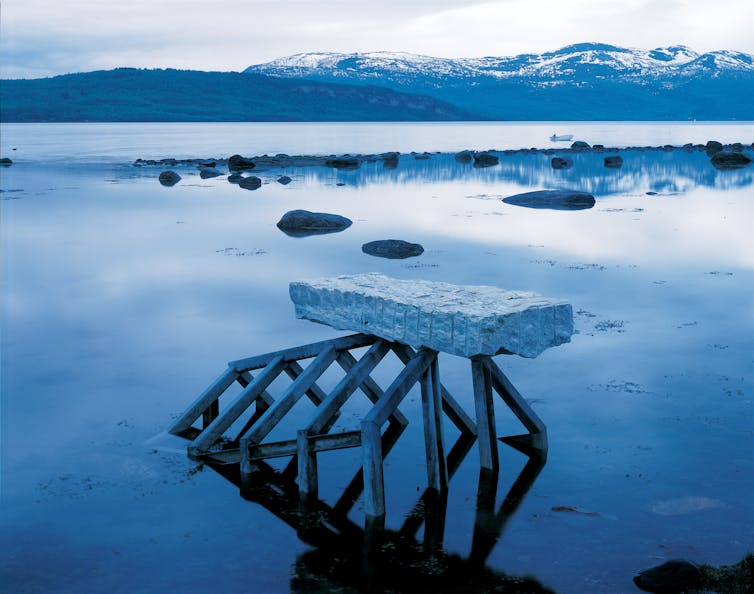 Exploring Nordland
This autumn I was invited to tour a selection of Artscape Nordland's sculptures. I accepted with serious interest and a reservation of my own. An infrequently mentioned but inevitable function of permanent public artworks, however interesting in themselves, is that they never simply enhance a site. They shut down possible ways of seeing, reading and inhabiting an environment, as well as adding new ones. The issue is whether what's gained outweighs what is lost.
I fretted that I'd find myself niggling at this effect of the sculptures – wishing I could swig the landscape neat, as it were, minus the contemporary art tonic.
Artscape Nordland's collection includes works by international names: Dan Graham from the US, Brazilians Waltercio Caldas and Cildo Meireles, Swiss sculptor Markus Raetz, the Italian Luciano Fabro and the UK's Anthony Gormley, Tony Cragg and Anish Kapoor – but, remarkably, only two pieces were imported "readymade". The rest were bespoke – planned by each artist via site visits and local negotiations. In the process, concepts were modified and sites changed.
All the municipalities could opt out of the scheme and a few did – though maybe they now regret it. Today, it seems, there's a measure of friendly rivalry in the 35 artwork-owning municipalities, with some Nordlanders cheerfully asserting the superiority of their local sculpture over the one down the road.
As for the mysterious 36th work: it is north of the county border in Troms. The Tromsians looked south, liked what they saw, hankered after their own sculpture and joined the scheme. Their reward was Finnish artist Martti Aiha's Seven Magical Points (1994), a 5.5 metre, russet-rich weathered-steel medallion fretted with a flamboyant, curvilinear design, lying as if washed up on the superb Skånland shoreline.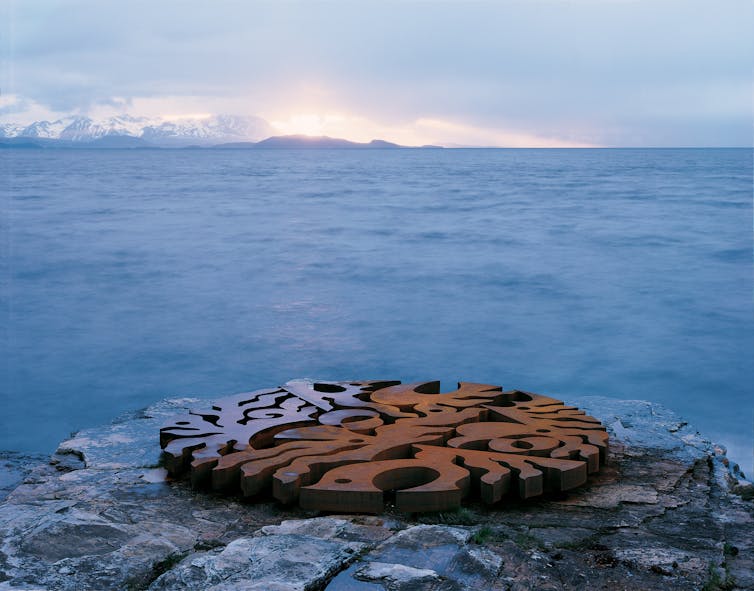 Seven Magical Points shares imaginative ground with Steinar Kristensen's Stella Maris (also 1994): a scattering of stars and other forms stranded on the seashore like lost tokens from some giant's board game.
This "magic realist" idiom is only one of the languages deployed by the Nordland installations. Waltercio Caldas's Around (1994) is a thoroughly stripped-down, rectilinear steel beam construction, a kind of large-scale minimalist viewfinder. The viewfinding theme recurs in Kristján Guðmundsson's Protractus (1993), a granite arch by the side of a coastal road. Framing views of fjord, mountains and small communities on nearby promontories, it hints at a milestone.
Olafur Gislason's Media Thule (1994) is a viewfinder too, but it's also an artists' hide – a wood-and-glass pavilion, permanently unlocked, looking out onto a fjord and mountains. Stocked with paper, pencils, binoculars and pin-up boards, it's a perfect place to simply sit down and draw – from observation or otherwise.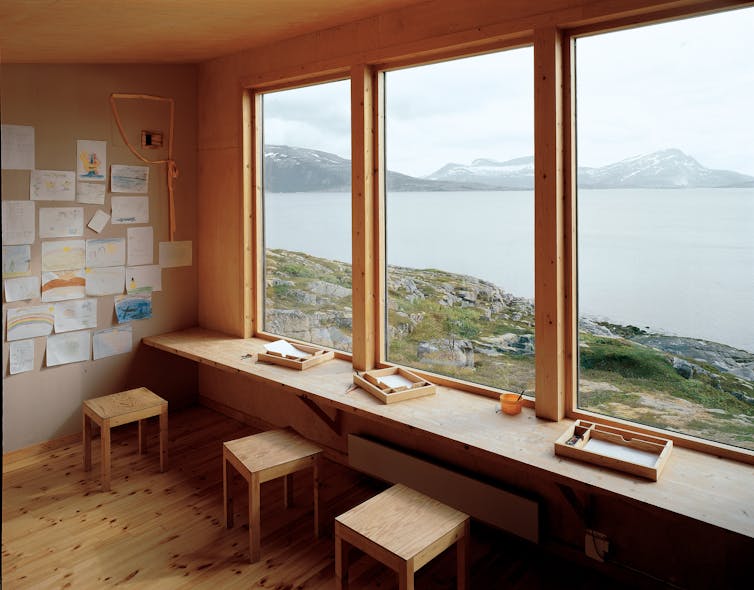 Landmarks in a changing landscape
Nordland is about one-fifth the size of the UK, with a population of just under a quarter of a million. But it's no wilderness – its landscapes are subtly marked by now-shrinking local industries (including fishing) and national and international legacies (such as traces of Cold War military facilities). Its towns are growing, its rural populations shrinking.
My earlier scruples – about public sculpture's potential to domesticate or clutter – were squashed by the impact of these demographics. In Nordland there's simply too much space for the works to feel as if they dominate the landscape or direct ways of seeing. Irrespective of each work's aesthetic (some will tick your boxes, some won't) they collectively feel like vital, isolated fragments of a complex human message – a series of welcome anchor-points, not cultural excess baggage.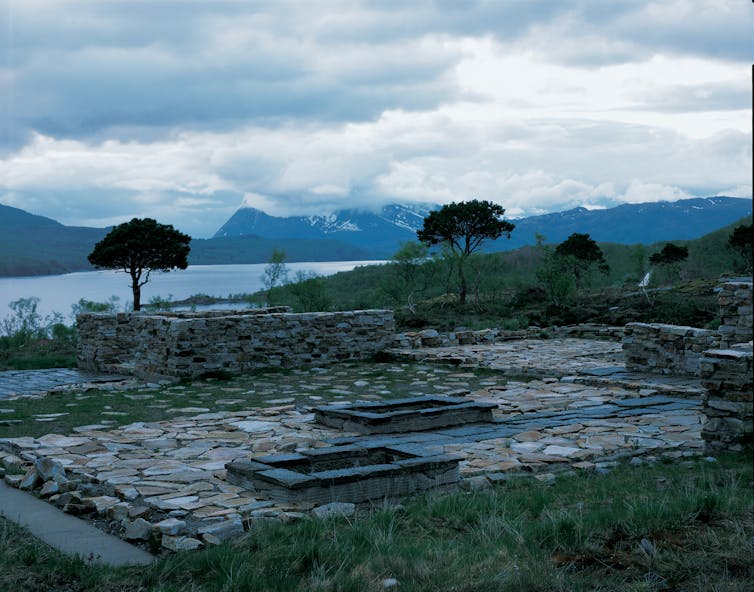 Directly meditating on Nordland's population changes is Swedish artist Jan Håfström's 1996 work The Forgotten Town, a quasi-archaeological network of quartzite and limestone walls echoing the form of an abandoned settlement. This work now poses a conservation riddle – the artist prefers that it be left to decay, but the local community wants it conserved. Visitors are now, informally, dry stone walling bits back in place and adding new walls where none previously existed. How the Artscape Nordland curators proceed remains to be seen – more negotiations seem inevitable.
The pleasure of seeing these works is as much to do with travel as arrival: getting to each involves effortful travel, takes you through superb terrain, and connects you with small, resilient and welcoming communities. The practice of "bagging" Artscape Nordland sculptures turns out to be a bit like climbing Munros – and I highly recommend hitting these fjords.