The British government is facing pressure and criticism for not fulfilling its obligations under the so-called "Dubs amendment", named after the Labour peer Alf Dubs, to bring unaccompanied refugee children already in Europe to Britain.
Britain accepted 200 unaccompanied minors in 2016, but has yet to bring any more eligible refugee minors in 2017, leaving 280 available local authority places unfilled. Meanwhile, there are currently around 2,400 unaccompanied refugee children in Greece. Less than half of them live in official shelters, leaving many homeless and vulnerable.
Young refugees typically suffer distress in their own country, during their journeys and as they arrive and settle in the country where they claim asylum. Compared to refugee children who flee with other family members, unaccompanied minors experience more psychiatric disorders, as well as when compared to those young people in the countries where they claim asylum. A lengthy asylum process, loneliness, isolation, destitution, and loss of culture, social status and social support add to the special care needs of these young people.
In recent research, my colleagues and I looked at what can help and hinder the integration of unaccompanied minors into British society once they arrive. In our small study, my colleague Sara Thommessen interviewed five young men and one woman, aged between 18 and 28, who had arrived in England as unaccompanied minors. They had all come from sub-Saharan Africa to seek asylum.
We found that they needed support programmes that offered opportunities to develop social relationships. They stressed how these relationships – which could often resemble family – could help reduce their feelings of distress, social vulnerability and fears of rejection. They could also help them rebuild trust and feel more optimistic about their futures.
One of the young men we spoke to summarised his experience like this:
I didn't even choose to come here

It wasn't my choice to wake up as a teenager here

It changed everything in my life

I didn't want to do it

Who would, if you had asked them?

Not many of us

To wake up as a teenager in a different country

and to have to adapt

And everything changed in life

Everything!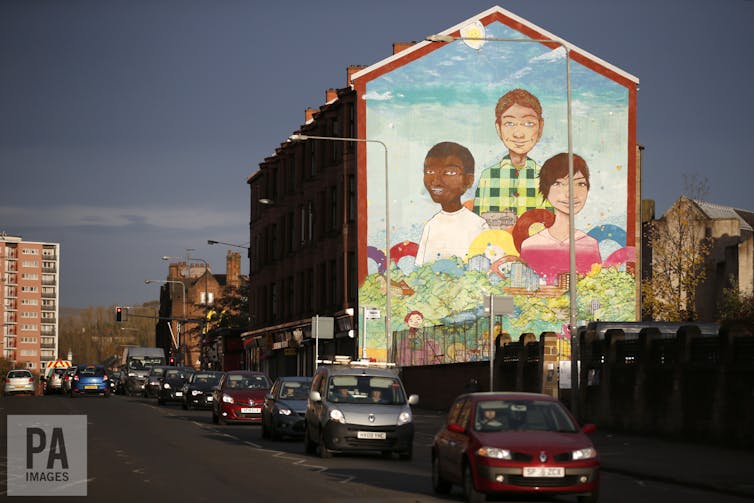 Social support networks
One young man in his early twenties, told us about a woman he met when he was a young refugee, aged 15. He said she's like a mother figure to him now:
She kind of showed me the way … If it wasn't for people like her, maybe I wouldn't go to university, or maybe I was just going to forget about my dreams and forget about my goals and – cause I've been through a lot – that's why I call her like a mother.
The people we interviewed spoke about their concerns surrounding discrimination, particularly the way people would react to their refugee status. One was worried about how his refugee passport would be looked upon in a job interview. Another said refugee status is something you can never run away from.
[It] doesn't matter how much you explain yourself, it will always be there. Like the Somali runner Mo Farah. You're different when you're a refugee. Even when you win a medal in the Olympics, they'll say he came when he was two or three.
But the young people also showed resilience and optimism. One told us he wanted to be able to look after his family.
There will be a point when your children grow up, that you can sit them down and explain yourself to them, it's another way of getting rid of it. You'll feel good about yourself, you will feel like you have achieved. Yes, you will feel like a man. Yes, you came from a long way, I was there and I thought I couldn't make it. But I made it.
Our interviews highlight the importance of initiatives that seek to prevent discrimination, stigmatisation and isolation and that aim to facilitate social relationships. We argue that these initiatives should be supported by professional carers and in educational settings.
We also emphasise the importance of therapeutic care, legal advice and guidance for unaccompanied minors, who need support from adult professionals and mentors. Young refugees are also likely to benefit from membership of community groups, meaningful opportunities to build relationships, and access to education and work.