It's been more than 30 years since Sid Seagull first urged us to slip, slop and slap while out in the sun. But while we've made enormous progress fighting skin cancer, melanomas are still the fourth most common cancer in Australia and one of the most deadly. Add to the the huge burden of non-melanoma skin cancer.
From Cairns to Hobart, Brisbane to Perth and all points between, the UV Index will reach the "extreme" range most days this summer.
So how can you protect your skin while getting enough of the sunshine-derived vitamin D?
Benefits and harms of ultraviolet radiation
While limited dietary sources of vitamin D are available, exposure to ultraviolet radiation (UVR) is the most effective source of vitamin D for the majority of the world's population.
Vitamin D deficiency is unquestionably linked to compromised bone health. While levels of evidence vary, it is also associated with a wide range of other potential health problems.
On the other hand, excess UVR exposure is strongly linked to increasing risk of skin cancer.
To confuse the issue further, a recently published paper suggested sun exposure might help reduce blood pressure and influence heart disease risk. But not through vitamin D. This research is still in its early days, but it may be that some of the benefits previously ascribed to vitamin D occur through other mechanisms related to sun exposure.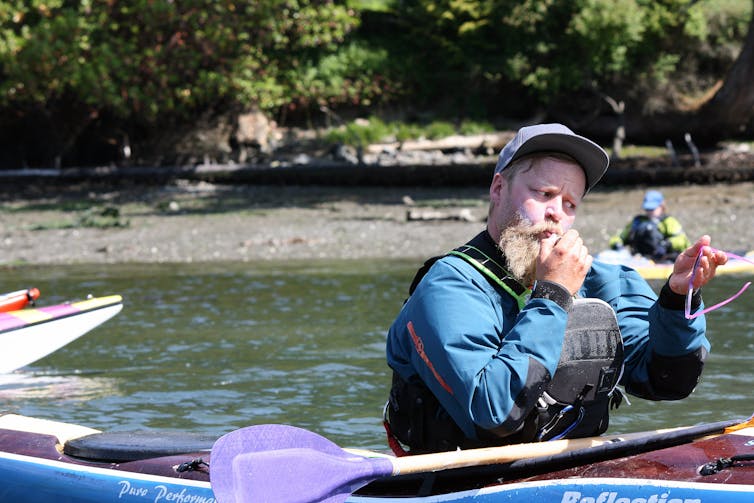 How much is enough?
Active debate continues about where cut points for deficiency and sufficiency should be drawn.
Serum levels of 25-hydroxy vitamin D (also called 25-OHD) are used to measure vitamin D adequacy. The Institutes of Medicine (IOM) 2011 report recommended deficiency be defined as 25-OHD less than 30 nanomoles per litre nmol/L and adequacy as 50 to 125 nmol/L.
The range of 30 to 50nmol/L is defined as "insufficient", indicating some health risk to some but not all individuals. The report advises:
Use of higher than appropriate cut-points for serum 25-OHD levels would be expected to artificially increase the estimates of the prevalence of vitamin D deficiency.
The level of UVR exposure necessary to establish and maintain optimum levels of vitamin D varies across the world. It is influenced by geography, season, age, skin type and more. However, in higher UVR locations like ours, minimising UVR exposure during summer, and in particular in high UVR times of the day, remains a health priority.
How many of us struggle to get enough?
This is an age-old question. Of course, the answer depends on the definition of what is enough. The Australian Bureau of Statistics reported in April this year on 25 D measures taken from the National Health Survey in 2011/12 that:
Just under one in four (23%), or four million adults, had a vitamin D deficiency, which comprised 17% with a mild deficiency, 6% with a moderate deficiency and less than 1% with a severe deficiency.
The cut points and definitions are crucial. Australian researchers Robyn Lucas and Rachel Neale propose a different presentation of those data: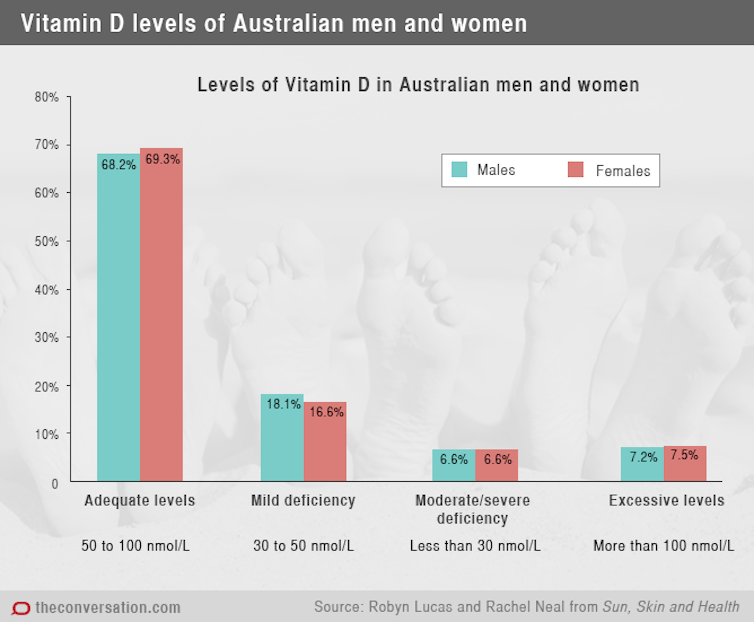 However these data are analysed, it is clear that about three-quarters of us have perfectly adequate levels of vitamin D.
By one interpretation, there are similar proportions of us who may have too much (which may contribute to some disease states) as have too little (which undoubtedly contributes to bone health problems).
As for the "vitamin D twilight zone" – levels of between 30 and 49nmol/L – Lucas and Neale question whether there are any adverse health effects at all. "It may be normal in mid to late winter. It may be a concern in late summer," they say.
In May, 700,000 vitamin D were tests carried out in Australia. More than four million tests were done in the last financial year. This cost A$145 million, of which about A$98 million (two-thirds) was the cost of the test for women.
As a result of this burgeoning cost, changes were made to the Medicare Benefits Schedule, so only high-risk patients will get a rebate when they get vitamin D levels screened. Eligible patients include those with deeply pigmented skin, osteoporosis or those with chronic lack of sun exposure.
What should we do?
So what does make sense when it comes to sun exposure, skin cancer and vitamin D? The trick is, of course, getting the balance right and avoiding extremes, in one direction or the other.
Adjusting sun exposure according to the time of year and time of day is important. The UV Index will be in the extreme range in the middle of the day through most, if not all, of summer. So avoiding exposure for the few hours in the in the middle of summer days is smart. The World Health Organization recommends sun protection once the UV Index reaches or exceeds three.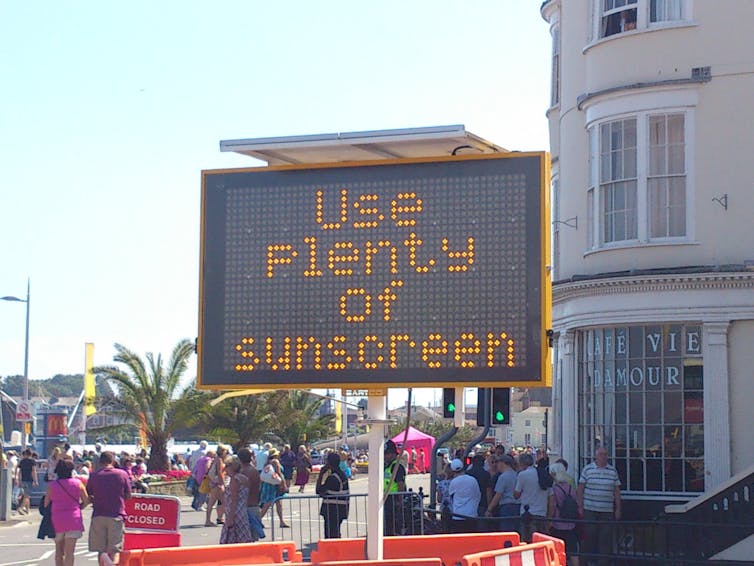 Skin type and geography are the other key factors: darker skin, a little more; lighter skin, a little less; further north, less exposure; further south, a little more.
People in special circumstances – who are immobile or infirm, or who routinely cover their skin for cultural or other reasons – should talk to their doctor about vitamin D.
Depending on where you live, five minutes of mid-morning or mid-afternoon sun two to three times a week – and certainly avoiding any sun burning – is a helpful rule. But it's best to keep the head, face and neck protected as they get lots of sun and are at highest skin cancer risk.
Terry Slevin is editor of Sun, Skin and Health, CSIRO Publishing.