The revelation that Volkswagen deliberately circumvented emissions tests on many of its diesel vehicles has provoked a huge storm of controversy. This diesel deception has understandably angered car owners. And some have suggested that VW's management either must have known about the scandal, or effectively lost control of the company.
The allegations are severe. According to the Environmental Protection Agency, VW deployed a "defeat device" enabling its cars to meet emissions standards under official test conditions, even though they can release up to 40 times the legal level of nitrogen oxides (NOx) under normal driving conditions. Worse was to come though. VW went on to admit that 11m vehicles worldwide had been fitted with the device. An analysis by the Guardian puts the collective impact of this number of cars at nearly one million additional tonnes of air pollution per year.
Loopholes
In the EU, it increasingly seems that there is more to this scandal than car manufacturers using underhand tactics to "hotwire" official emissions tests. Leaked documents have revealed that three powerful member states – the UK, France and Germany – have all recently lobbied for the inclusion of loopholes in a new emissions test planned for roll-out in 2017. Germany, it seems, even called for this new test to be conducted on a sloping downhill track.
In Brussels itself, my own conversations with EU officials have exposed a tendency to accept carmakers' behaviour as an unavoidable part of the regulatory "game". On more than one occasion I have heard the argument that what vehicle manufacturers are doing can't really be classed as cheating, because – after all – wouldn't any rational economic actor seek to "exploit the flexibilities" in this kind of regulatory test to their advantage?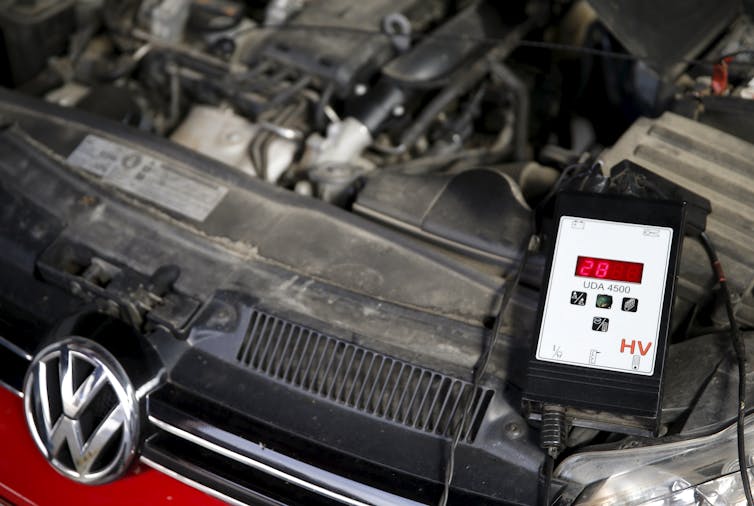 All of this should give us serious pause for thought. Circumventing an emissions test is one thing. But if member states are actively calling for Brussels to enable the continuation of this behaviour, and EU officials themselves see it as a natural part of the "game", then we must ask who – if anybody – is left to represent the interests of the public, or indeed the climate, in the development of the EU's environmental agenda.
Debate and data stifling
The scandal in fact reveals deep-seated pathologies in the way the EU's environmental policies are made. It is, crucially, the EU's privileging of "expert", industry-generated data on these emissions, produced by a supposedly objective, repeatable test, that has allowed VW to deceive its customers and the wider public. Yet these are the same industry experts who stifle debate about the sustainability of petrol and diesel carmakers' contributions to the EU's economy. This, even as Europe faces growing crises of urban air pollution, obesity, and of course climate change.
Meanwhile, on-the-road emissions data, such as that painstakingly assembled by the International Council on Clean Transportation, is all too often dismissed as unscientific, and open to the corrupting influences of a messy and complex "real world". These data are effectively crowdsourced from thousands of drivers and other road users, many with an economic interest in averting the depreciation of their vehicles. And it is these road users – and the wider public at large – who have no choice but to subject themselves to urban air pollution across Europe.
According to a recent Transport & Environment report, this "invisible killer" leads to 500,000 premature deaths a year. And diesel vehicles are the principal cause of those deaths.
VW's diesel deception doesn't just point to an urgent need for a better vehicle emissions test; it highlights the requirement for a more open and inclusive approach to dealing with environmental problems in Europe. As the EU seeks to address and move on from this scandal, Brussels must break the stranglehold exerted over its vehicle pollutant emissions legislation by an inner circle of hubristic industry experts. Instead, it must embrace the ideas, concerns and knowledge of those who most suffer in the face of air pollution – the European public.