The doomsayers of Australian journalism will have to hold their tongues this week as the Huffington Post breathes some fresh life into the local media scene.
Launched in Australia today, HuffPo, as it's affectionately called by journalists, joins a growing number of international news organisations which have found a new audience – and it hopes advertisers - in Australia.
The opening of HuffPo Australia's doors (temporarily in the old Fox offices at Darling Harbour) is indeed welcome news for the 28 or so local staff who have been hired by the global journalism player which has already extended its reach to 13 countries.
The global takeover isn't a bad effort from the team behind editor-in-chief Arianna Huffington who only established the online site in 2005 as an alternative left wing (Americans would say "liberal") outlet and alternative to news aggregators.
The Huffington Post deal in Australia is interesting, with a 49% stake in the venture held by Fairfax Media. The commercial details of the arrangement haven't been publicised, but some have suggested Fairfax fought hard for the deal as a way of "keeping its friends close and its enemies even closer".
There are however fears from a few media watchers that HuffPo will cut Fairfax's audiences which are already feeling the pinch from locally grown digital sites such as Crikey, The Conversation, New Matilda and Mumbrella as well as the relatively new international players, The Guardian, the Daily Mail, and BuzzFeed.
The Huffington Post's chief executive in the US Jimmy Maymann however is buoyant about the deal, which mirrors that in other international ventures.
He told the Australian Financial Review earlier in the year:
"Our ability to partner with established local players has been critical to the success of our rapid international expansion over the past two years. We have created a very effective repeatable model that has enabled us to enter new markets and establish strong positions very quickly."
HuffPo can credibly claim to be an international news organisation, having won a Pulitzer Prize in 2012. It boasts 214 million unique visitors each month, and there is no reason to believe it will not achieve its stated target of becoming a top-five publisher in Australia in three to five years.
HuffPo Australia boasts a strong team with good local connections. The chief executive Chris Janz comes lately from blog publisher Allure Media, which was bought by Fairfax in 2012, and the editor-in-chief Tory Maguire brings a long News Corp pedigree.
Also in the news crew is Canberra-based political editor Karen Barlow, one of the many talented journalists axed by the Australian Broadcasting Corporation in its cull of international services, a former executive producer of video at AAP Tom Compagnoni, and a former assistant Daily Mail editor Chris Paine. The list of highly regarded journalism hires goes on, but features many who have either jumped or been pushed out by the seismic change in the country's newspaper landscape.
So while the local industry is no doubt delighted that high calibre journalists are finding work with the Australian edition of HuffPo – the one question readers should be asking is will the Huffington Post bring them anything different to the already established media outlets.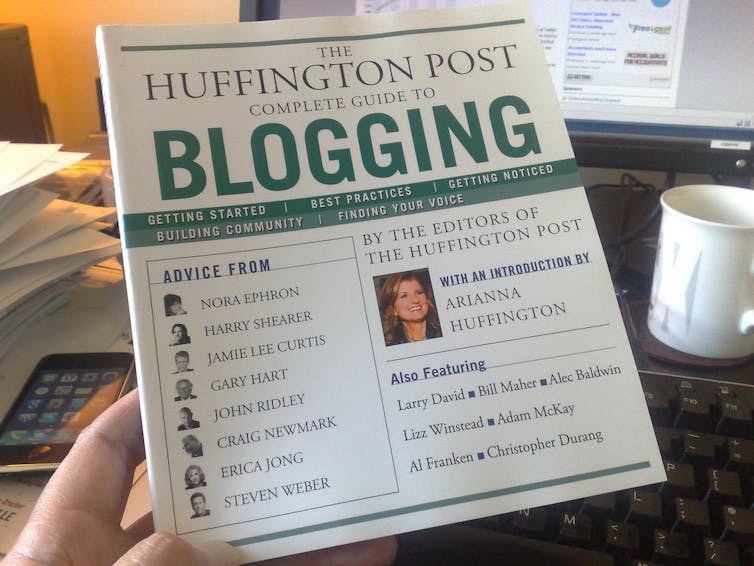 Point of difference?
Certainly HuffPo gains much by linking its brand to the high standard of journalism that many Fairfax reporters demonstrate. Look for example at the coverage of tax avoidance by multinationals operating in Australia, or the revelations and reporting of Australia's scandal ridden financial services sector.
If HuffPo Australia champions more of this reporting, and helps grow advertising revenue for both it and Fairfax, then that will auger well for all. But The Huffington Post has built much of its reputation on providing a space for bloggers, for insiders, to write about their passions.
HuffPo does not restrict itself to the normal crew of footy commentators, political analysts and think tank spruikers. HuffPo asks everyone to write. And it is this network of real-time bloggers in Australia that could be the making of the site, even if it is the use of such unpaid writers that has caused the organisation the most criticism at home and abroad. Although to be truthful, there are many sites in Australia and internationally who do not pay writers, however good they maybe, including The Conversation.
What really matters is whether or not HuffPo can attract new and emerging thinkers who can write, or if they will lean on the same-old crew who pop up on QandA on a Monday night.
It's a now a truism that the internet provides us with what it thinks we want to know, not what we need to know. As readers, we hope the paid Australian curators at HuffPo can help change that adage. If they can, it might be enough to save Fairfax.