As Europe's leaders issued their statements after a special meeting of the European Council on April 23, they reiterated that the latest drownings of hundreds of people crossing the Mediterranean were an enormous tragedy.
But what they neglected to mention was that tragedy has been going on for years – and the latest deaths were entirely predictable and preventable.
Political leaders from across Europe have called out loudly and clearly for action to stop future deaths. Italian prime minister Matteo Renzi stated that "we must stop this carnage", while his Spanish counterpart Mariano Rajoy said it was "yet another human tragedy in the Mediterranean … Words won't do any more". European leaders have met twice this week "to prevent further loss of life at sea and to tackle the root causes of the human emergency that we face."
It is right to call for action to stop the loss of life on such a scale in the Mediterranean. An estimated 3,500 people died trying to cross to Europe over the Mediterranean in 2014. Yet for all the talk of a humanitarian emergency, the answers being suggested focus on restrictive measures, which will not successfully prevent people from trying to migrate.
A quick glance at recent history shows this is nothing new.
Déjà vu
During 2006, more than 31,000 migrants arrived on the Canary Islands off the west coast of Africa. There were "urgent meetings" to stop the "incessant" arrival of boats. The outcome was that Frontex, the EU's border agency, coordinated Joint Operation Hera to patrol the borders, with a total budget of €3.5m (€2.8m of which was co-financed by Frontex) and vessels and planes made available by three European Union member states.
Between January and May 2011, nearly 30,000 migrants arrived on the small Italian island of Lampedusa in what was described as a human tragedy. Silvio Berlusconi, then prime minister, called for exceptional measures to stop the "human tsunami" engulfing the island. The result was the expansion of the Frontex-supported Joint Operation Hermes, which brought together naval and aerial resources from Italy, France, Germany, Netherlands, Malta and Spain to patrol the central Mediterranean. Again, the aim was to stop migration flows.
But the spiralling number of deaths in recent days and weeks suggest that these efforts haven't worked in the long-term. And the same is happening today.
As news arrived that up to 900 people could have died in the latest migrant boat disaster in the Mediterranean earlier this week, EU foreign affairs chief Federica Mogherini issued a call to arms: "With this latest tragedy … we have no more excuses, the EU has no more excuses, the member states have no more excuses," she said.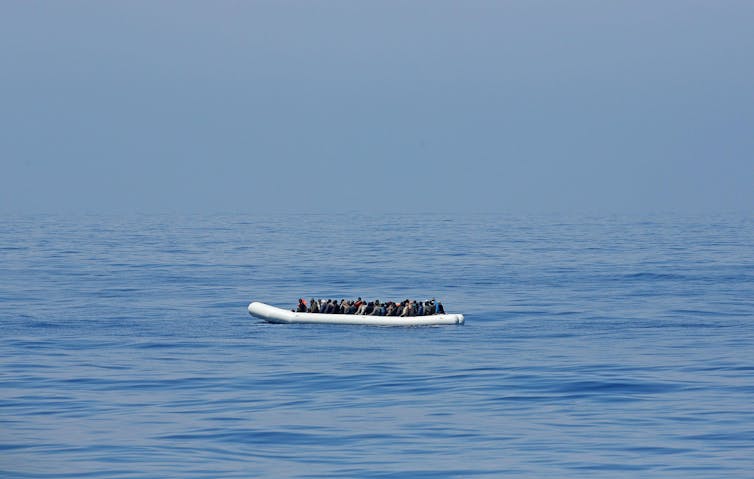 On April 20, the EU's Joint Foreign and Home Affairs Council duly composed a ten-point plan with "the full backing of foreign and interior ministers" and three days later, on April 23, the European Council set out a series of actions to strengthen Europe's presence at sea, fight traffickers, prevent illegal migration flows and reinforce solidarity.
As seen in previous emergencies, the outcome will bring increased financial resources and equipment channelled through Frontex, in this case to reinforce and extend the joint operations Triton and Poseidon in the Mediterranean.
The expansion of resources is important and welcome news. But they will also be restrictive and military-based measures which aim to stop deaths by stopping migration.
This is all eye-catching stuff – but some of these measures present problems.
Smash them
The plans propose a systematic effort to control and destroy vessels used for trafficking, based on previous military anti-piracy operations carried out off the Somali coast. In anti-piracy initiatives most vessels have been destroyed at sea and pirates have utilised "motherships" from which smaller vessels could be launched to expand their operations. In the case of migration, many vessels are already of poor quality and have even been abandoned by smugglers at sea. It is hard to see why the threat of destroying them would be much of a game changer.
This also assumes that smugglers' vessels can be accurately and quickly located, which is by no means straightforward. To make matters more complicated still, any military action to destroy vessels on land along the coast or in the territorial waters of a state (up to 12 nautical miles from the coast) would need to be legally sanctioned.
In the case of Somalia, for instance, the destruction of pirate vessels was cleared by a range of United Nations Security Council resolutions over a number of years – and crucially had the active support of Somalia's Transitional Federal Government. These conditions do not apply here, and the responsibility for and legality of what's to be done is not clear.
Send (or push?) them back
Meanwhile, there will be a new return programme for "rapid return" of irregular migrants from frontline member states. But many migrants are currently departing from Libya, a collapsed state in violent turmoil – and to send them back would be against international law.
Some on the right have called for something like the Australian approach, which requires "rapid returns" could involve towing boats back to the shore from whence they came.
This would be tantamount to a mass push-back, a strategy which has been described by Amnesty International as unlawful and shameful. And of course, return programmes require readmission agreements with the country they are to be sent to – something not easily done with a state in Libya's condition.
At the same time, measures from the European Council to speed up asylum processing are vague, and programmes to resettle migrants across the EU so far work only on a voluntary basis.
Wrong tack
While these initiatives may well reduce the number of deaths at sea, they are an inadequate solution to what's going on. If put into action as mooted, the plans will be legally unsound, difficult to implement, and will do nothing to address the reasons why people migrate.
As has been noted elsewhere, without addressing the push factors or being willing to consider opening avenues for safe migration, it is possible that desperate people will turn to increasingly dangerous ways of making the crossing.
Yet again, a humanitarian emergency is being used to justify highly restrictive measures to stop migration in the Mediterranean that will do little to reduce migratory pressures and may even run counter to international law.
It's good to see Europe's politicians forced into action at last – but without evidence-based policies and a clear understanding of the implications, their actions could be downright dangerous.