The spiralling rise in shooting crimes in Sydney's western suburbs requires strong and sustained political, community and police action to make suburbs safe for families.
I happen to live in a suburb that has been ringed by shooting incidents, and recent was just around the corner from my home. Like many of my neighbours, I can see that politicians are seeking, but are not really offering, new strategies or solutions to fight the gun crime that is plaguing Sydney.
It's not just well organised bikie gangs to blame, but a range of criminals and business rivals, all with access to guns. They are escalating, rather than settling, all manner of disputes by targeted shootings.
The NSW Bureau of Crime Statistics and Research released new statistics on 17 April 2012 - a day on which five shootings were reported in Sydney.
The figures show the offence of "discharge firearm into premises" rose by 41% (from 71 incidents in 2010 to 100 incidents in 2011) in the two years to December 2011. Approximately half of the NSW recorded incidents of "discharge firearm into premises" in 2011 was recorded in the three Sydney statistical subdivisions of Canterbury-Bankstown, Central Western Sydney, and Fairfield-Liverpool.
There have been at least 52 shootings in Sydney so far in 2012. It will probably be more by the time this article is published.
It is just a matter of time before hand guns become more widely used in disputes by traditionally law abiding members of the public, as a result of "normalisation", and before shootings follow the US trend and occur in places such as Australian high schools.
We are not talking about rifles here, but concealed weapons – pistols. We need new and tighter controls on pistols and ammunition. This should include a new buy-back scheme for pistols, a national register and should include strengthened border control strategies because all hand guns come from overseas suppliers.
There also needs to be a greater high-profile police presence in the suburbs most affected by these shootings, and the police response to shooting incidents needs to be immediate and unrelenting. The community will support strong and hard action by police against these criminals.
Criminals are reacting to the lack of enforcement, the lack of police in key target suburbs, and what appears to be a lack of political will by the State Government to really take on the issue of gun crime and criminal gang activity.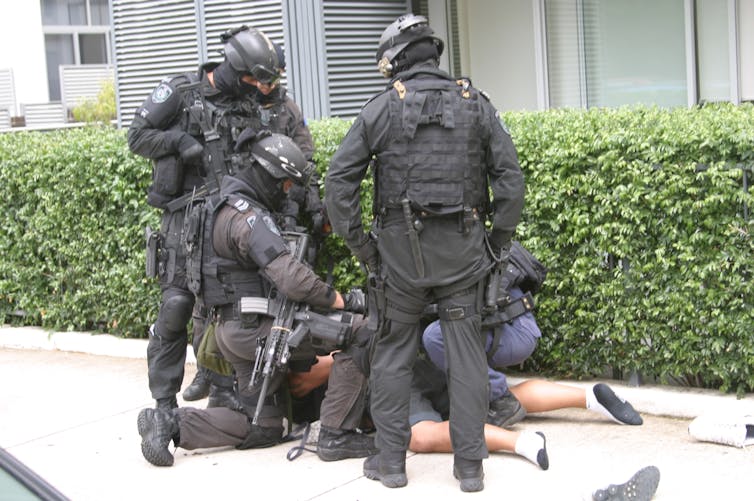 An example of such is the recent announcement that, in response to a recent batch of shootings (five in one day), the law would be changed so that outlaw motorcycle gangs members would not be able to wear their "colours" in the nightclubs of Kings Cross. This announcement was met by both police and criminals alike with howls of laughter. How does changing a dress code stop gun crime? And King's Cross is in the eastern suburbs - not anywhere near where the shootings are occurring.
During the 1990s, Victoria faced a similar dilemma from smaller organised crime gangs, which resorted to shootings and bombings to settle disputes. The police response was slow as the view among most officers was that as long as it was criminals shooting criminals then it shouldn't, or wouldn't, concern the general public. This view drastically changed after Jason Moran was shot in a minivan at a children's sporting event, while children sat terrified in the backseat.
It has now become clear that if politicians won't take on those using guns to settle their disputes and give police the support and direction needed then it is time for local community organisations to take up the challenge.
The most enduring "fix" will come from the combined effects of public and community groups exerting pressure, on the government and police, to break the culture of gang and criminal activity that sponsors gun use as an acceptable recourse for dispute resolution.
Communities in western Sydney need to start taking action to organise and reclaim street safety in their suburbs. If politicians and the government can't fix this escalating problem, the community must stand up and demand an end to gun violence.
It was this type of community action that helped fight the devastating impact and control of the heroin trade and Vietnamese crime gangs in Cabramatta. We need to send a clear message to the government and the gun-wielding criminals that that we will support whatever action is needed to make our streets safe again.
What is it going to take for us to act to solve the gun problem – a Port Arthur style massacre in western Sydney?