As if there wasn't enough controversy surrounding Sergey Kislyak. The Russian ambassador to the US at the centre of the Trump national security storm appears likely, diplomatic sources tell me, to become the United Nations head of counter-terrorism, probably at Under Secretary-General level. The irony seems to have been lost on most of the world's media, with near-total silence about what looks set to be one of the UN's most contentious appointments in recent years.
In April, the new UN Secretary-General, Antonio Guterres, set out his plan to streamline and fix the UN's approach to counter-terrorism and preventing violent extremism. Currently, there are 35 UN entities that deal with these issues. Those entities fall under the fields of peace and security, development, and human rights, and there has been a near-failure to coordinate their work. Guterres has proposed a new office for counter-terrorism that will have a full-time senior official to oversee, coordinate and streamline the UN's work in this area. And the whisper-stream has repeatedly said that Kislyak is the frontrunner for this position.
There are five main objectives for this new office: more leadership; more coordination, coherence, and collaboration; more capacity-building assistance to states; more resources for the UN; and more attention across the UN system. These may seem like small steps, but given that UN member states have failed to agree on a definition of terrorism, it is remarkable that there is consensus about the need to enhance and strengthen the UN's work in this area.
Of course, one of the main reasons for this changed approach is the rise of terrorism and violent extremism around the world, with the spotlight firmly on Islamic State and on Syria. And Russia's role in Syria has played a major role in perpetuating that war and creating a situation in which individuals from many UN member states have travelled to Syria to become involved in terrorist activities.
Russia's record on counter-terrorism and preventing violent extremism is also highly problematic. From the violent repression of Chechens under the guise of counter-terrorism to more recent accusations of the country's funding of terrorism in Ukraine, let alone the tactics deployed during and immediately after the Cold War, Russia's approach to these issues has been widely criticised.
Strange days
Appointing a Russian diplomat to this new role, then, is controversial. And that is before we begin to look at Kislyak himself. The Russian diplomat has long been concerned with arms control, and served as an envoy on that topic to Washington during the Cold War as well as an ambassador to NATO, Belgium and the US interspersed with terms as deputy minister of defence and minister of foreign affairs in Russia. But over recent months it is his central role in the alleged leaking of security secrets by US President Donald Trump and his former national security adviser, Michael Flynn.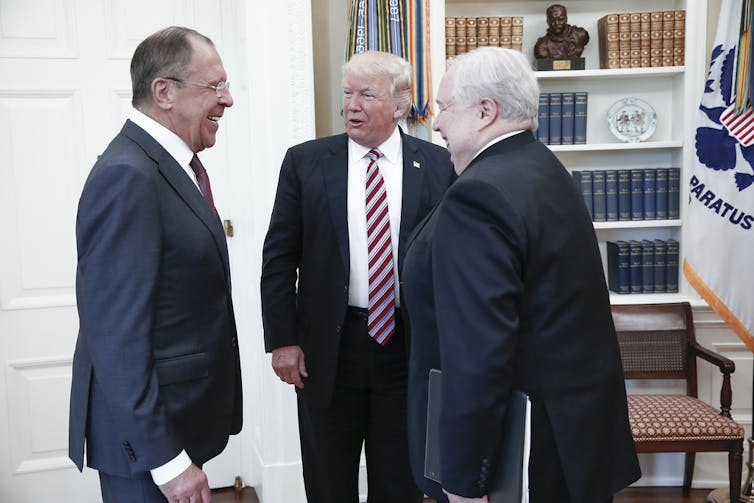 So, how is a man accused of being a spy by US intelligence agencies, and at the centre of this ongoing storm about national security and cyber-terrorism, set to take the most powerful global role in counter-terrorism? Well, this goes to the heart of the opaque world of how the UN appoints its senior officials.
The four most senior roles in the UN are Secretary-General, Deputy-Secretary-General, and a number of Assistant Secretaries-General and Under Secretaries-General. Appointments are political and some require the approval of the General Assembly, which is made up of all 193 UN member states.
This means that there are many negotiations between states about which country ought to be given a senior appointment. The most important positions, usually on peace and security, tend to be given to nationals from the most powerful countries. Vote-swapping becomes a crucial tool, and the appointments process becomes a method for less powerful states to receive support on unrelated issues from those countries that want their national appointed to a post.
When it comes to new roles, the support of those powerful countries is needed as they provide the diplomatic and political pressure on other states that is required to build consensus for a new post. And it is widely discussed informally within the UN that the Russians were promised the counter-terrorism position from early on in the negotiations about the new role.
We can draw our own conclusions about whether Russia would have supported or blocked the new role if these promises had not been made. But even if these promises need to be acted upon, surely there are other Russians more committed than Kislyak to the rule of law in the counter-terrorism sector.
Guterres made early promises of new, effective and transparent processes for job selections to include gender parity as a main objective. Yet so far he has appointed men to all major posts other than the Deputy Secretary-General and a few of his special representatives. It seems from this latest turn of events that he is perpetuating the opacity of his predecessors.
During Guterres' campaign for the UN's top job, there were whispers about what the Russians had been promised in order not to block yet another European being elected Secretary-General. Some said that Russia wanted a Russian as the under Secretary-General for political affairs, but an American national has remained in that post for another year. It is likely that this backroom promise on the counter-terrorism post is part of those previous negotiations. And if this all sounds murky, we should be clear that this is precisely how the UN often operates.
Murky dealings
It is deeply concerning that the most powerful and important positions are decided by recourse to diplomatic and political negotiations. But it is not only the political nature of these appointments that merits scrutiny. There is a wholescale lack of transparency around job descriptions and appointments process.
As Lord Dubs pointed out in relation to the Secretary-General:
There is no job description, timetable or public scrutiny for the appointments process, and there is a troubling history of backroom deals.
What tends to happen when a new senior role is created is for terms of reference to be drafted by UN staff, circulated to select people for comment, and then distributed via UN entities and some civil society organisations to people whom they think might be interested in the job.
Without a transparent application process, there is no way of ensuring that the best possible candidates are able to apply. And without a job description there is no way of knowing whether the person appointed is the most suitable candidate for the job. But of course, that is what many states want to happen.
These roles bring with them significant power, and countries are reluctant to relinquish that power to independent candidates. Of course, there are some people who are appointed on merit, usually individuals who have worked within the UN system and who the Secretary-General wishes to appoint, and they do not want or require the support of their national government in the lobbying and election process. But these tend to be the exception to the rule at senior levels, and it seems very likely that Kislyak does not fall into this category.
The impact of this political, nepotistic and elitist appointments system goes beyond not being able to ensure that the best possible people are appointed to the most important roles globally. There are times, as with this current situation, that an appointment undermines the UN's legitimacy and brings the UN into disrepute. Indeed, if this were a film, viewers would say that it is too far-fetched to be believable. Yet, it seems clear that someone at the centre of what might be the biggest US political scandal since Watergate may well be set to coordinate global counter-terrorism efforts.
---
This article has been amended to correct an error about how the four most senior UN roles are appointed. While some need General Assembly approval, not all do, as previously stated.