It is too early to know how many animals were affected by the severe weather spawned by Hurricane Harvey. But it is likely that millions of pets and livestock animals were impacted by this disaster. Now Irma is brewing in the Caribbean.
According to the American Veterinary Medical Association's pet ownership calculator, more than 30 percent of metro Houston's two million households owned at least one dog or cat before Harvey struck. Houston also has a significant stray dog and cat problem. Cattle are big business in Texas, so their numbers are more accurate. The 54 impacted counties had about 1.2 million beef cattle and roughly 5,000 dairy cattle, along with beloved backyard horses, goats, chickens and pigs.
As part of Colorado State University's Veterinary Extension Team, I help citizens and communities in Colorado protect and care for animals. Pets and livestock pose different challenges, but the key issue is that communities need to plan ahead and create partnerships between disaster professionals, agricultural extension agents, veterinary health experts and animal welfare groups.
The goal is to create animal evacuation teams that are prepared to rescue animals safely, and to have trained volunteers and procedures in place for setting up temporary animal rescue shelters. Deploying well-meaning but untrained volunteers who are not connected with larger rescue operations can hinder response and endanger humans and animals.
Household pets and service animals
The policy of rescuing pets dates back to Hurricane Katrina in 2005. In New Orleans, emergency response teams were too overwhelmed by the challenge of rescuing people to save their pets as well. It is estimated that nearly 600,000 animals died or were stranded. Equally troubling, more than half of the people who did not evacuate stayed because they were not able to take their pets. By remaining in place, they put themselves and first responders at greater risk.
In 2006 Congress passed the Pets Evacuation and Transportation Standards (PETS) Act, which amended the Stafford Disaster Relief and Emergency Assistance Act to ensure that state and local emergency preparedness plans addressed the needs of people with household pets and service animals after major disasters. Over the past decade, implementation of the PETS Act at the local level has shown that when emergency operations planning includes animals, human lives are saved, and most pets can be successfully reunited with their owners post-disaster.
Challenges still arise as disasters play out. When temporary animal shelters close, many pets that were never claimed or whose owners can no longer care for them are left in need of homes. The problem is worsened by post-disaster housing shortages in which fewer landlords are willing to accept families with pets.
Additionally, while the PETS Act specifically focuses on household pets and service animals, this definition does not cover many species that people think of as pets, such as snakes or tropical birds. Shelters may not be able to accommodate farm and exotic animals that their owners view as pets.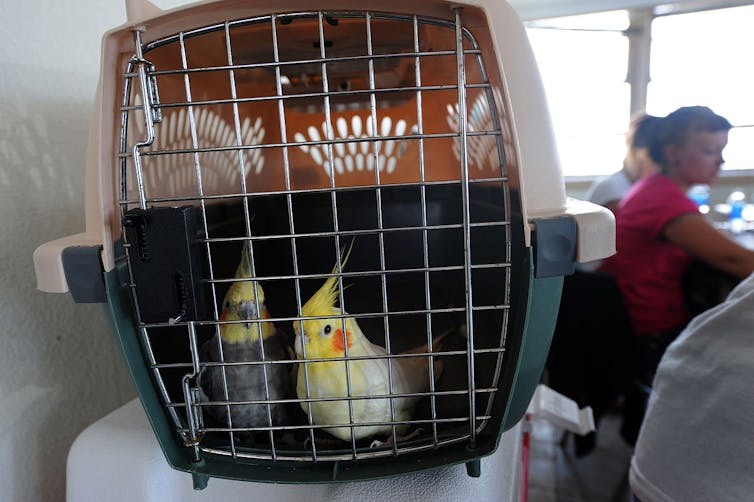 Moreover, the law does not explicitly recognize emotional support animals – a relatively recent designation for animals that provide therapeutic benefits to their owners through companionship, rather than performing tasks like service animals. People with support animals may be surprised that their animals are not welcomed in a shelter as a service animal would be.
Community disaster animal planning includes identifying types of animals in the community and trying to find appropriate facilities to provide for them. This could mean designating a vacant warehouse as a household pet shelter and a fairground for horses, goats, chickens, sheep and cattle. Plans should also include providing trained staff and appropriate food supplies for each type of shelter.
Rescues on the range
Emergency management prioritizes human safety above saving property, including livestock. But for livestock owners, their animals represent not only a livelihood but a way of life. Farmers and ranchers know how to prepare for unexpected emergencies and disasters because their businesses depend on the land and the weather. And they are prepared to be isolated because they operate in rural areas.
Texas ranchers started moving cattle to higher ground while Harvey was brewing in the Gulf of Mexico in case the storm headed their way. Cattle producers stockpiled large supplies of feed and fresh water near their animals, and had generators and gasoline supplies at hand to keep their operations functioning.
Dairy producers have different strategies because cows don't stop making milk during disasters. Owners need to shelter their animals in place and ensure that milk is picked up and delivered to processing plants. Milk pickup at Texas dairy farms was uninterrupted during the first week of Harvey, although it was not always on schedule because drivers had to find open travel routes and deliver milk to alternative processing plants.
Farmers and ranchers form strong support networks before disasters, and Texas is especially well-organized. The Texas Animal Health Commission has a well-trained and organized Animal Response Team that includes representatives of federal and state agencies, Texas A&M University's AgriLife Extension Service, industry organizations and other stakeholder groups. The team began meeting before Harvey hit to coordinate emergency operations and response efforts.
The Texas and Southwestern Cattle Raisers Association is also working with state agencies to coordinate relief and support efforts for ranchers. Post-storm tasks include capturing loose animals, evacuating them from hazardous areas, identifying their owners, disposing of carcasses and consulting on animal health and public health concerns.
Once responders have organized fresh feed and clean water and gathered cattle in holding facilities, they will evaluate them for injuries and slowly reintroduce the starving animals to a normal feeding regimen. In the coming weeks, ranchers will carefully monitor their animals' health, clean debris from flooded pastures and repair miles of damaged fences.
Make your own plans
One antidote to the concern and fear that we feel when watching disasters like Harvey unfold or tracking current predictions for Hurricane Irma is developing a plan for your own family and animals in case of an emergency in your area. Information is available from the Federal Emergency Management Agency, other federal agencies, and state and local emergency offices.
In the wake of a 2012 drought that resulted in severe forest fires and floods, CSU Extension helped many Colorado counties develop disaster plans for animals. We produced a documentary that illustrates the process in two Colorado counties, and a companion toolkit to guide communities through the process.
If you have time, join a community volunteer group and train to be a responder. Your community's resilience depends on active involvement. As a Larimer County, Colorado animal response team member told me, "The better prepared an animal owner is, the better we can assist them."