The phrase "we all love a bargain" is never as true as when applied to the discount retailer Poundland, which recently posted sales of more than £1 billion for the first time. As its Chief Executive Jim McCarthy says: "There are those who need to shop for value and there are those who choose to."
While some might describe this discount store as the penny sweet counter of the high street, it has made its mark, attracting nearly five million customers a week, many of whom would be classified as wealthier customers. Penny tray or not, Poundland has helped the UK high street hugely, taking over many of the vacant Woolworths' stores after they closed in 2008.
Although Poundland has been described as one of the great success stories of the recession, its sales proposition is not that unique. It is accompanied by numerous other bargain shops that have thrived in the recession including H&M, TK Maxx, Primark, Lidl, and Aldi. Yet Poundland stands out, having opened 60 new stores in the past year in the UK and Ireland and acquired its rival 99p stores in a bold move (perhaps too bold for the Competition and Markets Authority, which is looking into the takeover).
The average customer spend of £4.55 per visit might suggest that the store doesn't have that many bargains or that it doesn't have that many items relevant to each shopper. Or that shoppers simply don't have that much money to spend. But to be as successful as it is, one thing is sure, lots of us must be shopping there. Perhaps it simply serves to appease the appetites of bargain hunters and savvy shoppers.
Market trader mentality
When it started life as a market stall in Lincolnshire, Poundland had a simple business model, much of which it still uses today. It buys a large amount of stock at low prices and then clears it all to generate cash. The market trader mentality means that Poundland knows when to delist (shift stock) as easily as it does and to buy up stocks when a trend appears on the horizon. This behaviour doesn't faze suppliers though. They appear happy to work with Poundland because it is cheaper to serve – it requires little support or marketing, making costs lower than when dealing with other major retailers.
Poundland relies on sales surges from tie ups with bigger name brands like Kraft's Maxwell House coffee, especially as its delisting policy takes no prisoners. For example it sent Nescafe packing when the cost became too expensive, leaving itself without any coffee on the shelves for eight months. It was a brave move because at the time the Nescafe product represented about 1% of turnover.
But Maxwell House had to engineer a specially designed non-standard product to fit the £1 straitjacket, and this has been one area of criticism – that the brands aren't the same as those found in the high street. But then Jim McCarthy would doubtless counter with the 170g Toblerone bar which (alongside many other products) is exactly the same as those sold in major supermarkets.
Riding the wave
Another sales booster is riding the crest of a craze. Last year's increase in sales benefitted from the trend in loom bands, coloured rubber bands designed to be worn as bracelets and particularly popular with children. Loom band demand was said to be a major factor in an increase in sales to over £1.2 billion last March.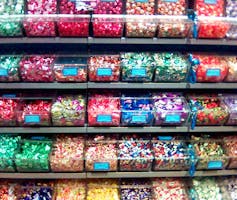 To expand further, Poundland has to keep opening more stores (or buy out other people's), and that has driven them from their UK origins across to continental Europe. Gunning for expansion carries new risks; the CMA referral on the 99p Stores acquisition and the recent fall in the value of the euro have not helped Poundland's share price. But then if the euro strengthens again and the CMA gives it the nod, shareholders will be laughing.
Poundland does attract more than its fair share of criticism, but most critics miss the main positive point: that Poundland has recognised and reacted to the recent structural change that's taken place in shopping and shoppers, when many retailers have not. Most in the West have been touched by the recession and there is no doubt that this has aided the rise of all discount retailers.
Psychological impact
The £1 offer has a particular psychological attraction too. When we go to supermarkets we usually have to spend more to enjoy a price reduction, whereas the Poundland offer is based on what you can get for your pound. Plus there are no nasty surprises at the checkout.
There is another, less functional, element to their offer. In the words of Forrest Gump, "You never know what you're gonna get" – in this case, until you arrive in store. Poundland has that serendipitous aspect of alighting on an unexpected bargain. So, back to penny sweets (for those old enough to remember them) and the delight of the cash strapped child being able to choose to spend their few pennies from an array of sweets. Perhaps Poundland is doing something similar – and that has made it attractive to rich and poor alike.