I went to Kyiv, the capital of Ukraine, in June 2023 to visit an old friend and to better understand how the ongoing war with Russia is altering Ukrainians' daily lives.
I spent time talking with a wide range of people – including soldiers, civilians and priests.
People in Kyiv live in a near-constant state of alert, with regular air raid sirens, but life in other ways goes on.
As a scholar of Eastern Europe, I think it is important for people in other parts of the world to grasp what life is like in Ukraine and how some Ukrainians feel about the ongoing conflict more than 17 months after Russia launched a full-scale invasion of Ukraine.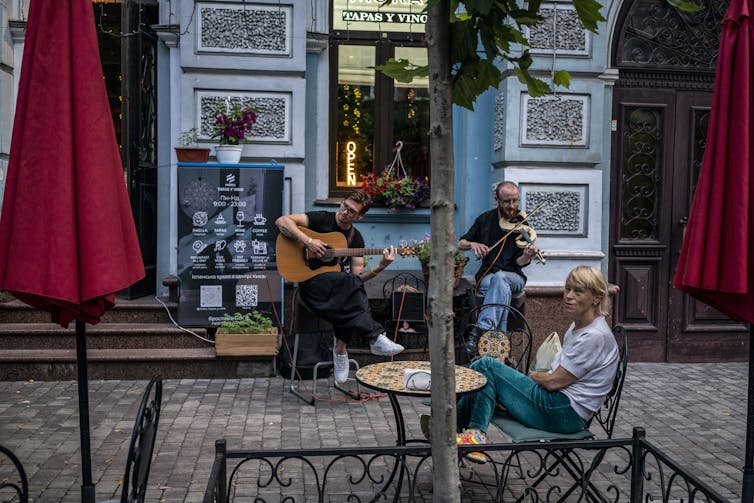 Daily life in Ukraine
When air raid alerts sound above the streets in Kyiv, some people seek shelter, but others never do. People use their phones to scan Telegram chat forums that monitor radio waves from morning to night to learn about what kind of missile or drone is coming. Then, they decide how to respond.
At first, I relied on the people around me to help determine a course of action when an air siren sounded. But after a few days I started to turn to the same Telegram channels to better gauge the potential severity of the situation.
Most restaurants, cafes and other businesses remain open in Kyiv. These places were often packed with customers when I walked past on warm summer days. I even saw a crowded bungee-jumping event one weekend as people jumped from a pedestrian bridge over the Dnieper River in Kyiv.
In the evenings, I saw people taking leisurely walks and lining up outside theaters. Close to midnight, people disappeared back home to observe the curfew the government has imposed.
Physical signs of war in Kyiv are also evident.
I saw historic monuments protected from airstrikes with sandbags. I walked past charred Russian tanks displayed as trophies in the historic Mykhailivska Square in Kyiv. I saw destroyed residential buildings, the result of missile strikes, and many large metal tank traps – often called "hedgehogs" – used to block the roads. Some people drive cars damaged with bullet holes.
Yellow and blue – the colors of Ukraine's national flag – are common throughout the city on fences and billboards.
There are also small Ukrainian flags planted in the grass on Kyiv's Independence Square, each bearing the name of a person killed in the war. The flags of other countries that have supported Ukraine are there as well.
What Ukrainians want
I met with volunteers who are supporting Ukraine's army by fundraising to give money to wounded soldiers' families or to buy military equipment. I spoke with soldiers who were eager to return to the front lines, in some cases after they'd recovered from an injury.
One soldier described his desire to keep fighting. "My brothers in arms need me. I cannot abandon them," he told me. Another fighter said that he wants to help free Ukraine for his children.
As many as 130,000 Ukrainian soldiers were killed or wounded between February 2022 and April 2023, according to U.S. intelligence documents. As many as 223,000 Russian soldiers were killed over that same period, according to the U.S. intelligence documents cited by Al Jazeera.
So far, Ukraine has replenished its ranks through military drafts of men over the age 18. Ukraine's military is also relying on people who volunteer to fight.
About 84% of Ukrainians said in May 2023 that they were not ready to give Russia territorial concessions, according to the Ukrainian independent research group Kyiv International Institute of Sociology.
Under the current martial law, in place since February 2022, Ukrainian men between the ages of 18 and 60 are generally not allowed to leave the country because the military might call them to serve.
Some draft-age men are dodging mobilization. On my way to Kyiv, a woman on a train told me that some Ukrainian men are ignoring military summonses. She explained that a male relative could not meet her at the train station because he was afraid to appear in a public space.
Meanwhile, Ukrainians are also still looking to outside Western support, and looking for countries including the U.S. to join in a mutual-defense pact that would obligate them to send in their own troops. About 89% of Ukrainians wanted Ukraine to become a NATO member in May 2023, according to the Kyiv International Institute of Sociology.
In 2021, only 48% of Ukrainians supported Ukraine's NATO membership. And in 2022, a record high 83% of Ukrainians said they wanted to join.
Ukrainian President Volodymyr Zelenskyy continued to push for NATO to speed up Ukraine's membership application process during the mid-July 2023 NATO summit. Members of NATO, including the United States, have not set a firm timeline for deciding whether Ukraine can or cannot join the military and political alliance.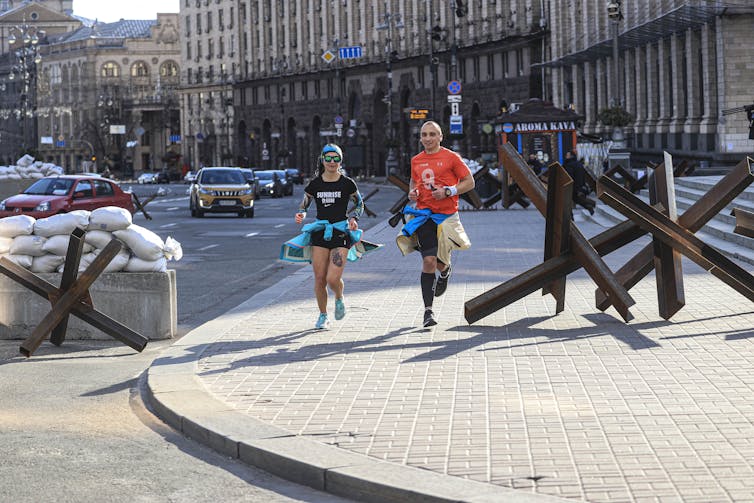 Do Ukrainians have a breaking point?
Over 500 days into the full-scale invasion, Russia continues to launch missile and drone attacks on Ukraine. The fighting on the ground remains intense.
In May 2023, 78% of Ukrainians said close family members or friends had been wounded or killed since February 2022, according to the Kyiv International Institute of Sociology.
I met a wounded soldier's wife in a hospital I visited in Kyiv. Her husband lost a spleen and a kidney. The woman explained that her husband said it makes him feel better when friends come to visit, and he thinks it strengthens his chances for a full recovery.
I observed some people's concerns regarding the duration of the war.
While walking one day in Kyiv, I met a 46-year-old woman who said she thinks that the war may drag into 2024 or beyond. But she expressed confidence that Ukrainians will want to keep fighting. "So many people have died. I'm not afraid that Ukrainians will tire of being attacked by Russians," she explained.
A volunteer who heads a nonprofit group providing military and financial support to soldiers reaffirmed this sentiment.
"Of course, every person has a breaking point, but there is no way back now. I know many soldiers who are prepared to fight if the war drags on, even if for years," the volunteer said.