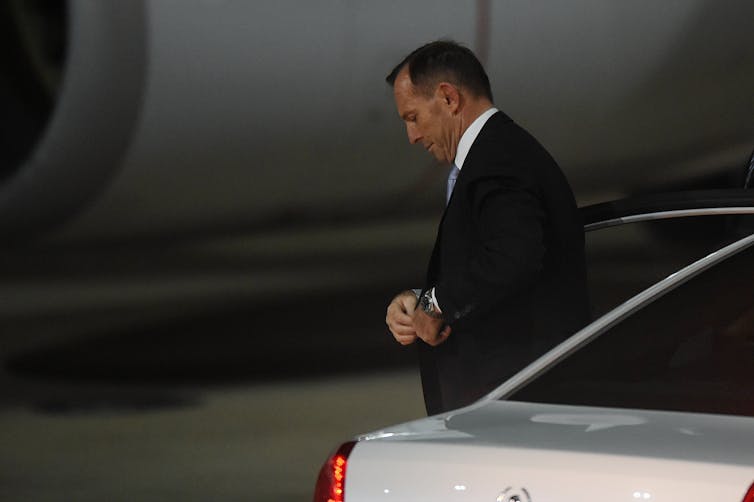 Tony Abbott's refusal to attend this week's United Nations climate summit is embarrassing for Australia.
There was never any way he'd be at this meeting but his absence would not have appeared so conspicuous if he hadn't been travelling to New York anyway.
Given he is going to the special UN Security Council session on foreign fighters, he had no reasonable excuse for missing the climate summit.
He could easily have left Australia a little earlier and been there, along with more than 100 leaders, including Barack Obama and Britain's David Cameron (though neither China nor India is being represented at leader level).
Abbott has spread his wings on the international stage recently, but this doesn't extend to the climate issue. On that, the Coalition remains in election campaign mode. It boasts as one of its major achievements the dismantling of the nation's carbon pricing. It would like to cut back or even quash the renewable energy target, although the Senate and the public popularity of the RET are complications.
What the Prime Minister privately thinks about climate change – as opposed to his formal position that it is real and humans contribute to it - is unclear given his conflicting and shifting statements over the years. But he certainly does not accord it a high priority.
Foreign Minister Julie Bishop, who will represent Australia at the summit, set out the government's position in remarks to the UN's Major Economies Forum on Energy and Climate this week.
Reaffirming that Australia was committed to reducing emissions by 5% below 2000 levels by 2020, she said this would be a reduction of "22% against business as usual levels" which "compares well to other major economies".
The target would be met through the Direct Action Plan, she said. (That plan still has to be negotiated through the Senate.)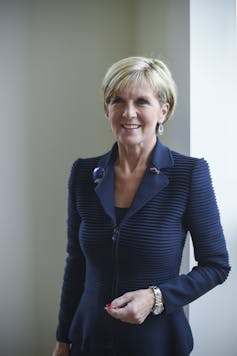 Bishop said Australia was committed to helping achieve a global, enduring and ambitious climate agreement next year, when countries will meet at the Paris conference.
"For Australia, it is important that the new agreement encourages economic growth while delivering realistic and effective environmental outcomes."
She said that "all countries, especially the major emitters must take real and comparable action to reduce emissions.
"Broad participation will sustain economic growth by safeguarding our respective competitiveness. It is critical that we move beyond the outdated developed and developing country groupings of 1992," she said, adding that these didn't reflect today's reality, let alone the future.
Australia would consider its post-2020 target as part of its review next year of its targets and settings. "This review will focus on the extent to which other nations, including the major economies and Australia's trading partners, are taking real and comparable action to reduce emissions. For Australia, it is important that we see the pledges of the major emitters," Bishop said (suggesting Australia is likely to hang back in presenting its target). She welcomed comments from American Secretary of State John Kerry on the hope that the two largest emitters, the United States and China, could agree on targets.
Bishop stressed that "economic growth and competitiveness must be at the forefront of our thinking as we design the new global agreement. A strong global economy improves our global capacity to address the full range of challenges that climate change presents."
Bishop's remarks lacked engagement with the dimension and seriousness of the problem of a changing climate. In contrast, Kerry was passionate in speeches this week, ranking climate change with terrorism as an international challenge.
"When you think about terrorism, which we think about a lot today; poverty, which is linked obviously to the levels of terror that we see in the world today; and, of course, proliferation of weapons of mass destruction – all of these are challenges that don't know any borders.
"And that's exactly what climate change is. Importantly, climate change, without being connected in that way to everybody's daily thinking, in fact, ranks right up there with every single one of the rest of those challenges.
"You can make a powerful argument that it may be, in fact, the most serious challenge we face on the planet because it's about the planet itself. And today, more than 97 percent of all the peer reviewed studies ever made confirm that," Kerry said.
He said that the 2015 UN agreement "is not going to be the final step towards solving climate change. But … it's going to be the most important one we've had perhaps since Kyoto and may be the demarcation point for the reality of whether we have a chance of getting there or don't."
Unlike with the challenge of terrorism, the US won't be finding its good friend Australia offering enthusiastic assistance in this effort.
Listen to the newest Politics with Michelle Grattan podcast with guest, Health Minister Peter Dutton.