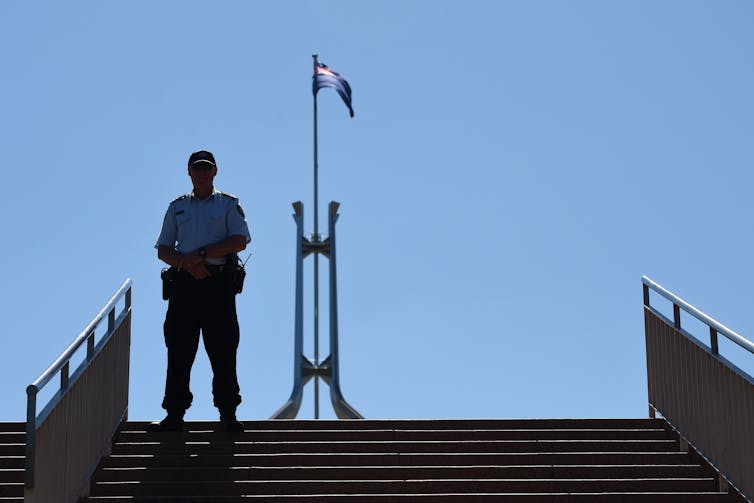 In a blood curdling rallying cry, the Islamic State has urged its followers to murder people from countries including Australia that are part of the international coalition ranged against it.
The explicit and horrifying call came in a speech from ISIL's spokesman Abu Mohammad al-Adnani al-Shami, which was distributed via social media and declared genuine by Australian security agencies.
It comes as Australia, with forces already pre-deployed to the Middle East, prepares to formally join the combat some time after this week's special session of the United Nations Security Council, which will be chaired by President Barack Obama and attended by Prime Minister Tony Abbott.
It remains to be seen what impact the ISIL statement, with three specific mentions of Australia, will have on the public's opinion about Australia being in the conflict.
Last week, after early morning police raids, 22-year-old Omarjan Azari appeared in court accused with conspiring to plan or prepare a terrorist act. He had allegedly received a phone call from Mohammad Ali Baryalei, the most senior Australian member of Islamic State, who had urged a random killing.
ASIO, the government, and the opposition have consistently argued that Australia's engagement doesn't increase the risk of a terrorist attack here, but Adnani in his 11-page tirade homes in on those targeting ISIL.
"If you can kill a disbelieving American or European – especially the spiteful and filthy French – or an Australian, or a Canadian, or any other disbeliever from the disbelievers waging war, including the citizens of the countries that entered into a coalition against the Islamic State, then rely upon Allah, and kill him in any manner or way," he said.
The statement refers to killing "the disbeliever, whether he is civilian or military".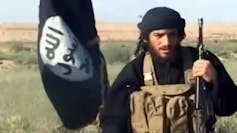 "If you are not able to find an IED or a bullet, then single out the disbelieving American, Frenchman, or any of their allies. Smash his head with a rock, or slaughter him with a knife, or run him over with your car, or throw him down from a high place, or choke him, or poison him."
In one of three specific references to Australia, he said: "What threat do you pose to the distant place of Australia for it to send its legions towards you?"
A spokesman for Prime Minister Tony Abbott said that "Australian agencies regard the statement issued today by ISIL calling for attacks against members of the international coalition, including Australians, as genuine."
The spokesman said the ISIL statement and the planned attacks thwarted by security agencies last week supported the government's strong action, including more resources for security, proposed tougher anti-terrorism laws, and joining the international coalition against ISIL.
"ISIL will claim that our involvement in this international effort is the reason they are targeting us, but these people do not attack us for what we do, but for who we are and how we live," the spokesman said, echoing the sentiment in Abbott's statement to parliament on national security delivered earlier on Monday afternoon.
In that statement, Abbott effectively flagged that the go ahead for the engagement of Australian military forces would come after the Security Council meeting, for which he leaves on Tuesday.
"I'll be in New York for discussions at the United Nations which President Obama will chair. Subsequently, the cabinet will again consider the use of our forces to mount air strikes and to provide military advice in support of the Iraqi government."
Abbott said that for months operatives in Syria had been urging their Australian network to prepare attacks against targets in Australia.
He admitted he could not promise "that hideous events will never take place on Australian soil". But the government would do whatever was possible to keep people safe.
"Regrettably, for some time to come, Australians will have to endure more security than we're used to, and more inconvenience than we'd like.
"Regrettably, for some time to come, the delicate balance between freedom and security may have to shift. There may be more restrictions on some so that there can be more protections for others."
Opposition leader Bill Shorten told Parliament that "like the Prime Minister, I clearly reject the assumption that our engagement in Iraq has made us more of a target".
Shorten said that Labor's support for the government's commitment to the US-led action against ISIL was based on "a calculation of conscience and national interest". Four key principles underpinned Labor's approach.
"Firstly, we do not support the deployment of ground combat units to directly engage in fighting ISIL.
"Second, Australian operations should be confined to the territory of Iraq.
"Third, our involvement should continue only until the Iraqi government is in a position to take full responsibility for the security of their people and their nation.
"Fourth, if the Iraqi government and its forces engage in unacceptable conduct or adopt unacceptable policies, Australia should withdraw its support immediately."
Abbott has said the government will not send combat ground forces and does not plan to become involved in Syria, where there would be legal complications. Australia has sent Super Hornets and special forces who will act as military advisers.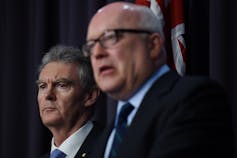 The government on Monday made some concessions in its proposed national security legislation, to help win Labor support and to meet requests from the Muslim community. One is the insertion, in a section giving ASIO officers in special intelligence operations legal immunity, of an explicit ban on them being involved in torture.
Independent Andrew Wilkie, who resigned from the Office of National Assessments in 2003 over the Iraq war, has unleashed a fierce attack on John Howard, accusing him a contributing to the circumstances giving rise to ISIL.
This followed the former prime minister saying in an interview aired on Sunday that he had felt "embarrassed" that no weapons of mass destruction had been found.
Wilkie said that rather than being embarrassed, Howard should be "deeply ashamed but grateful that he hasn't been charged with conspiracy to commit mass murder".
"There was an abundance of intelligence material pointing to Iraq having a disjointed and contained WMD program and not posing a threat warranting the 2003 invasion.
"But invade he, the US and UK did which destroyed Iraq and created the conditions for Islamic State to emerge and prosper."
Postscript
Tuesday's Newspoll in The Australian shows the national security issue is benefitting the Coalition. Its support has risen to a five-month high, with Abbott's satisfaction rating jumping 6 points to the highest level since November.
The Coalition's primary vote is up 2 points to 41%; Labor is down a point to 34%. This is the Coalition's highest support since April, before the unpopular budget. The Coalition has narrowed the two party gap but Labor leads on a two party basis 51-49%.