The two black and white photographs used in the Katter's Australian Party (KAP) anti-gay marriage advertisement were sourced online from a stock photo aggregator.
The photographs are taken by a Paris-based professional photographer Franck Camhi. He is their author.
These are art house photographs. They depict a topless male couple in denim jeans. The younger man has held against his torso, as if it were part of him, a plastic sculpture depicting the breasts and stomach of a pregnant woman. The photographs are titled "portrait of a homosexual pregnant couple expecting a baby". The photographs have a startling visual impact created substantially from the use of the sculpture, and the purposeful faces of the male models.
In the KAP anti-gay marriage advertisement the photographs are altered in two ways. First the lower parts of the photographs are cropped so that it appears that the men might be entirely naked. More significantly, the parts of the photographs depicting the sculpture are so heavily pixelated that the sculpture is no longer identifiable.
With these alterations the portraits are depicted as if they are creepy and obscene images which require censorship in order to be integrated within the KAP advertisement.
It appears as though KAP has copyright permission to exploit the economic rights in the photographs. However, under Australian copyright law Camhi also has a moral right of "integrity of authorship". This is a type of human right for the visual artist – a right to prevent the derogatory treatment of his photographic works. Derogatory treatment includes material distortions or material alterations done in a way that is harmful to the honour or reputation of Camhi.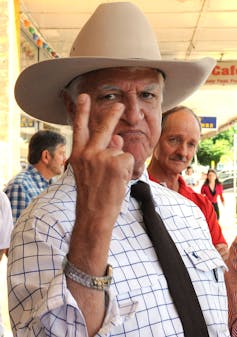 It is difficult to avoid the conclusion that KAP has engaged in (or authorised) a derogatory treatment of Camhi's photographs. If so, KAP would have a defence by establishing that the Camhi consented in writing to the derogatory treatment, or that the derogatory treatment was reasonable. It seems clear enough from reportage that Camhi has not consented.
Assuming that Camhi sued KAP in Australia for moral rights violation, could it be possible that KAP's treatment of the photographs was reasonable? Nobody knows for sure – especially at a time when the mash-up cult is in vogue.
My own view is that if a court were to find KAP's treatment to be reasonable, it would reduce the status of Australian moral rights protections for authors such as Camhi to little more than a hollow joke.