The Indonesian government needs to expand a presidential decree to protect refugees, by turning it into law. The definition the decree uses should also be broadened because it leaves out those fleeing disasters, instead referring only to those fleeing persecution.
In December 2016 president Joko Widodo filled a long legal vacuum by issuing a decree to ensure refugees not be arbitrarily expelled or returned to their country of origin.
Some researchers have criticised the decree for not doing enough to protect refugees. For example, Indonesia still hasn't signed the 1951 Refugee Convention which outlines the rights of refugees and the obligations of governments to protect them.
The decree doesn't set out ways that asylum seekers and refugees in Indonesia - some 13,800 people, mostly from Afghanistan and Myanmar - can be protected and settled in Indonesia through integration programs.
Nevertheless, this regulation shows a policy shift in Indonesia from a security approach that pays no regard to the safety of refugees into one that honours a customary international law obligation of non-refoulement, or not expelling or returning refugees.
Ignoring customary international law
Even though Indonesia is not a signatory to the 1951 Refugee Convention, its honour bound to the principle of non-refoulement. It's considered a customary law that binds all countries, including those who are not signatory to the refugee convention. This means other countries observe it as law, even though its unofficial.
Violating this customary law would bring criticism and condemnation from other nations. Even now, the international community and civil society organisations have been pressuring the Indonesian government to sign the 1951 Refuge Convention.
Prior to the release of the decree, the Ministry of Law and Human Rights' Directorate General of Immigration had been relying on their own standard operating procedures.
This directorate is the government lead in responding to refugee issues. Without any regulation on how to treat and manage refugees and asylum seekers, officials usually ignore the requests of refugees or detain those without UNHCR refugee identification cards. The immigration agency also does not differentiate between asylum seekers, refugees, or the stateless.
Without a UNHCR refugee identification card refugees are labelled illegal immigrants. And in order to get a UNHCR identification card, asylum seekers and refugees must go through a very long Refugee Status Determination (RSD) process. This process is a very exhausting, the waiting period alone for registration for a first interview ranges from 8 to 20 months.
The lack of action in relation to refugees was most evident during the Andaman Sea Crisis when thousands of Rohingya and Bangladeshis were languishing at sea off Indonesia's northernmost province Aceh in 2015.
The governments of Indonesia, Malaysia and Thailand initially refused to save them. Only after local fishermen saved the adrift themselves did Indonesia and Malaysia give them shelter.
The next year, Indonesia reportedly towed a stranded migrant boat in Aceh back to sea. In any case, immigration authorities would arrest refugees entering Indonesian territory.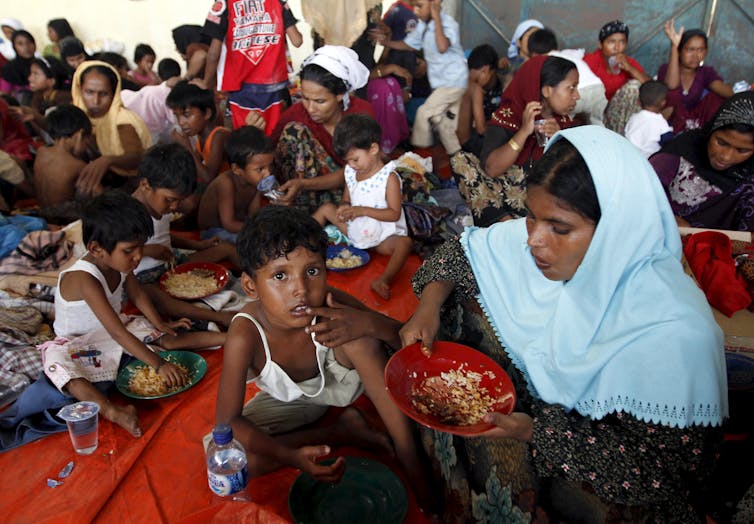 However, the Indonesian Foreign Affairs Ministry showed a different approach. The ministry, with its clear understanding of international treaties and laws, is more active in responding to refugees. For example, Indonesia's foreign minister Retno Marsudi has sent humanitarian aid for the Rohingya refugees. She visited two refugee camps of Rohingyas in Ukhia of Cox's Bazar, Bangladesh.
Shifting refugee policy
President Widodo's decree shows the progress Indonesia has made in adhering to international refugee law. Indonesia now has clear leadership on how to treat refugees. This means the differences in perception and behaviour between ministries can now be avoided.
Through this decree, Indonesia has codified the principle of non-refoulement into its new policy. It also makes Indonesia a pioneer among transit countries in Southeast Asia in policymaking on refugee issues.
Indonesia, Malaysia and Thailand are the primary refugee transit countries in Southeast Asia. To this date, only Indonesia has formulated a decree on refugees.
As Indonesia begins to enforce this refugee decree, Indonesia should also promote the values enshrined, in the region. Through diplomacy and negotiation, this may be a step to realise a refugee framework in Southeast Asian region and especially in the Association of Southeast Asian Nations or ASEAN.