Tony Abbott wants to be known as the infrastructure prime minister. He could be remembered for building roads and scrapping high-speed rail. But the role of Chinese finance and technical expertise in infrastructure provision is the elephant in the room.
The Abbott government must manage an increasingly political debate about "freeing up" international trade and "protecting Australians" from foreign investment. A cultural politics is taking shape around Chinese foreign investment in Australia.
With a cooling in Australia's export mining sector, infrastructure is being viewed - again - as a key sector for stimulating economic activity in Australia. Foreign investment decisions are urgent economic and urban policy issues.
Recent history reveals
Just before the 2013 federal election, an ambitious China-based infrastructure company proposed to build the M4 East motorway, in exchange for the development rights of more than 150 hectares of state-owned land along the Central Station to Strathfield Station rail corridor in Sydney.
The Aspire Sydney proposal signalled a turning point in Chinese/Australian infrastructure financing and technical knowledge relations. At no cost to the state Liberal government, it seemed like a win-win for all parties.
The Chinese developers were right in assuming that the then federal Labor government was seeking to attract Chinese capital, perhaps even Chinese technical expertise. But the outsourcing of large-scale infrastructure financing and manufacture to China runs counter to the government aim of using large infrastructure projects as a local economic stimulus.
In 2010 the Federal Labor Government relaxed the foreign investment rules through the Foreign Investment Review Board.
In 2011, the Victorian premier Ted Baillieu was forced to "allay fears about the impact of increasing Chinese investment in Australia". He argued, the Foreign Investment Review Board will "keep an eye on our strategic interests".
John Brumby – also a former Victorian premier and director of Huawei Australia – encouraged Australians to take a pragmatic rather than a protectionist view toward China. "China's investment in Australia must be viewed as an opportunity, not a threat," he said.
Senators have campaigned against foreign intervention by state-owned entities. Abbott, as the then-federal opposition leader, stated he would "seek to engage rather than contain China", but would restrict "investments by state-owned companies in Australia".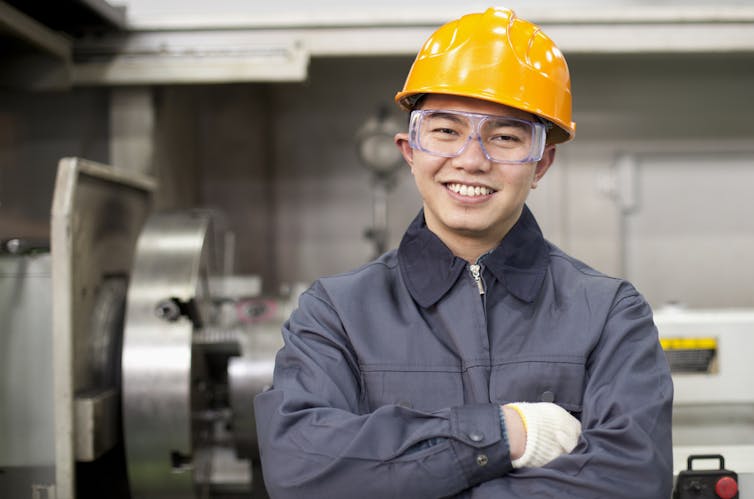 Cultural politics
These issues remain highly politicised because both sides of government see infrastructure as a crucial driver of economic growth but Chinese investors will be increasingly active in Australian markets.
So how will Abbott respond to the cultural policies that surround Chinese investment in road or rail infrastructure?
The provision of large-scale infrastructure, such as roads and rail, has important local economic stimulus dimensions. Understanding this dimension of infrastructure provision is important.
Securing Asian financial and technical capacities was a key aim in the Labor government's Australia in the Asian Century white paper. The white paper set out a clear strategy for strengthening Australia's social and economic ties with many Asian countries.
Read in conjunction with their Our Cities, Our Future: A national urban policy for a productive sustainable and liveable future, the political and urban policy messages were clear.
The Labor government was set to actively pursue Asian capital and technical capacities for large infrastructure projects in Australia. Large Asian-based property development companies are now well-established in the Australia infrastructure sectors.
Should the infrastructure prime minister be concerned about this?
Chinese development
In technical and financial terms, no. Asian developers are experienced managers of urban change. The shift in political and economic power from Europe and the US toward China has introduced changes in city formation that is unprecedented in human history.
When the People's Republic of China was established in 1949, only 10% of the national population lived in cities. By 1978, at a time of the major market reforms, that figure had only reached 20%.
In the last 35 years China has implemented an uncompromising urbanisation process by adding 400 new cities, with millions of people moved from their historically agrarian communities into new urban environments.
Professor of Planning at University College London,Fulong Wu argues that the path to the market and urban change for China has been one of state-led infrastructure development. The provision of public infrastructure by the state through the market was as much about stimulating local economies and creating new markets as it is about the provision of infrastructure.
Australian governments and the Australian population, like China, are highly protectionist when it comes to regulating global market forces in relation to their local economic, employment and political interests. The NSW Barry O'Farrell-led government rejected the Aspire Sydney proposal.
Instead, the Coalition government released costings, following the elections, which indicate that Abbott will fast-track the $13 billion WestConnex motorway; $250 million of federal government funds have been promised to the state government by June next year.
Abbott is silent about how the Coalition will regulate Chinese finance and expertise in Australian infrastructure projects. What remains unresolved is how Abbott will deal with the cultural politics that underlie liberalising Australia's commercial relationships with China and local resistance to increasing foreign involvement.
East meets West
"Australia is a country," writes Martin Jacques in When China rules the world, "that prides itself on its Anglo-Saxon identity – notwithstanding its geographical location – and its Western orientation".
Expressions of this identity include the long-standing hostility to non-white immigration. Or the backlash against the state-owned Chinese mining company Chinalco's desire to purchase stakes in the debt-ridden, but quintessentially British-Australian, Rio Tinto.
Infrastructure projects that include Chinese capital and technical expertise are a hard political sell for state and federal governments in Australia.
Where will Abbott, the prime minister of infrastructure, stand on Chinese foreign investment into road and rail?