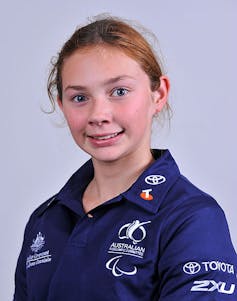 There were fourteen sports on the Day 2 program at the Games. There were 40 medal events.
It was a busy day for bloggers too. Amongst them was the Australian Federal Minister for Sport, Kate Lundy. She wrote about the Paralympic history project. John Kessel wrote a fascinating post about Sitting Volleyball. His post was completed just after the remarkable game between USA and China in the women's competition. The game lasted 99 minutes. Laura Hale continued her Wikinews project and has written a large number of Did You Know posts about the Games (most recently about Nick Taylor and Kristy Pond).
At the Games, Australia had a successful day at the pool and at the velodrome. Jacqueline Freney, Matt Cowdrey and Ellie Cole won gold medals in the pool. The standard of competition is such that Jacqueline and Ellie won their events in Oceania record times and Matt broke the Paralympic record in his race. Australia's youngest Paralympian at these Games, Maddie Elliott, won a bronze medal in the 400m freestyle. Andrew Pasterfield won a bronze medal too. At the velodrome, Felicity Johnson and her guide, Stephanie Morton, won gold in the 1km time trial.
I am still trying to find my sleep balance for these Games. My own experience of the Games has been transformed by the media available to catch up asynchronously with events. Although I do have limited bandwidth in my rural location near Baidwood, NSW, I do feel hyperconnected!
Just nine more days to go with sleep deprivation.
Previous instalments:
[Part 1](Inspired, Dazzled, Moved](https://theconversation.com/inspired-dazzled-moved-part-1-9214)