The framework nuclear agreement that was announced earlier this month by Iran and the so-called P5+1 calls for a substantial rollback in the country's nuclear program in return for a lifting of sanctions.
While no specific time table was mentioned, the preliminary agreement calls for the suspension and then lifting of international sanctions once the International Atomic Energy Agency has verified Iran's compliance with ongoing restrictions on its nuclear activities.
The removal of sanctions, in other words, will take place in stages and will serve as the main incentive for Iran to fulfill its obligations. As interpreted by the US, the sanctions will be suspended and P5+1 will be able to reintroduce them if it determines that Iran is in violation of the agreements. (The P5+1 is made up of permanent UN Security Council members US, UK, France, Russia and China plus Germany.)
Despite being conditional and taking place in several phases, the lifting of sanctions will be a major relief for Iran's economy and it is the main reason for the immediate display of joy and celebration by Iranians in the streets of Tehran immediately after the deal's announcement.
But given the preliminary nature of the accord, it raises many questions about its impact. How significant will that relief on Iran's economy be and when will it actually take place? How will the deal affect business investment, particularly among US oil companies that are certainly eager to get involved with the world's fourth-largest oil reserves? And what will be the impact of a final agreement, if reached, in June?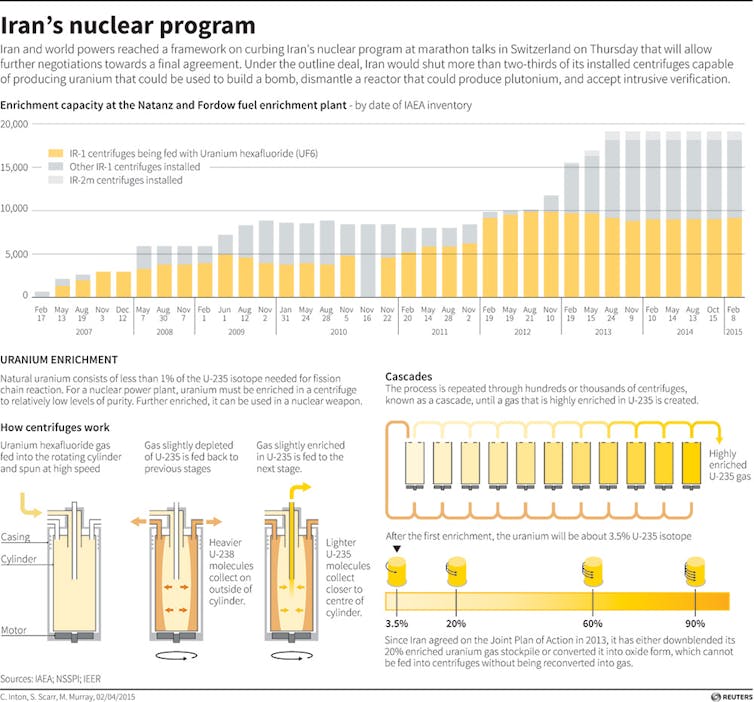 The sting of sanctions
There is no denying that the most recent sanctions imposed in 2010 have taken a significant toll on Iran's economy, with even government officials repeatedly acknowledging their adverse effects.
Iran's economy has fallen bellow its potential by 15% to 20% as a result, while oil exports have dropped in half to a little more than one million barrels a day, costing the government tens of billions of dollars a year in revenue. The sanctions also made it difficult for Iran to repatriate much of its oil export revenues from Asian countries such as Japan and China, which are still allowed to buy its crude.
Beyond the oil industry, the sanctions also disrupted a wide range of export and import activities, causing severe disruptions to the manufacturing sector. Many foreign firms that were involved in joint ventures with Iranian firms in manufacturing and construction projects were forced to withdraw.
Together, these pressures caused unemployment and inflation rates to soar to record levels in recent years.
Uncertain timing, limited impact
The framework agreement lacked a fixed timetable for the removal of these sanctions, creating some uncertainty about when Iran's economy might start to feel the real benefit. But since their removal is linked to Iran's compliance with the restrictions on its nuclear program, it also acts as an incentive for quick compliance.
The agreement requires Iran to suspend the operation of a large number of enrichment facilities, something that can be easily accomplished, and other modifications to its nuclear program have already been implemented during the 18 months of negotiations.
While we won't see a significant effect until after a final accord is reached within three months, we should begin to witness a number of important though limited changes begin to take place.
Jockeying for pole position
First off, it is very unlikely that any sanctions will be suspended or scaled back before the June 30 deadline. During this three-month period, while intense talks are underway over the final details, corporate executives and other economic players will be watching carefully to see if the deal can be protected against its domestic opponents in both countries. Still, we will likely begin to see a sharp increase in business negotiations and preparations for projects that can be launched after specific sanctions are suspended.
The lifting of the SWIFT ban and other financial sanctions, for example, will open up a large volume of trade between Iranian businesses and their international partners in Europe and Asia. Sanctions enacted three years ago prohibited Iran's banks from using SWIFT, the financial messaging system that transmits and tracks international transactions.
Major international corporations such as France's Renault and Chinese shipping firm COSCO that had suspended operations in Iran for fear of heavy financial penalties will prepare to return. Even if it may be some time before they can, companies will be jostling to regain their market presence ahead of the economic boom that is likely to follow the actual lifting of sanctions.
Iran has already prepared a large number of projects in its oil and natural gas industry to attract foreign investment. These projects include the the South Pars Gas Fields in the Persian Gulf and the Azadegan oil field in South Western Iran. Some of the largest European and Chinese oil and gas companies such as Total, Eni and SINOPEC would be among the long list of firms that are likely to compete for investment opportunities in Iran.
Internal investment
Equally significant, we should witness an increase in domestic investment and a shift from hording foreign currency to productive investments by a large number of Iranian households.
Despite all the uncertainties, Iranian businesses and households already anticipate that Iran's oil revenues will increase as a result of the deal and the country will be able to repatriate a large amount of financial assets that were blocked because of the sanctions. While there are no official statistics on the total value of these blocked resources, it is estimated to be around $100 billion. The sums will become available to Iran as soon as the SWIFT sanctions are lifted.
Injection of all this cash back into the economy will help stabilize the exchange rate, and many households may try to anticipate this by dumping their dollars and euros in favor of the Iranian rial. That should enable Iran's central bank to strengthen the national currency, which has lost 60% of its value versus the dollar over the past five years.
So far, the Tehran hard currency exchange market has not reacted much to the framework agreement. Iran's stock market, however, has enjoyed a significant gain, which indicates optimism about business environment in the months ahead. The main index has surged 7% since the deal was announced.
Three months of business lobbying
During this three-month waiting period, we are also likely to witness an intense lobbying effort by Iran's business community in support of the agreement. This business lobby will strengthen the Rouhani government against hardline opponents of the deal among conservative factions of the ruling regime.
Iran's business community, especially the traditional bazaar merchants, have enjoyed good relations with the ruling Islamic clerics and will be able to make their voiced heard in the halls of power. They are likely to be joined by the industrialists and manufacturers, who are set to benefit from the reduction of tensions with the international community.
Some business interests in the US might also voice support for the agreement. But the Obama administration will need to manage the removal of sanctions in a manner that does not put American companies at a disadvantage compared with Asian and European ones for access to Iran's trade and investment market.
US governments for more than 30 years have barred American companies from doing business with Iran, placing far more pressure on them than others simply because it has more regulatory control over them. So a key question US firms will be asking is whether the schedule for removal of sanctions according to the final agreement will give international rivals any advantage.
Well aware of the lobbying power of these businesses, particularly the US energy conglomerates, Iran has actively invited Western oil companies to invest in its oil and gas sector. If President Barack Obama can find a way to put US businesses on an equal (or better) footing than their foreign competitors, they are likely to help ensure a final deal has Congressional support.
With this in mind, the Iranians seen celebrating in the streets should have reason to feel joyful as there's a good chance their many years of economic isolation are near an end.