E-cigarettes. For a product barely anyone had heard of five years ago, they now seem to be on everyone's lips. While much has been written about the safety of these products and their potential to either support or sabotage efforts to reduce smoking rates, it's timely to consider why the global tobacco industry has taken such a keen interest in buying e-cigarette companies.
Despite e-cigarettes seemingly dominating public and academic debate on tobacco control, the global e-cigarette market is minuscule compared to traditional tobacco products. Euromonitor estimates that the global e-cigarette market was worth US$3 billion in 2013.
Compare this to the global tobacco market, one of the most valuable fast moving consumer goods industries, worth an estimated US$800 billion – more than 260 times the size of the e-cigarette market. This highly profitable tobacco market, outside of China, is dominated and controlled by just five major players: Japan Tobacco International, Imperial Tobacco, British American Tobacco, Philip Morris International, and Altria/Philip Morris USA.
All the major global tobacco companies now have a stake in the e-cigarette market, with most buying up independent e-cigarette companies.
Philip Morris International, known as PMI, has taken it a step further: in addition to recently purchasing UK e-cigarette company Nicocigs Ltd, it will be launching the Marlboro HeatStick. Unlike e-cigs, which vapourise liquid nicotine, the HeatStick takes normal tobacco and heats it to 350 degrees Celsius to create a tobacco vapour.
PMI plans to introduce the Marlboro HeatStick in test markets in Japan and Italy later this year. Similar sorts of products were introduced in the 1990s, but failed dismally when smokers rejected both the taste and lack of smoking satisfaction. PMI appears hopeful this latest generation of heat technology will be more acceptable to smokers.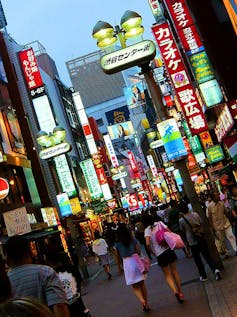 On the surface, it might look like the tobacco industry is simply buying up these companies before they become a major threat to its profits. Or even, that it sees a bright future for e-cigarettes and wants to control the market.
But considering just how much more profitable traditional cigarettes are than e-cigarettes, and the tobacco industry's long and chequered corporate history, it's important to question what other motivations they might have.
Tobacco advertising on television is nearly universally banned, the tobacco-friendly states of Indonesia and Zimbabwe being two holdouts. It has been decades since a tobacco ad appeared on television screens in the United States and United Kingdom. But e-cigarette marketing is a booming business in both countries with controversial television ad campaigns and celebrity endorsements.
Using celebrities, sex, glamour, adventure, rebelliousness, youth and beauty to sell addictive products is very familiar territory for the tobacco industry. These sorts of campaigns contradict the tobacco industry's pubic relations message that it is only interested in selling e-cigarettes to adults who are unable to quit smoking.
Add to the fact that PMI can no longer show packs of Marlboro on store shelves or splash the iconic red Marlboro chevron on Formula One cars, it can promote the US$69 billion Marlboro brand by putting it on the HeatStick product.
E-cigarettes could also help the tobacco industry undo the effects of policies that have seen cigarettes pushed out of social settings that kept people smoking. While smoking bans are principally about protecting people, especially workers, from secondhand smoke, they have an additional positive benefit of reducing smoking rates.
Pushing to allow e-cigarette use in pubs and restaurants means there is no need to quit, because when you can't smoke, simply use an e-cigarette instead. But, don't forget to keep smoking the real stuff when you can too.
Since acquiring e-cigarette brands, not one tobacco company has stepped out of the way of tobacco control policy makers working to reduce smoking. The industry has not raised a white flag and agreed to no longer oppose effective tobacco control policy reform.
It is business as usual: oppose, lobby and litigate when countries implement laws that impact on cigarette sales. Which is why the global treaty to reduce tobacco use, the World Health Organization's Framework Convention on Tobacco Control, is explicit in banning tobacco industry influence in tobacco control policy. Finding a "fundamental and irreconcilable conflict of interest" between the industry and public health means the industry is not a welcome stakeholder in formulating public health policy.
E-cigarettes are a potentially useful tool in giving the tobacco industry a seat back at the policy table. If it can point to e-cigarettes as "proof" it cares about consumers and is working to reduce tobacco harms, then perhaps it will no longer be shut out of the regulatory process. No matter that e-cigarettes are a tiny portion of its total business.
And finally, e-cigarettes are a huge distraction to tobacco control advocates and policy makers. No doubt the tobacco industry celebrates witnessing the debate and division among tobacco control colleagues over the utility of e-cigarettes in reducing the harms of tobacco use. The less attention paid to the deadly US$800 billion arm of the business the better.