It's easy to overlook the brick residential towers of Stuyvesant Town/Peter Cooper Village on Manhattan's East Side.
Designed to be uniform and rather bland, the 80-acre development gives little outward sign of the fierce conflicts over housing affordability that have rocked this neighborhood since the early 2000s.
But the latest chapter of this story took place last week, when Blackstone Group LP and Ivanhoe Cambridge, Inc announced they would acquire the site in a deal worth US$5.3 billion.
Because the deal ensured that 5,000 of the 11,000 units would remain affordable for the next 20 years, many touted it as a victory for tenants.
However, the sale likely seals the end of Stuyvesant Town as a bastion for middle-class housing in New York City. In a city where over 40% of tenants are burdened by exorbitant rent (which consumes over 30% of household income) – and where the share of rent-stabilized units has decreased from 62.7% to 47.2% between 1981 and 2011 – this matters.
My colleagues and I have spent the past four years researching the Stuyvesant Town community. And while a real estate transaction of this magnitude is bound to make headlines, the roots of declining affordability in New York and Stuyvesant Town run much deeper.
Two generations, born and raised
In fact, Stuyvesant Town was built at the expense of a crumbling – but vibrant – neighborhood.
During World War II, the administration of New York City Mayor Fiorello La Guardia grappled with the looming problem of housing returning veterans and their families. City Housing Commissioner Robert Moses argued that the shortage of affordable housing provided a perfect opportunity to clear blighted neighborhoods. Moses' eventual plans for Stuyvesant Town displaced 3,100 families in what was then known as the Gashouse District, a working-class neighborhood with schools, churches and local jobs.

New York built Stuyvesant Town in collaboration with the insurance firm Metropolitan Life. The city cleared the land and provided a 25-year tax abatement; in return, MetLife built and operated the new housing development, which opened in 1947.
Stuyvesant Town spans the area between 14th and 23rd Streets, and between First Avenue and the East River. The 110 buildings included a total of 11,250 apartments, designed to hold approximately 24,000 people. While urban critics argued the complex would be too large to succeed, the buildings quickly filled to capacity.
MetLife was required to keep all apartments rent-stabilized for as long as their tax abatement lasted. However, the city gave them the green light to exclude African-American families from the apartments.
According to MetLife chair Fred Ecker in 1943, "Negroes and whites don't mix. If we brought them into the development it would be to the detriment of the city, too, because it would depress all the surrounding property."
Partly as a result of tenant protests, this discriminatory practice was overturned in 1950. For the next half-century, the predominantly middle-class neighborhood would remain relatively unchanged, stabilized by a combination of rent regulation, consistent ownership and the development's vanilla reputation.
By the 1990s, two generations had been born and raised in Stuyvesant Town. Many of the residents had "aged in place," and the buildings had become an uneasy mix of elderly old-timers, young urban professionals and NYU students.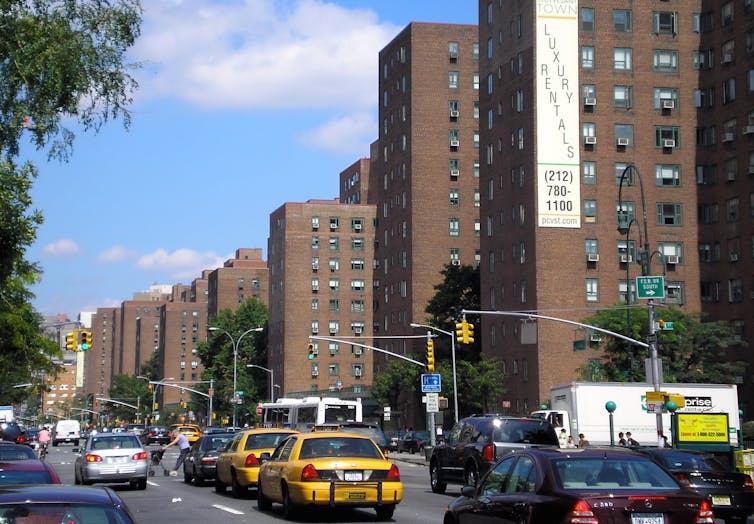 The families we've spoken with reminisce fondly about the neighborhood's green spaces, playgrounds and community cohesion. A plaque located in the development even commemorates Fred Ecker, noting how he "brought into being this project…that families of moderate means might live in health, comfort, and dignity in parklike communities and that a pattern might be set of private enterprise productively devoted to public service."
Is there even a middle class in Lower Manhattan?
Yet by 2000, these principles began to look increasingly old-fashioned compared to what was happening elsewhere in Manhattan. The Lower East Side was gentrifying, with growing demands for new development. Successive city administrations were looking to bolster New York's global reputation by emphasizing its appeal to financial capital, and were governing the city as if it were a private company.
The combination of these circumstances made Manhattan's middle-class population increasingly expendable: surely, the thinking went, they could find adequate housing in the outer boroughs.
Based on all of these pressures, it's remarkable that Stuyvesant Town's character remained unchanged for as long as it did. In 2006, MetLife's management made the decision to divest, and put the complex up for sale.
The sale attracted developers lured by the prospect of obtaining a large Manhattan property with rental rolls well under market value. The tenants assembled a bid to protect their space in the city, but eventually fell US$1 billion short of the sale price.
Tishman Speyer and BlackRock Investments ended up purchasing Stuyvesant Town for $5.4 billion, in what is still the largest residential real estate transaction in American history. This sale price was inflated by the housing bubble, and by the belief that the rent-stabilized units could be shifted to market-rate prices at an aggressive pace, either by evicting ineligible tenants or renovating the units. They were mistaken; by 2010 Tishman Speyer defaulted on their loans and relinquished control of the properties.
If there's a victory for tenants, it's that the planned purchase of Stuyvesant Town by Blackstone Group marks the end of five years of uncertainty since Tishman defaulted. However, it's not a victory for affordability. Only one-third of the units will remain rent-regulated, and for just 20 years. It is highly doubtful that these units will remain rent-stabilized after that point, meaning Stuy Town's legacy as an affordable oasis for moderate-income families is lost to history.
Even now, definitions of affordability and moderate-income are being warped by New York's housing market. Blackstone will reserve 4,500 of Stuyvesant Town's units as "affordable" for families with incomes under $128,210. An additional 500 units will be set aside for families with incomes under $62,150.
Rent stabilization policies are controversial, but were historically effective in helping ease the pressure for renters in high-cost housing markets. High demand for living in the Big Apple collides with the limited housing supply, resulting in an increased cost of living. In particular, Manhattan housing costs more than four times the national average, meaning that middle-income families are feeling the pinch.
What the Stuyvesant Town sale shows us is that in this era, policy interventions like rent stabilization are becoming harder to sustain. Until new housing can be built to cater for seemingly endless demand, the definition of moderate-income in New York City will continue to rise.
Stuyvesant Town's tenants are no longer GIs or their families – let alone the working classes of the old Gashouse District. And within a generation, the development's middle class – if it can even be called that – will look very different indeed.