This article is the first in our World Cup series exploring the politics, economics and social issues behind the world's most popular sport event.
---
With the FIFA World Cup just days away, I have been chatting with people on my travels through central and northern Europe to gauge their opinions about Russia being the host.
Several people have simply sighed, resigned to the fact that nefarious FIFA politics won the day. One Prague taxi driver, remembering the Soviet-led invasion of his country in 1968, hated the idea, but another Czech shrugged and said that most people, especially those too young to remember Communist rule, would just focus on the football.
Indeed, many football fans will be thinking only of stoppage-time goals, dubious penalties and defence-splitting passes when the tournament kicks off on Thursday. But it's also worth reflecting on Russia and the ethics of selecting hosts for major events in today's commercially driven and politicised sports world.
The case against Russia
Every time there is a contest to host a World Cup or Olympics, debate ensues about the criteria for selection. These include technical matters like the economic and infrastructural capacity to stage a massive spectacle, and an overarching belief in spreading sports like football to new corners of the world.
But non-sporting matters also come into consideration. Organisers always consider the potential that awarding hosting rights to the wrong country could bring a major sporting event into disrepute.
Cases have been made against a string of host cities and countries over the years. These include the 1978 Argentina World Cup (military coup), the 1968 Mexico City and 1988 Seoul Olympics (popular demonstrations and violence), the 2002 Salt Lake City Olympics (bribery), the 2008 Beijing Olympics (human rights and crackdowns in Tibet) and the 2010 South Africa and 2014 Brazil World Cups (financial mismanagement and lack of preparedness).
So, Russia is by no means the first country to be faced with threats of boycotts or being stripped of its hosting rights. But it is something of a standout case, because of the spectrum of its egregious behaviour since being awarded the World Cup (and 2014 Winter Olympics). What's remarkable is that Russia has stains on its record both in and outside the sporting world.
---
Read more: Russia: how Western condemnation lets Putin off the hook
---
Inside sport, Russia is most notorious for its wide-ranging state-sponsored doping programme, which included swapping positive-testing urine samples for negative ones through a "mouse hole" in the wall of the anti-doping laboratory at the 2014 Sochi Games. Russian athletes were subsequently banned from flying their national flag and competing under the Team Russia name at the 2018 Pyeongchang Winter Olympics and Paralympics.
When it comes to Russia's misdeeds outside the sporting world, the list is lengthy:
---
---
For foreign football fans visiting Russia, there are additional concerns over hooliganism and the "racism, nationalism, homophobia and sexism" that has been well-documented in Russian football.
FIFA's culture of money and influence
Russia, of course, has furiously denied everything, making much outraged noise while pointing out the hypocrisy of its most vocal detractors. The latter reaction has some legitimacy – Russia does not have a monopoly on external aggression, calculated corruption and internal repression.
And although the process by which Russia and Qatar won their World Cup bids was undeniably flawed, there is more than a whiff of hypocrisy among the losers who played their part in the whole charade. Few of the bidding countries for the 2018 and 2022 tournaments came out of American prosecutor Michael Garcia's lengthy but imperfect investigation of the decisions unscathed. This includes Australia, which burned a cool $AU45 million of public money on a futile attempt to work its levers of access and persuasion.
But Russia's sheer effrontery in recent years makes it an especially conspicuous target for those wondering what it would take for a country to be barred from hosting the world's largest sports party on ethical grounds.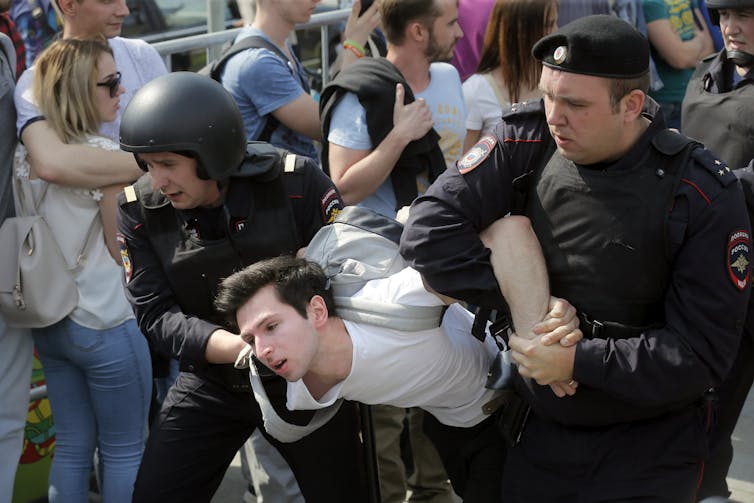 That it hasn't been stripped of the World Cup says much about global sport's intensely commercial and political imperatives. Nothing exemplifies this state of affairs more than the emergence of FIFA as a machine of money, influence and subterfuge under the presidencies of João Havelange and Sepp Blatter from 1974 to 2015.
FIFA's moment of truth came with the arrests of a coterie of top officials at its 2015 Zurich congress – a very different image of the organisation than the one propagated in FIFA's absurdly self-aggrandising 2014 docudrama film United Passions.
---
Read more: How to manage Russia becomes one of the most pressing questions in US, and world, affairs
---
Blatter and many of his associates have since been swept away. But there's been little appetite for voiding the controversial Russia and Qatar victories and re-opening the bidding process, despite the efforts of politicians like former British Prime Minister David Cameron.
Nor have there been realistic calls for team boycotts of the 2018 World Cup. Australian Foreign Minister Julie Bishop briefly flagged the idea of a World Cup-related action against Russia, but said a boycott was not under consideration. So far only a few countries have confirmed boycotts by dignitaries, such as the UK, Poland and Iceland.
New standards for selecting hosts
Has FIFA reformed itself sufficiently under new President Gianni Infantino to ensure that a country like Russia will never again be rewarded after fuelling so much international condemnation with its actions?
We may soon get an idea. On June 13, the day before the opening match, the 68th FIFA Congress meets in Moscow to decide the 2026 World Cup host. There are new rules in place, including a more stringent bid appraisal process and an open ballot of all FIFA member associations. Among the stipulations are:
Whoever ends up hosting the FIFA World Cup must prove that they know and have what it takes to deliver the tournament. Not only that, they must also formally commit to conducting their activities based on sustainable event management principles and to respecting international human rights and labour standards according to the United Nations' Guiding Principles.
There are only two bids for 2026 – Morocco and a North American joint bid submitted by Canada, Mexico and the United States. The former has its own human rights issues, while the latter has US President Donald Trump's proposed travel bans and implied threats to countries who do not support the bid.
---
Read more: Mixing politics and play: Russian protests and sporting boycotts
---
Will the new process result in a fair, transparent outcome? Not according to Bonita Mersiades, the whistle-blowing former head of corporate and public affairs at Football Federation Australia and author of Whatever It Takes: The Inside Story of the FIFA Way, and her fellow campaigners at the reform advocacy group New FIFA Now.
New FIFA Now, and the recently formed Foundation for Sports Integrity, argue that a new FIFA governance model under the control of fans and players is required. Among New FIFA Now's guiding principles for FIFA reform is this recommendation on selecting future hosts:
Establish a one-off committee of relevant experts from around the world to investigate and recommend on the staging of future men's World Cup tournaments. The objective would be to ameliorate the World Cup as a vehicle for geopolitical soft power and brand building of nation states, as well as the construction of 'white elephants' and the demands of government guarantees made by FIFA to host nations that compromise and jeopardise international and domestic law.
Reformist proposals like these are gaining traction as part of widespread push-back against the excessive demands and massive costs of hosting mega sport events. The questions posed by Russia's winning bid should only add to the calls for change.
It's expected that over 3 billion people will catch at least some of this year's World Cup over the next month. Let's hope they look beyond the spectacle to ponder how the beautiful game made its way to Russia at this point in its history and whether it was worth the ethical price.