This year's Emmy Awards opened with a musical number called "We Solved It." Kristen Bell, Kate McKinnon, Kenan Thompson, Sterling Brown and a host of celebrities who check the box of "non-white male" performed the satirical song about how Hollywood has "solved" its diversity problem.
The evening's nominees were the most inclusive in the Emmys' 70-year run. But despite the diversity in nominees this year and big wins for Amy Sherman-Palladino's comedy series The Marvellous Mrs. Maisel, the night's winners were mostly male and white. Only two of 12 acting awards went to people of colour.
The opening number mostly fell flat with audiences, but it introduced important concepts and a lens through which we can view the last year in entertainment.
Shortly after last year's Emmy Awards, the #MeToo movement went viral. The movement forced into light the egregious gender and race inequality that has plagued the entertainment industry since its inception.
This was a pivotal year for women both in and on TV and movie screens. But as with any significant movement, systemic change is necessary. A year into #MeToo, what's changed and has anything been solved?
The movement circles back?
The #MeToo movement allowed for public discussions about the inequalities women face both in their work and personal lives. Many previously voiceless women and men came forward and named their abusers for the first time with actionable consequences for the reputations of the accused.
A host of industry titans, including Harvey Weinstein, Kevin Spacey, Matt Lauer, Louis C.K., Bill Cosby and Les Moonves, all faced a range of sanctions from public reproach to loss of employment and contracts to criminal investigations and formal charges.
And yet, what started as a deluge of stories that prompted a rallying cry for action and change has shifted somewhat. Recent headlines feature new narratives: alleged abusers are seeking to quietly resume their careers mere months after their actions were made public.
If the discussion and awareness can only take us so far before the movement begins to circle back, what are the actionable steps in Hollywood that have emerged from #MeToo?
Time's Up
On Jan. 1, the Time's Up campaign was announced with a letter addressed: "Dear Sisters." It read: "The struggle for women to break in, to rise up the ranks and to simply be heard and acknowledged in male-dominated workplaces must end; time's up on this impenetrable monopoly."
Signed by more than 300 women in the entertainment industry, Time's Up called for change through measures including legal defence funds, anti-harassment legislation and gender parity in studios, talent agencies and other executive roles within the industry.
The winter awards show circuit was dominated by Time's Up activism on the red carpet where Hollywood attendees wore black, sported Time's Up pins, brought activists as their guests, called out sexism in interviews and promoted the #Askhermore campaign.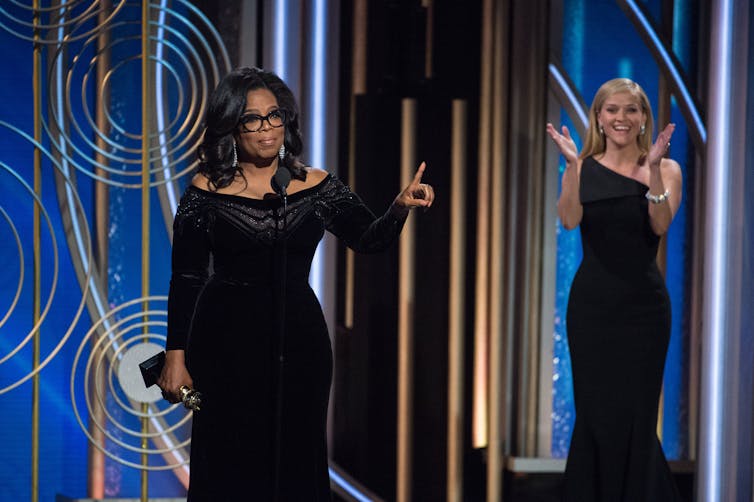 At the Golden Globes, Oprah Winfrey became the first Black woman to receive the Cecil B. DeMille Award (of the 64 honourees, only 14 are women). In her stirring speech, Winfrey remarked: "We all have lived too many years in a culture broken by brutally powerful men. For too long, women have not been heard or believed if they dare speak the truth to the power of those men."
Actors have continued to speak out on injustices in the workplace, with some demanding inclusion and diversity riders in their contracts. Recently, Olivia Munn bravely spoke out about having to work with a registered sex offender in her film The Predator.
Behind the scenes
Less visible but irreplaceable in the worlds of film and television are behind-the-scenes writers, directors and producers.
One annual study about the status of women in Hollywood noted that more than 68 per cent of television programs featured casts with more male than female characters and that women only made up about 40 per cent of all speaking characters. When factoring in race and ethnicity, the statistics worsen, with only seven per cent of speaking roles for Latina women and just six per cent for Asian women.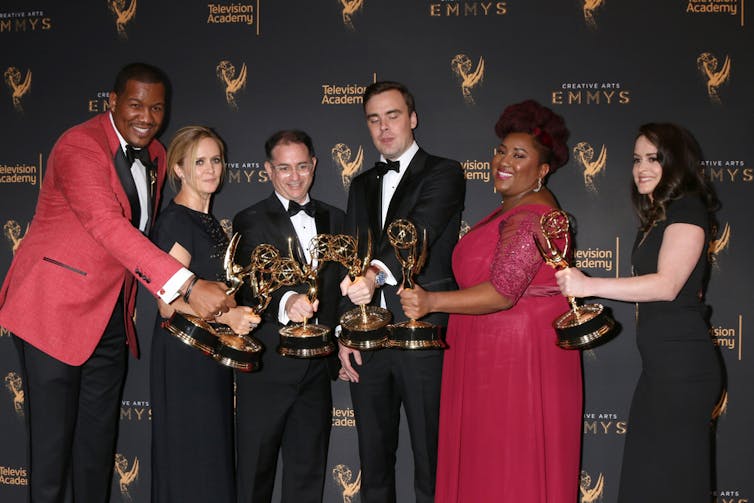 Behind the scenes, women comprise only 27 per cent of all creators, directors, writers, producers and editors of broadcast, cable and streaming programs.
Female writers are severely underrepresented in Hollywood. In the 2017-2018 season, 74 per cent of programs in one study had no female writers on staff.
Late-night programming is one of the worst offenders where historically both TV hosts and writers' rooms were exclusively male. In 2016, Samantha Bee became the first woman to helm a late night comedy satire show, Full Frontal.
Along with Last Week Tonight with John Oliver, this year's Emmy winner, Bee has set up a blind audition process for writers whereby gender and race are not disclosed in applications. Bee and her staff boast an almost 50-50 gender parity while Oliver employs one third women.
Less than five per cent of directors in Hollywood are women. An offshoot of Time's Up, 5050by2020 seeks to improve these numbers to half by 2020. They launched a successful campaign, prompting organizers to sign a pledge at the Cannes International Film Festival in May. In the festival's 71-year history, only 82 of 1,727 films were directed by women, of which only two have won the Palme d'Or, the festival's top honour.
TIFF quickly followed suit in September, signing the same pledge and hosting a Share Her Journey rally to underscore their commitment to female filmmakers.
Audiences are responsible too
Film and television are a 20th-century innovation with a centuries-old problem, and despite knowledge of these disparities for decades, progress is slow. Women who have sought to make space for themselves in a male-dominated environment have faced barriers at every turn.
Is time actually up on gender inequality in Hollywood? Have we indeed "solved it?" If the Emmys are any indication, the answer would be a resounding "no."
More women must be allowed to safely break through into positions of power in Hollywood and the men who surround them must do so enthusiastically and with empathy. They must honour the struggle women have endured to reach this point.
Audiences too, share in the responsibility of gender parity on screen by thinking about what they watch and seeking out programs that make the effort to be inclusive. Only then can we hope to stop the clock.