A frequent topic of conversation at any social or workplace gathering is the cost and unfairness of private health insurance. Despite guaranteed free treatment in public hospitals, we are both conditioned and persuaded to purchase a costly product that too often fails to deliver value for money or provide the expected choices and peace of mind.
Now, for the first time in 15 years, as premiums and complaints rise, the proportion of the population with private health insurance is declining. And recent polling shows 20% of those who have private health insurance (46.8% of the population) expect to downgrade or drop their cover in the next six years.
Why health insurance customers are unhappy
Most of the antipathy towards private health insurance seems to be related to service and price, with premiums increasing at rates well above inflation. But there are also concerns about lack of transparency about what is covered, waiting periods and exclusions, and unexpected out-of-pocket costs.
The public consultations held by Health Minister Sussan Ley in late 2015 found common themes: poor value for money; high out-of-pocket costs; and lack of transparency and complex regulations.
Media stories tend to highlight the rejection of claims without appropriate medical review and the raft of exclusions, which unsuspecting policy holders often discover too late.
Minister Ley has promised action on several fronts, but changes seem a long way off. The 2015 public consultations have yet to produce any direct response. A media release in February 2016 promised cheaper premiums as a consequence of prostheses pricing reforms. However, the recommendations in the final report from the Industry Working Group have yet to be acted upon and so are unlikely to have any impact on premium increases in 2017.
In September 2016, the minister announced the establishment of the Private Health Ministerial Advisory Committee to provide advice on private health insurance reforms. This committee will not report until late 2017.
While the Turnbull government debates how to respond to public concerns within the constraints of its ideological support for privatised health care, and health funds try to lure us with marketing offers, Australians who are querying the affordability and value of private insurance must make their own assessments and take their own, appropriate actions. This is not easy as trusted resources and advisers without conflicts of interest are few.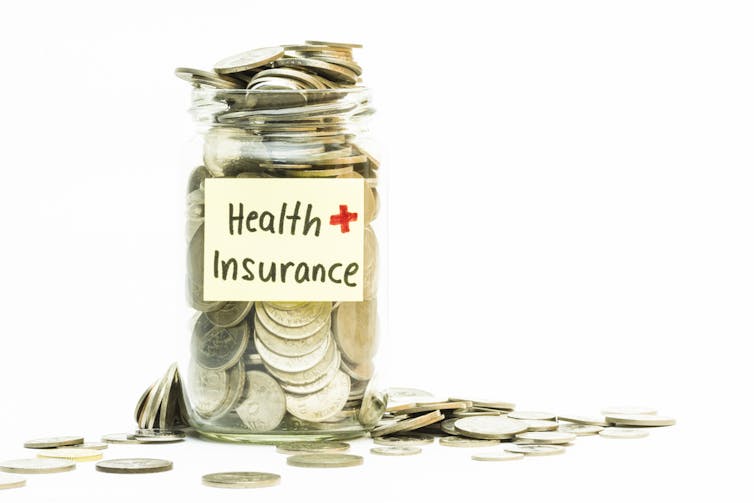 Is the investment worthwhile?
It is virtually impossible to directly compare policies and costs. It's estimated that about 40,000 variations of private health insurance policies are available. What these cover depends on a range of agreements individual funds have with private hospitals and doctors, and patients are not privy to these agreements.
Certain checks are essential at the time of purchase, based on health status and age. It makes no sense for a young woman to have a policy that excludes childbirth, or for an older woman to have a policy that covers it.
For starters, people with private health insurance should look at their medical and financial histories and likely futures. Most people should be able to assess for, say, the past five years, what they have paid in private health insurance premiums, what benefits they have received and what additionally they have paid out-of-pocket in deductibles and gap costs.
If costs paid exceed benefits received, this raises questions about whether private health insurance is still viewed as a worthwhile investment.
A 2015 analysis by CHOICE magazine found the average annual premium for a basic hospital-only policy was A$1507. For a policy that included ancillaries (extras like dental and optical) it was A$2324.
Data from the Australian Prudential Regulation Authority shows the average payment from insurer to patient per episode of care in September 2016 was A$2209 for hospital and A$60 for general treatment (medical/ancillary).
The average out-of-pocket cost to the patient was A$284.20 for hospital, A$48.01 for ancillary and A$129.02 for medical (in-hospital medical services). The gap payments for medical vary widely depending on location (A$257.31 in the ACT, A$46.10 in South Australia) and by speciality.
People who have experienced a hospitalisation (emergency or elective, as a private or public patient) will have a different, expanded set of experiences and financials to draw on. The subsequent health outcomes and their costs must be weighed against issues such as the importance of a private room, quality of care, whether choice was available and, if it was, the extent to which it was important.
Most careful analysts will quickly determine, as the CEO of the Private Health Insurance Administration Council has pronounced, that the purchase of ancillary cover is "irrational".
The average benefit paid per service is quite low given the actual costs of those services – A$69 for optical, A$62 for dental, A$35 for physiotherapy, A$30 for chiropractic – and the total annual benefit paid per person for ancillary services is A$389. Such cover is not insurance but a tightly capped set of rationed benefits. Dumping ancillary cover could save the average family A$500 to A$1000 per year.
Dumping hospital cover is a more difficult decision. Financial factors such as the Medicare Levy Surcharge and the Lifetime Health Cover Surcharge come into play.
However, most people with incomes above A$90,000 (A$180,000 for families) would pay considerably less in surcharges than the cost of an average policy, so self-insurance to enable the use of private health care as and when needed becomes a real option. But this simple accounting does not factor in the unknown (and unknowable) savings that may accrue from the bargaining power that funds have with private hospitals and doctors.
Other stakeholders in health care could help improve transparency in the system and assist decision making. Hospitals and doctors could be more upfront about costs and gap payments, especially the hidden costs of surgery from anaesthesiology and additional doctors who attend and bill.
Funds could make policies shorter and simpler, with exclusions and waiting periods clearly identified and fewer annual changes. The federal government needs to implement greater protections for those who purchase private health insurance and ensure better value for the substantial funds taxpayers invest in private health insurance, directly and indirectly, through the private health insurance rebate, premiums, Medicare reimbursements and out-of-pocket costs.
The essential question that remains to be answered is why taxpayers are heavily subsidising a product that is only purchased by half of them and used, even when sick, by even fewer? If private health insurance is to facilitate the choice for all Australians that the co-existence of public and private systems represents, then immediate and significant reforms are necessary.