What does it take to be elected chancellor of the most populous country in Europe four times in a row?
Germany does not have a system of term limits for heads of state. Candidates for chancellor can seek reelection as long as their party continues to support their candidacy. However, it's not common. The only postwar German politician to be elected for four consecutive terms was current Chancellor Angela Merkel's mentor, Helmut Kohl, who passed away last month.
Germany's general election will take place on Sept. 24. Chancellor Merkel is likely to be elected for a fourth term. Her party, the Christian Democratic Union, is currently polling near 40 percent.
This was not the case just two short years ago. Her decision to open the borders to refugees fleeing along the Balkan Route in 2015 was criticized for being illegal and haphazard. The year before, she had faced criticism for her handling of the Greek financial crisis. Back then, it seemed Merkel would never survive a fourth election.
Then the United Kingdom voted to leave the European Union. That vote was followed by President Donald Trump's America First policies and conflicts in Africa and the Middle East. These events have fundamentally changed the global political landscape and created an opportunity for Merkel's style of leadership to prevail.
Journalists and commentators frequently assert that Merkel has become the leader of the free world.
Despite negative images of riots in Hamburg during the recent G-20 summit, the German magazine Der Spiegel reports that Merkel's campaign hardly took a hit. Instead, the mayor of Hamburg is being criticized.
How is Merkel so politically invincible? As a professor of German studies, I have blogged and commented on Merkel's political appearances since 2015. One of her political strengths is her understated reaction to international conflicts. The other is her "party-manager" style of governance at home.
Deliberate approach to conflict
The G-20 summit was an important show of Merkel's global leadership. Against this backdrop, Merkel's slow and steady approach to governing stands in sharp contrast to the charisma of recently elected President Emmanuel Macron in France, the autocratic tendencies of President Vladimir Putin of Russia and the impulsivity of President Trump.
Before the G-20, Merkel stated in an interview that she acknowledged the vacuum of power left by Trump's policies. Merkel said, "Apparently the American administration no longer wants to be the peacekeeping power per se for all regions of the world." She acknowledged that this might be good or bad, depending on the context.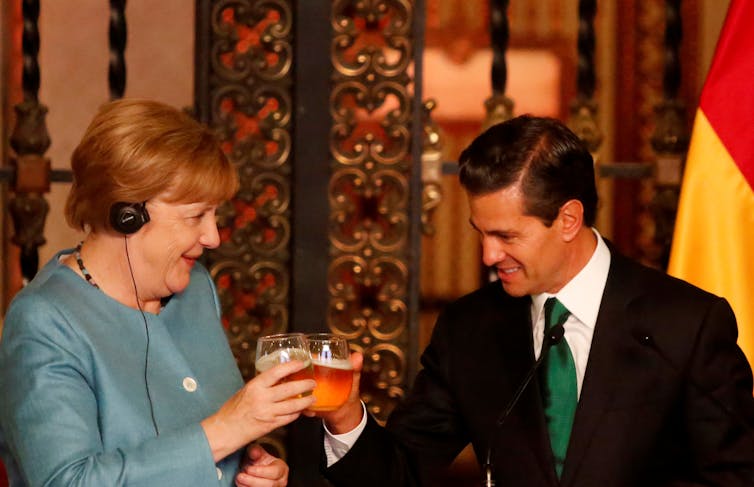 Several weeks before the G-20 Summit, Merkel traveled to South and Central America to shore up trade relations. She stopped in Mexico and pledged her support to President Enrique Peña Nieto in upcoming talks on the North American Free Trade Agreement. After that, she traveled to Argentina, where journalists asked her whether this international tour signaled that she was preparing to assume the mantle of the leader of the free world. Merkel replied diplomatically, saying that "no one alone in this world, no single person and no country alone can solve the problems [we have]."
This rhetoric is similar to previous appearances in which she has emphasized European unity and the need for international partnerships.
Merkel the party manager
Back home in Germany, Merkel's leadership style is described as that of a "party manager." Merkel attempts to keep the many factions of her party in her corner at any one given time. This strategy succeeds because the Christian Democratic Union is a "catch-all" party. A catch-all party tries to maintain diverse ideological viewpoints so that it can capture the support of a broad swath of the electorate.
In the two-party American system, both the Democratic and Republican parties have functioned as catch-all parties. In the multi-party German system, it is possible to have a political party gain representation in Parliament even with a focused ideology, like the Green Party's focus on sustainability and social justice.
Merkel's identity facilitates a party-manager approach because she holds a variety of minority identities. Merkel is female, Protestant in a previously predominantly Catholic party and grew up in the former East Germany.
As a party manager, Merkel maintains a strategy of keeping all options open as long as possible. In German, her governance style has earned its own verb. "To merkel" is to deliberate, evaluate a course of action and eventually choose a suitable option at the last possible moment.
This tactic drives her opponents crazy, and Germany's dominance in the European economy and now global politics has strained the country's relationship with some European partners.
Merkel may not like the title "leader of the free world." She may also be merkeling, or waiting until the last possible moment to claim it. But with an election campaign that seems assured of success, a variety of international partners pledging their support and an acknowledgment by more than just Merkel after the G-20 that President Trump's policies leave a diplomatic vacuum, all signs point to a very powerful position for the German chancellor after Sept. 24.