For years Puerto Rico borrowed to offset falling revenues as its economy and population declined. This was never sustainable, and now the moment of reckoning has arrived.
In early May, Puerto Rico missed most of a $422 million debt payment, providing the catalyst for the U.S. House of Representatives to enact a rescue plan in early June. The plan, which has been under negotiation with the White House for months, would provide a process for restructuring the island's $72 billion in debt and put an oversight board in charge of Puerto Rico's finances.
With Puerto Rico facing a $2 billion debt payment on July 1, the Senate passed the measure just in time and sent it to the president for his signature. The legislation is needed to avoid a messy default because neither Puerto Rico nor its municipalities are eligible for debt relief under U.S. bankruptcy laws.
While the rescue plan establishes the foundation for debt reduction and a smaller deficit, it is not enough to ensure an end to the crisis. Ultimately, that will take a revival of Puerto Rico's economy, something that the House bill does little to accomplish.
As I've argued before, Puerto Rico already has many strengths that with further investment and some other changes could help jumpstart economic growth. Passage of a U.S. rescue is a good first start but will not be sufficient to put Puerto Rico on a path to sustainable growth.
Greece's lessons for Puerto Rico
Greece's debt crisis, which began in 2010, offers a cautionary tale of what happens when efforts at debt reduction aren't accompanied by investment in GDP growth.
Despite two support packages totaling €240 billion, a deal that provided a 35 percent write off on Greece's debt and harsh austerity measures, Greece's debt-to-GDP ratio continued to rise.
Greece's GDP fell 18 percent from 2010 to 2015, while its unemployment rate rose to about 25 percent. Greece missed a $1.7 billion payment to the International Monetary Fund (IMF) in June 2015. And shortly afterward, the IMF declared Greece's debt dynamics to be "unsustainable." It stated that further haircuts on Greece's debt and progress on economic reforms were needed.
And today, Greece's economy remains extremely fragile. It hasn't grown since 2007.
In Puerto Rico, economic activity has contracted in all but one year since 2006, when tax incentives that had attracted businesses to the island expired. Puerto Rico's population, meanwhile, has declined by 9 percent in the past nine years as its citizens have left for better opportunities on the mainland. As U.S. citizens, Puerto Ricans can move to the 50 states and District of Columbia at will.
Reducing Puerto Rico's debt – as Congress' plan would do – should eventually help revive growth to the extent it frees up resources that can be used for other purposes, provided they are invested productively. But even if Puerto Rico manages to reduce the amount it owes and balance its budget, its debt will not necessarily be sustainable. This is because if the interest rate it pays on its debt exceeds the growth rate of the economy, its debt-to-GDP ratio — the measure that really matters — will continue to rise.
Markets typically require governments to pay fairly high interest rates after a debt crisis, and private forecasters expect a continued decline in GDP growth through 2017. That means the U.S. bailout of the kind Congress just passed won't necessarily be able to put its debt on a sustainable path.
Puerto Rico, like Greece, does not have the option of devaluing its currency to spur exports — a move the IMF believes was important in Iceland's recovery from its 2008 debt crisis.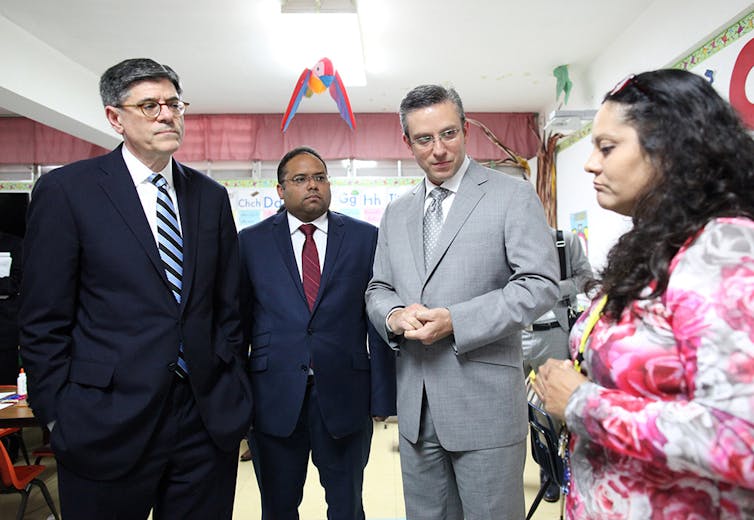 Play to your strengths
So what can Puerto Rico do?
The rescue plan before Congress lacks any specific measures to spur growth, other than, perhaps, a provision for a temporary drop in the minimum wage for employees under the age of 25. The bill's advocates, pointing to the unusually high unemployment among Puerto Rican youths, argue that it would encourage job creation.
Critics, however, argue that reducing wages for young employees will simply accelerate migration to the mainland.
Puerto Rico's experience using tax breaks – often at the center of policies intended to promote industry – suggests there's no point going down that road again because they cannot be relied upon to propel future growth once they expire. For example, fixed investment in Puerto Rico fell 27 percent after federal tax breaks for investment expired, and there is little reason to expect future tax-based-investment would outlast the incentives that attracted them.
Rather than trying to compete with its neighbors in the Caribbean and Central America as a low-cost or low-tax producer of manufactured goods, Puerto Rico likely would do better to focus on its strengths in producing knowledge-based goods and services and in transportation and tourism.
Most economists agree that investments in human capital and infrastructure are necessary for growth. Here Puerto Rico has some strengths, such as relatively high level of education, 80 percent internet penetration and U.S. laws that provide strong protection for contracts and property rights.
Puerto Rico, as well, already has a fairly well developed transportation infrastructure. In 2014, the island's ports handled over 1.3 million in twenty-foot equivalent units (TEUs) – a measure of the capacity of a container ship – accounting for about 10% of the traffic moving through Caribbean ports. This is more than Veracruz, Mexico's second largest port and only 20 percent less than Jamaica, a major transshipment center for the East Coast. Puerto Rico's latest development plan calls for an upgrade of its ports even as it recommends spending cuts elsewhere.
Tourism is also doing well in Puerto Rico. The island had more than five million visitors in 2015, up by over 20 percent since 2012, who spent $3.83 billion. Clearly, Puerto Rico's climate and beaches are as attractive as ever.
Taken together, these factors seem to bode well for Puerto Rico's future as a regional business hub concentrating on knowledge-based goods and services. Financial, professional and scientific services already account for about 11 percent of Puerto Rico's GDP, while pharmaceuticals and medical supplies make up 88 percent of the island's exports.
And while a recent Federal Reserve Bank of New York study warned that the pharmaceutical industry, which is shrinking, does not appear to be positioned to be a strong driver of growth, the report noted that the Commonwealth's development agenda seeks to capitalize on the industry's presence to support spinoff industries such as medical devices and biopharma.
Getting from here to there
Despite these strengths, Puerto Rico faces some formidable obstacles preventing it from building on them and getting onto a long-term growth path.
One of the main barriers is the Merchant Marine Act of 1920, known as the Jones Act, which requires cargo shipped between U.S. ports (including Puerto Rico) be carried on U.S-flagged vessels, which are high-cost carriers. The act prevents a container ship carrying cars from Korea stopping at Puerto Rico and continuing on to Miami.
This translates into higher prices in Puerto Rico for mainland-sourced goods and is a severe limitation on the island's ability to develop as a transshipment center.
Another obstacle is the red tape involved in doing business. Puerto Rico generally fares better in the World Bank's Doing Business survey than most countries in Latin America, but there is room for improvement. Overall, it ranked 51st of 189 countries in 2016 and has dropped in the rankings in many categories in recent years.
Finally, the Puerto Rican government's five-year plan includes cuts to spending on public education and health care, including a major reduction in funding for the state university system. Bringing government expenses into alignment with revenues is needed to restore Puerto Rico to solvency, but cuts to spending on education and health care will delay some of the improvements in human capital that foster long-term growth. And in the medium term, they will reduce GDP.
It would be wrong to dismiss Puerto Rico's potential for growth, but only a relentless optimist would think growth will resume soon – particularly without the kinds of policies that will actually encourage it.