"Bring it on" says Thommo my Brisbane host, "your WG Grace started it. And if hurting people is the issue remember there was Bodyline". The self-styled Ugly Australian is back and revelling both in a first cricket test victory over England in eight attempts and in English discomfort when facing in particular the extreme pace and unaccustomed accuracy of the previously wayward fast bowler Mitchell Johnson.
Rarely since the feared West Indian pace attacks in the 1980s has a fast bowling performance threatened so emphatically to be the difference between two test match teams.
This accentuates the importance of accusations of sledging from Australian captain Michael Clarke against England pace bowler Jimmy Anderson (for which Clarke was fined 20% of his match fee) and by Australian opening batsman David Warner against England's hapless batsman Jonathan Trott when facing Johnson. Is this behaviour justified gamesmanship or personal abuse that crosses lines?
Governing body the ICC has been quick to fine Clarke for "using language or a gesture that is obscene, offensive or insulting". He told Anderson to "get ready for a broken fucken arm". David Warner has acknowledged he went over the top in his personal criticisms of Trott – reported as calling his performance "pretty poor and weak".
Good-humoured banter … or not?
Sledging is essentially a term used to signify verbal abuse of a player, normally a batsman, by those in close physical proximity. The aim, as Warner has admitted, is to achieve a playing advantage by distracting and undermining the target. It is claimed the practice originated in Australian domestic cricket during the 1960s, often with personal comments about sexual matters to the fore. Sledging peaked during the 1970s with captain Steve Waugh describing it as part of a psychological approach aimed at the "mental disintegration" of the opposition. Other sports such as baseball don't use the term sledging but have other words to describe similar activity.
Cricket matches last longer than most other sports and there is plenty of scope for verbal exchanges in a team sport where concentration is key. Good-humoured banter between players –- and between spectators and players – has existed since cricket was first played. Context, intent and perception are key. "I'll knock your bloody head off" is one call of fast bowlers that transcends time and national allegiances.
One man's banter is another's abuse, and cultural interpretations vary. England's legendary demon fast bowler Harold Larwood and his captain Douglas Jardine complained in 1933 of the crowd taunting aimed at putting the English off their game. Criticisms of bodyline were countered by accusations that Australian cricket crowds behaved unfairly and their attitudes were condoned by the players (One famed crowd sledge from that tour occurred when the unpopular Jardine was seen to brush a fly from his nose. "Oi, leave our flies alone, Jardine," said a character in the crowd. "They're the only flamin' friends you've got here.")
Crowd barracking of players has a rich history. Historian Richard Cashman describes as:
A natural activity for the less-restrained working class crowds, for soccer crowds in England, and the more working-class cricket crowds in Australia. Middle-class upholders of amateur traditions felt that crowds and players should conduct themselves in a sporting manner.
Banter and abuse by spectators towards players may encourage the same between players. Part of the backcloth to this week's events has been the strong support for the home team given by Queensland crowds noted historically for their brashness, crudeness, rusticity and partisanship. Forms of modern spectatorship epitomised by the Barmy Army, committed to influencing the outcome of matches, are relevant too. Abusive chants and songs directed at opposition players are welcomed by England players, encouraged at key moments in matches, and generally celebrated.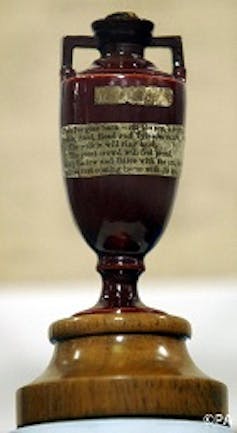 Is it any wonder that this – and the temptations provided by social media – make it harder for players to know the line between acceptable banter and unacceptable abuse?
And where are the umpires? Drawing on available technology as necessary to help them make judgements, shouldn't they be reporting abuse more frequently under the provision used to charge Michael Clarke? Racial abuse is rightly tackled, as was the case during 2007-08 when Andrew Symonds (a black player in an otherwise all-white Australian XI) was allegedly abused by Indian spinner Harbhajan Singh (who was cleared but convicted of a lesser offence). Officials in other sports such as football are not slow to act to counter abusive language and physical threats. Perhaps cricket should act to clean up its excesses?